Home | Blog Index | Blog Archives | Christianity & Faith Essays
Friday, February 8, 2008 - 7:44AM
Possible F2 tornado intercept at Crofton, Kentucky
It turns out I may have actually bagged one on Tuesday north of Hopkinsville, KY. I'm not certain enough to say for sure, but the evidence is convincing. I read the tornado report this morning on the SPC log page for Crofton, KY on Old Palestine Road, Christian County at 1:35Z (7:35PM CST), and decided to take a closer look at my video. I was parked on Covered Wagon Road just south of Crofton, with the camera set up facing west-southwest. Here is a map of my location relative to the tornado track surveyed by the NWS (click to enlarge):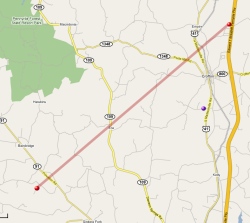 NWS Damage survey text:
* EVENT TIME: 730 PM CST TO 735 PM CST (TIME ESTIMATED)

* EVENT TYPE: TORNADO

* EVENT LOCATION: BEGAN 3.5 MILES EAST OF CERULEAN, OR JUST WEST OF THE JUNCTION OF HIGHWAYS 91 AND 624. THE TORNADO CAME TO AN END 3 MILES NORTHEAST OF CROFTON NEAR THE PENNYRILE PARKWAY.

* PEAK WIND: 130 MPH

* RATING: EF-2

* DAMAGE DIMENSIONS: 13.8 MILES LONG AND AVERAGING 225 YARDS WIDE.

* INJURIES: 2 (INJURED WERE SELF-TRANSPORTED TO LOCAL HOSPITAL)

* FATALITIES: NONE

* DISCUSSION/DAMAGE: 27 HOMES DAMAGED WITH 17 DESTROYED. A TOTAL OF 19 GARAGES/SHEDS/BARNS DAMAGED OR DESTROYED.
Radar images at the time of intercept:
Base reflectivity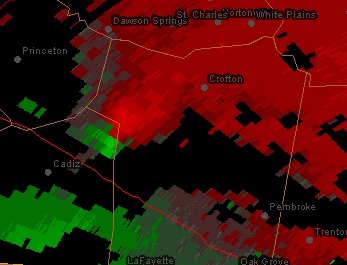 Velocity couplet
Here are two still frames from video, showing the storm illuminated by lightning and a possible tornado under the base (click to enlarge):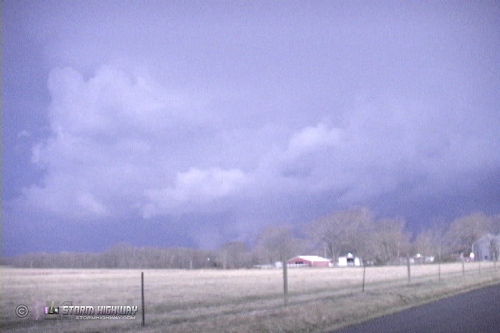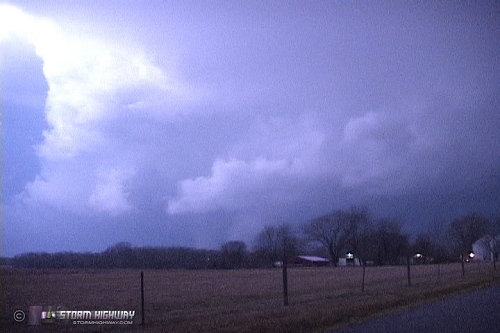 Cropped and contrast-enhanced: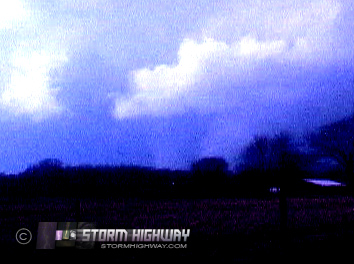 All content © Dan Robinson. All usage requires a paid license - please contact Dan for inquiries.

Web Site Design and Internet Marketing by CIS Internet