This page shows all of the blog entries with the most recent entries listed first. If you'd rather reverse the order and read the blog from start to finish, in chronological order, click here.

Conclusion


Wednesday, June 15: And so it ends! Most everyone has returned home, and it's back to normal life again. This season will be one of the most memorable of all, starting out with slim hopes, changing plans and unusual problems - and ending with glowing success. The total tornado catches for 2005 are 12, though that number could be higher once I am able to review the video from June 12.

In the coming days, I'll be writing up a final report for each of the expeditions this year, including stats, new photos and details. This blog will remain online indefinately, though this will be the last update.

Back to Top | View All Entries

Day 22: June 14 - Back home for tower lightning


Tuesday, June 14: After a marathon drive from Texas to make a 10AM meeting here at home, I took a nap and went back out for more observing in West Virginia on Tuesday. Storms had heavy cores on radar but otherwise weren't very impressive in person. Decided to go to the 1,500 foot television tower near St. Albans and set up for some lightning shots, and was rewarded nicely! Set up very close to the tower, about 100 yards away - ran two cameras, one wide and one zoomed in close on the tip.

Updated! A full log of the day's events from June 14, including still frames and video, has been given its own page posted at the following link:

June 14, 2005 St. Albans, WV up-close tower lightning video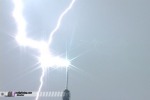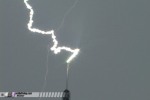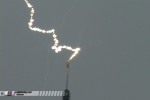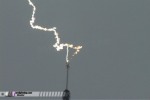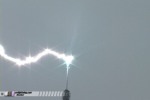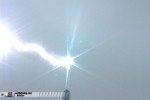 Back to Top | View All Entries

Day 21: June 13 - Missouri supercell and funnels


Monday, June 13: Wasn't planning to observe storms on Monday, as I had to make it back to Charleston for a 10AM meeting on Tuesday. However, a supercell exploded right on I-44 in front of me and tracked along the interstate, giving me an easy and unexpected chase!

The supercell developed southwest of Rolla, and the meso stayed pretty much right over, or just south of, I-44 for most of its life. The storm had a large rain-free base and strong inflow features curving in. A wall cloud quickly developed with strong RFD slots developing off and on. Saw several persistent funnels and heard the sirens going off in downtown Rolla.

Updated! A full log of the day's events from June 13, including still frames and digital photos, has been given its own page posted at the following link:

June 13, 2005 Rolla, Missouri supercell and funnels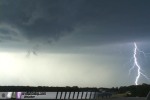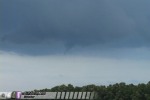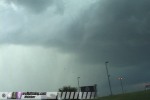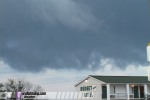 Back to Top | View All Entries

Day 20: June 12 - Monster tornadoes in Texas


Sunday, June 12: Updated! A full log of the day's events from June 12, including tornado photos, has been given its own page posted at the following link:

June 12, 2005 Kent County, Texas Tornadoes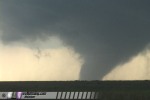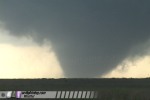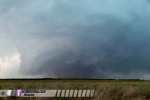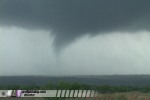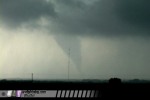 After reviewing video, the tornado tally for the day is 6, possibly 7.
Back to Top | View All Entries

Day 19: June 11 - Lightning in the Oklahoma panhandle


Saturday, June 11: Updated! A full log of the day's events from June 11, including digital photos and still frames, has been given its own page posted at the following link:

June 11, 2005 Oklahoma lightning show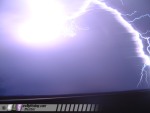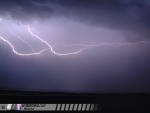 Highlight was changing a flat tire in the middle of a barrage of close lightning strikes.
Back to Top | View All Entries

Day 18: June 10 - Event in the Oklahoma panhandle


Friday, June 10: Started in Hays, Kansas and drove down to the Oklahoma panhandle, stopping in Meade, KS and Beaver, OK for data, where we ran into Erik Rasmussen and talked for a few minutes. We had three choices - storms near Liberal looked somewhat nice, a storm near Woodward that had no upstream storms to foul its inflow, and the southern end of the cluster along I-40 in Texas. None looked particularly appealing. Since we needed to get back to Hastings so Kurt could get his car, we chose the Woodward storm. Saw a few nice lightning strikes, lots of significant flooding, and a nice shelf cloud over the mesas east of Mooreland. I guess it was good that there wasn't much to see Friday, because it was 'National Farm Machinery Moving Day' or so it seemed. We managed to get behind a few long convoys of slow-moving trucks hauling massive farm machines. They were a huge pain to get around, requiring numerous leap-frog style passes over 10-15 miles to get by. We ended the day in Russell, Kansas as we need to get Kurt and Nick to Hastings so they can continue on in Kurt's car. Not sure if we'll make the setup in the panhandles today. Sunday is my last Plains expedition, then I'm heading home. Hopefully I'll get one more shot in IL on Monday on the way home.

Updated! A full log of the day's events from June 10, including digital photos, has been given its own page posted at the following link:

Back to Top | View All Entries

Day 17: June 9 - Five tornadoes in Kansas


Thursday, June 9: Now we can officially quit calling 2005 a bad year. Today was the day we'd been waiting for! Five incredible tornadoes near Hill City, Stockton and Ellis, Kansas today.

Updated! A full log of the day's events from June 9, including digital photos and video captures, has been given its own page posted at the following link:

June 9, 2005 northern Kansas tornadoes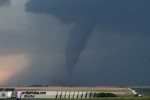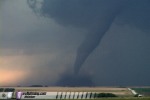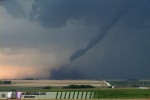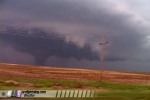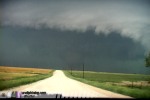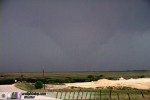 Back to Top | View All Entries

Day 16: June 8 - Rest day in Nebraska


Wednesday, June 8: With the risk area 9 hours away in the Kansas City area, we decided to take a down day to rest up. Stayed in Ogallala, Nebraska after driving down from South Dakota. Preparing for an expedition in Kansas tomorrow.

Back to Top | View All Entries

Day 15: June 7 - Supercell and tornado in South Dakota


Tuesday, June 7: Kurt Hulst, Nick Grillo and I caught an incredible supercell in south-central South Dakota on Tuesday. Saw one tornado and spectacular lightning along with breathtaking storm structure. The storm started out LP about 25 miles southwest of Belvedere, SD, where it exhibited great structure and lightning. We stopped to film for about 20 minutes, then decided to reposition about 15 miles closer. During our reposition, the storm dropped a brief tornado which we had difficulty filming due to hills and rough pavement. We stuck with the storm the rest of the evening. As the meso crossed I-90, it spun up hard, producing one of the most ominous wall clouds I've ever seen. Motion was incredible, but the storm failed to produce another tornado. Behind the supercell, a strong squall line was quickly overtaking it, eventually absorbing it. We ended the day in Murdo, where we rode out the high winds as tornado sirens blared, then had a quick celebratory dinner with Scott Blair, Eric Nguyen and Amos Magliocco.

Updated! A full log of the day's events from June 7, including still frames and digital photos, has been given its own page posted at the following link:

June 7, 2005 South Dakota supercell and tornado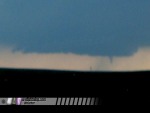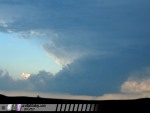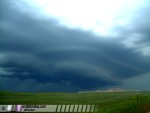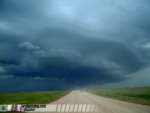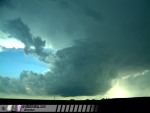 Back to Top | View All Entries

Day 14: June 6 - Turning around again


Monday, June 6: You thought it was over, right? Think again! You forgot the key phrase in storm observing - PLANS CHANGE!

I'll forgive you this time for giving up along with us. Last night I thought it was over just as much as you did. But a look at new data reveals that the northern Plains could be active this week, from Nebraska to the Dakotas. Kurt and Nick emailed from Hastings, NE saying they were still available to team up. So, we got on cheaptickets.com and got Matt a last-minute 6:30AM flight from St. Louis to Raleigh. We're on our way to Lambert Field right now to get Matt on his plane, then I'm heading west AGAIN on I-70 for a few more days of observing.

Back to Top | View All Entries

Day 13: June 5 - Heading home


Sunday, June 5: The plan was to leave Coffeyville at 8AM so we could make Sunday's risk area in southern Illinois by mid-afternoon. But when I woke up at 7AM to check the morning data and outlooks, I just went back to bed. The risk had shifted far north and east into Michigan and northern Indiana, much too far to make in time. We needed the rest, so we decided to let this one go.

2005 just isn't going to be much of an expedition to remember. There is no appreciable severe weather risk within our driving range for the next several days. This, and the fact that we need to get Matt back to Raleigh for work on Wednesday, will bring our 2005 weather expedition to a close.

On Sunday, we left Coffeyville, Kansas at 11AM, drove for 5 hours and spent the evening in St. Louis shooting city skyline photos. We're now lodging in O'Fallon, Illinois, and will be making one more stop in Nashville on our way to Raleigh. After dropping Matt off in Raleigh, I will be returning to Charleston by Wednesday night, bringing this 7,000 mile, 14-state saga to an end.

Back to Top | View All Entries

Day 12: June 4 - Close, but no tornado


Saturday, June 4: SPC issued a high risk for Saturday, in response to conditions that pointed to a significant tornado outbreak. Bill Coyle, Dave Crowley, Justin Teague, Grant Johnson and my brother Matt and I ended up cell-hopping and core-dodging from El Dorado to Atlanta, KS. Saw several wall clouds and circulations near Atlanta, two with very rapid rotation and rising motion, and one producing a fleeting narrow funnel condensed nearly halfway to ground. The latter sights prevented the expedition from being a total loss, though the day promised so much more. Ended the day in Coffeyville, where we are resting up for the 6-hour drive to Illinois tomorrow for our last chase of spring 2005.

Back to Top | View All Entries

Days 10,11: June 2,3 - Cap busts, nighttime wall cloud


Thursday, June 2: Thursay's setup looked good for western Kansas. We targeted Liberal, Kansas, which was good since that was where we were staying Wednesday night. We waited all day for storms to fire on the dryline bulge, and finally at 5PM we had a cell developing to the west. As we drove west to intercept, it died quickly. I called it a day and headed to Manhattan to pick up Matt, who had just flown in from Raleigh.

Friday, June 3: We headed south to Lawton and watched towering cumulus try to get going. Finally, we had a storm develop north of Lawton, and we drove north to intercept. Just like Thursday's storm, however, it also had trouble organizing. It was also racing north out of our reach. We called it a day in Minco and stopped in OKC for a steak dinner!

Later that night, supercells developed in northern Oklahoma near Bartlesville, and Bill, Matt and I headed north for lightning photos. We ended up seeing our storm morph into a monster supercell with frequent lightning, a persistent wall cloud and several funnels:

Video Captures:

Digital Photos by Matt Robinson - click to enlarge

We called it a night after 3AM and spent the night in Bartlesville. We are heading to Kansas on Saturday for a possible significant tornado outbreak. Back to Top | View All Entries

DAY 9: June 1 - Down day for travel - Texas to Kansas


Wednesday, June 1 - The severe risk today was way up in the Dakotas, much too far for us to reach in time. Furthermore, the next few days look very good for Kansas and Nebraska, so we don't want to stray too far north anyway. We're in Liberal, Kansas now, after driving the 5 hours from Lubbock. We needed the down day to rest up, as the next few days look to be very active. Thursday looks like a good expedition day right here close to where we are, so we likely won't have to travel far tomorrow.

Our weather expedition prospects look to be finally turning around, with the severe weather patterns returning to the Plains. A strong trough is digging into the western USA and will stay in place for the next week or two, providing day after day of severe storms. And on another note of good news- thanks to some gracious coworkers who were willing to swap work dates, Matt is going to be able to come out and chase with us after all. We were able to get him a reasonable last-minute flight from Raleigh to Manhattan, Kansas on Thursday. We'll be picking him up after the expedition tomorrow, and he'll be with us until at least Tuesday.

Our expedition has definately had its ups and downs. We've endured bad weather patterns, cold viruses, work scheduling frustrations and weeks of waiting in uncertainty. And our patience is paying off. We've already scored one tornado and some amazing sights, and the upcoming week looks exciting.

Had a little time today to start on the scrapbook of photos centered around the expedition vehicle - click to view.

Back to Top | View All Entries

DAY 8: May 31 - Lubbock, Texas supercell


Tuesday, May 31 - Spent the day following supercells north and west of Lubbock. We saw no tornadoes (except for a small spinup that may have been a gustnado), but the day was filled with plenty of awesome structure, hail and lightning: (click photos to enlarge):
Back to Top | View All Entries

DAY 7: May 30 - Colorado tornado

Video capture - click to enlarge


Tornado near Pritchett, Colorado on Monday
Monday, May 30 - Started the day in foggy Clayton, headed north to Raton, NM and eventually Trinidad, CO. On the way, the scenery along the edge of the Rockies was spectacular -and we even caught a glimpse of the snow-capped mountains. Snow was definately not something I expected to see on a weather expedition in late May.
Digital photos - click to enlarge


We met up with a 11-vehicle caravan of storm observers, the longest convoy I've covered in.
Digital photo - click to enlarge

Storms fired on the mountains by early afternoon, and we moved just northeast of Trinidad to watch the development for the next few hours. Lightning activity was spectacular:
Video captures - click to enlarge

As we headed east to stay with the storms, Amos hit a deer with his 4Runner at 70MPH, heavily damaging the front end.
Video captures - click to enlarge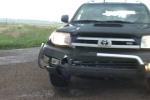 After a brief assessment of the situation, we decided that the car was still drivable, and continued on. The storm to our south looked very impressive on radar, so we dropped south to near the NM/CO border to get a view of the updraft base. As we stopped to watch, the storm produced a persistent funnel for several minutes, but quickly fizzed with a rainbow developing to the east.
Digital photos - click to enlarge

The storms evolved into a line of four supercells to our east, so we moved to keep up - initially targeting the northernmost storms. The southern two cells became dominant and were moving our way, so we stopped to let them catch up. As they did, they intensified rapidly. Tornado warnings were issued based on sightings to our southwest, but we couldn't see anything from our vantage point. Unpaved roads limited our mobility, so we waited for the updraft to reach the main road. As it did, it continued to intensify. Inflow was strong and low clouds raced into the circulation. We carefully approached from the east until we saw rapid rotation and upward motion directly in front of us. We stopped quickly and began filming the wall cloud, which was now just north of the road and moving northeast. We were very close and could hear the whooshing sound from the rain curtains wrapping around the circulation. After about two minutes, a funnel formed quickly and developed 3/4 of the way to the ground. A small debris whirl on the surface lasted less than a minute as the tornado touched down. It lifted just as quickly as it had formed.
Video captures - click to enlarge

It was getting dark and difficult to see storm features, so we decided to call it a day. We stopped briefly twice to observe strong circulations that were showing up on radar, but with nightfall it was nearly impossible to see. At our last pull-off, we were stopped at the intersection of a very slick muddy road. While attempting to turn around, Jason's car slid off the steep edge of the road and got hopelessly stuck. But with a tow strap and Amos' four wheel drive, we were able to pull the car out and get back on the road.
We stopped in Dalhart, Texas for the night. We're now heading south to the Lamesa, Texas area for another round of severe storms on Tuesday.
Back to Top | View All Entries

DAY 6: May 29 - New Mexico, Texas lightning


Sunday, May 29 - We were on the road westbound out of Wichita at 9AM for a target of Elkhart, Kansas in the southwest corner of the state. The setup didn't look great today but we figured on some lightning and storm structure opportunities. Our only two stops were at Dodge City for fuel and a data check, and again for wind farm/train photos at Montezuma.

Video captures - click to enlarge

Digital photo - click to enlarge

We finally caught up with Kurt along with a caravan of storm observers including Amos Magliocco and Tony Laubach in Boise City, Oklahoma, a few miles southwest of our original target. We decided to head to northeastern New Mexico for a slim supercell possibility, making it to our first storm in the Clayton area. Southwest of Clayton, we wrestled to get on the inflow side of a rapidly evolving multicell cluster of storms that we felt held our only shot. Lightning in this activity was staggering as we drove beneath the storms, with bright strikes raining down on all sides. Close strikes were common, including one that hit a telephone pole directly in front of us. Bill and I teamed up to film this display as we drove:
Video Clip, WMV 1MB - Close strike to pole
Video captures - click to enlarge

Digital photos - click to enlarge

Kurt, Bill and I eventually broke off from the caravan to focus on lightning for the rest of the evening and after dark, witnessing a bright double rainbow and an intense downpour of small hail.
Digital photos - click to enlarge

We crossed into Texas briefly after sunset to film the last remnants of a waning lightning show.
Video captures - click to enlarge

We ended the long day in Clayton NM, where we looked forward to a better night's sleep, but not before an interesting situation involving my car, a 'no parking' sign, and the Clayton Police department. Details to come on a later entry, I'm too tired to elaborate now. Monday's target looks to be in the same general area as today's, so we won't have far to travel. A good thing considering the past few days have seen all-day marathon drives. We need the break.
Back to Top | View All Entries

DAYS 4, 5: May 27, 28 - Charleston to Tornado Alley


I was able to leave Charleston by 2PM EDT, making St. Louis by sunset. After an overnight stay in Joplin, Missouri, Tulsa was the next stop to meet up with Bill and Dave. I crossed the Oklahoma state line at 8AM.
Dave, Bill and I left Tulsa at noon and arrived in Wakita just after 2PM. Wakita is the small Oklahoma town featured in the 1996 movie 'Twister'. In fact, most of the movie was filmed in and around the town, and a 'Twister' museum is now located there with various artifacts from the movie. The food was good and the town interesting. We ran into quite a few storm observers I hadn't seen in a long time or hadn't met before. Got a shot of the expedition vehicle with the 'Dorothy' instrument package prop used in the movie. BELOW: Event vehicle and 'Dorothy' from 'Twister', storm observers at Wakita:
Video captures - click to enlarge

Digital photos by William Coyle - click to enlarge


In Wakita, Fabian and Bill transferred their luggage and gear to my car. At 4PM, we were drawn northward into Kansas for the possibility of lightning photos from a line of storms sinking south towards Wichita, passing by the location of a memorable event from last season:
Digital photo by William Coyle - click to enlarge


After mulling the situation over as we drove north, we decided the long trek to intercept the weakening storms wasn't going to be worth it, especially with possible chase targets well to our south for Sunday. Furthermore, we needed to be back in Newton so Fabian could catch his train back to Chicago tonight.
We're now in Newton, Kansas, relaxing at the hotel in anticipation for several long-haul expeditions starting tomorrow. Our entertainment at the hotel tonight has been provided by Hank, a cool frisbee-catching Weimaraner who initially invited himself into our open room to greet us. His owners are staying in the rooms adjacent to ours.
Video captures - click to enlarge

Digital photos by William Coyle - click to enlarge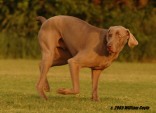 Tomorrow's target looks rather ambiguous, but it appears we'll be heading generally southwest into western Oklahoma. Until then, signing off.....
Back to Top | View All Entries

May 26, 2005: Models go haywire, forecast unknown


Can our forecasting roller coaster ride get any longer? The latest runs of the long-range models have gone berserk, throwing the outlook for the next week into complete disarray. The possibilities extend from one extreme to the other - we could have a string of great expedition days, nothing but blue skies, or anything in between. But it's too late to hold off our trip any longer, we've passed the point of no return. I'll be leaving Charleston on Friday morning, arriving in Tulsa to meet up with Bill, Dave and Justin. Kurt will be on his way from Michigan and will team up with us for Sunday. Unfortunately, Matt will not be able to make the trip with us this week due to unforseen circumstances back in Raleigh.

The tentative plan is to remain on the Plains until around June 12th - longer if the weather cooperates, shorter if it doesn't. We've checked into airfares and we've found that we can fly Matt out to the Plains rather inexpensively, so he may be able to join us sometime later when his schedule permits.

Our first stop will be the much-anticipated cookout in Wakita, Oklahoma on Saturday for the 10-year 'Twister' movie reunion. Wakita is the small town where much of the movie was filmed and based around. After Wakita, it looks like a possible expedition in western Kansas on Sunday. Beyond that, it's anybody's guess where we'll end up as the roller coaster continues.

Back to Top | View All Entries

May 25, 2005: Gearing up for another run westward


We've waited for two weeks, and it looks like our patience may pay off. The models are in consistent agreement about a pattern change in Tornado Alley that will allow observer-friendly severe weather to return to the Great Plains after Memorial Day weekend. The county has graciously excused me from my jury duty set to start on the 6th. We've still got some scheduling issues to work out, but for now our target departure date out of Charleston is set for Friday the 27th. Optimally, we'd like to stay in the Plains until June 12, but work schedules may keep our trip down to a one-week expedition. All things considered, we are certainly more optimistic now than we were two weeks ago.

Back to Top | View All Entries

May 23, 2005: Still watching, waiting for June

Just another quick update to comment on the latest model forecasts. With the ridging/northwest flow pattern persisting on the Plains, storm observers currently in Tornado Alley are finding slim pickings in the way of severe storms. Thunderstorm activity has been able to develop this week, but very few events have been friendly to the storm observer. So, we've not been missing much by postponing our trip. The latest long-range model runs are still pointing to a trough developing in the western USA (image at right) after the Memorial Day weekend. If this comes to pass, the outlook will improve for severe weather and tornadoes around June 1 and beyond.

If you've been following along with our commentary, you know that these model forecasts can change quickly, leaving all hope in the dust. Or they could verify, giving us what we've been looking for. It's a waiting game on the roller coaster of uncertainty that is storm observing.

Lastly, I finally developed cold symptoms on Sunday (after over a week since exposure), so it looks like I didn't escape the bug after all. The good news is that I'll likely have time to let the worst of it run its course before we depart again on Friday or Saturday. We'll be looking hard at available data early this week in order to make a final decision on departure for Memorial Day, that is, if our work schedules can be rearranged.

Back to Top | View All Entries

May 21, 2005: Forecast update


Just a quick update to comment on the latest severe weather outlook. An unusual agreement by several long-range models is reinforcing the storm-suppressing ridge of high pressure over the Great Plains, with the CPC (Climate Predition Center) even going so far as to suggest the beginning of drought conditions across the central and southern portions of Tornado Alley.

I could not have envisioned a worse outlook for the 2005 storm season, which is certainly becoming one of the most bleak of anomalous years in recent history. The one glimmer of hope is that the CPC forecasters have commented on a western trough (a Plains severe-weather maker) beginning to take shape during the first week of June. However, again, we are talking about flaky long-range models - and any trough that sets up may not start affecting the Plains until up to a week later than that. Furthermore, we must begin to see agressive Gulf moisture return via strong southerly surface flow, which has been nonexistent for virtually this entire spring season.

While the large scale pattern (ridge over the Plains, trough in the eastern USA) is certainly the least optimal setup for severe storms in the Plains, it is not impossible to get 'northwest flow' severe weather and tornado events despite the unfavorable upper-level pattern. So, we are still hopeful that the first week of June will bring at least one or two chaseable events. The second week of June looks a little better, but it is doubtful that we all can adjust our schedules to accomodate that much of a delay. So, for now, our Memorial Day weekend re-departure date still stands, and we'll continue to work hard to extend our trip dates another week.

Back to Top | View All Entries

May 17, 2005: Stepping back, planning for June


We've taken a cold, hard look at the situation at hand and decided that leaving even this Saturday would likely be a fruitless endeavor. May is simply not going to produce as expected. Bill has cancelled his Friday evening flight to Tulsa, and we've abandoned our plans to be in the Plains for the last week of the month. Time to step back and start over. The tentative plan now is to leave on Friday the 27th and stay in the Plains until the first weekend in June, possibly even until the second weekend.

The kicker is that all of us have scheduling/work issues to contend with. Our trip now is at the mercy of our employers, and the county has summoned me for jury duty starting on June 6. Will they be willing to let us shift our trip dates back two weeks at such short notice? Will the weather pattern improve in the Plains by then? The answer to these two questions will determine our course of action. It's just a waiting game at this point.

Once again, I'm not upset or anxious. This is what real storm observing is like - this is what they didn't show you in 'Twister'. After you do this for so many years, you come to expect the changing plans, uncooperative weather patterns and unexpected complications. All things considered, a tornado sighting is truly an against-all-odds blessing for a storm observer. But if you're persistent, flexible and have a few things go your way once in a while, you'll get what you're looking for. We're hoping that happens this time around.

Back to Top | View All Entries

May 16, 2005: Back home, short-term forecast looking bleak


This may end up being the expedition season that wasn't. The long-range models are persistent and unrelenting in their forecast of a strong ridge taking hold in the Plains for one to two weeks or more. Moisture in Tornado Alley currently is not supportive of good severe weather chances, even if upper air dynamics did come to pass. This type of scenario is generally not one that recovers within a few days.

We're still planning on a Friday re-departure, hoping for a better outlook. But after each new day that passes, it's becoming apparent that we just might not have a string of 'classic' expedition days before June 1. We might change our game plan from a long trip out west to a short-fuse 3-5 day trip whenever it looks like conditions will improve, which could be as far away as mid to late June. There's nothing to do now but wait.

So, we're going back into 'standby' mode, resuming 'normal life' until Tornado Alley starts to wake up again.

Back to Top | View All Entries

DAY 3: Aurora shows, heading back home - temporarily

Digital photos by Matt Robinson - click to enlarge


Auroras over Dwight, Illinois on May 15
VIDEO: Aurora Borealis display in northern Illinois, Windows Media, 3MB
ABOVE & RIGHT: Amazing Aurora Borealis in Illinois early on Sunday (photos by Matt Robinson).
The saga gets more interesting by the day. Ever since Lexington, Matt had been suffering from what we thought was a bad case of allergies. It turns out it's more than that - the common cold has struck our chase vehicle. It's not long, I'm sure, before the same fate befalls me.
This new development has forced us to make a major change of plans. Our friends Kurt and Nick (currently in Norman, Oklahoma) were planning to ride with us to share expenses, but we don't want to expose them to the pesky virus that would be sure to overtake them if they did. The upcoming few days did look like so-so opportunities in Kansas and Nebraska. But without passengers to split costs with and two cases of miserable cold-infested storm observers, we decided that a four-day, long-shot, $500-plus jaunt to the western Plains was not a wise proposition. To make matters worse, the big storm-killing ridge of high pressure is beginning to set into the Plains, which will mean at least a week or more of high and dry weather.
So, we decided to head home and plan for a return trip later this week. We made it back to Charleston tonight, and Matt will return to Raleigh to recover from his ailments for a few days. As for me, I'm hitting the Zicam regimen to hopefully stave off or lessen the cold that I am almost certain to get. We are planning to regroup on Friday and make another run westward to meet up with Bill and Fabian, who will be there when we arrive. *Hopefully* by then our ridge of high pressure will move east and allow the storms to return to the open prairies.
Now, for some good stuff. Last night, we were asleep at the hotel in Dwight, Illinois when my cell phone rang twice at 3AM - Bill from Virginia and Doug from Minnesota were calling to alert me to the aurora show going on outside. I trudged outside, looked up, and my jaw dropped. Wow!! I woke Matt up and we spent the next few minutes recording the most amazing show of Northern Lights we've seen. So the sky did end up giving us something to take home, even if it wasn't what we expected.
Video captures - click to enlarge

I'll take the auroras as yet *another* sign that the Lord knows what is going on (as if I need any more!), so I'm not too upset about this trip's 'false start'. At the very least, we're saving money from not driving around the Plains trying to observe storms hopeless severe weather setups. Money better saved for tornadoes, not blue skies.
Our early trip home also meant that we were able to drive through Dayton, Ohio - and a particular legendary town in the tornado history books, a name known by storm storm observers everywhere:
Digital photos by Matt Robinson - click to enlarge

Signing off again and praying that the Zicam works...
Back to Top | View All Entries

DAY 2: Indy, Chicago and troubling news

Digital photos by Matt Robinson - click to enlarge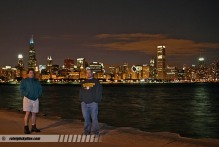 ABOVE & RIGHT: Cruising around Indianapolis and Chicago on Saturday.
The roller coaster of storm observing continues. This morning, I woke up to check the newest long-range model data and found that our 'active' string of severe weather days for later this week had vanished from the forecasts. Without a trace! The latest model runs now place a strong ridge of high pressure over the Plains, and a trough of low pressure in the east. In essence, a setup that all but wipes out any chance of severe storms in Tornado Alley, sometimes for weeks on end. In the storm observer world, this dreaded 'Death Ridge' is the last thing that someone who has planned a two-week vacation out on the Plains wants to see.
So what do we do now? The only thing we *can* do at this point is wait a few more days for the models to resolve themselves further, at the very least until next Saturday. It's too early to call this trip a total loss, as the models are sometimes wrong. But with our prime storm time approaching, we would have hoped for a better outlook by now. There may be some expedition days during the Monday-Wednesday period in Kansas, Colorado and Nebraska, which we'll be there for, Lord willing.
For the time being, we're continuing as planned, hoping that the models change their tone. Even if we have to wait until the end of May for good chaseable severe weather, that's OK with us. We're already on the way and not willing to accept defeat just yet.
We're now at a hotel on I-55 southwest of Chicago, en route to St. Louis. So, tomorrow we'll be heading for an eventual Monday afternoon target of western Kansas, stopping in St. Louis and Kansas City if time permits. Only if Monday-Wednesday's storm risk level fizzles out AND the long-range models continue to paint a grim picture for the rest of the month will we begin to revisit our plans. Such is the perpetual uncertaintly of observing storms!
Signing off, back to the forecasting roller coaster. Chicago and Indianapolis were fun places to check out - more photos to follow soon.
Back to Top | View All Entries

DAY 1: Charleston to Louisville


Louisville - Digital photo by Matt Robinson
EXPEDITION VIDEO: WV/KY storms, Windows Media, 3MB
Day 1 was eventful and long, and I'm exhausted - so this entry's eloquence is going to suffer. After last-minute scrambling to get final obligations taken care of in the morning, this trip is finally 'officially' under way. To make things interesting right off the bat, the atmosphere threw us a little bit of a curveball today. Matt arrived in Charleston, and we were heading west by 6PM EDT. Not content to let us make a hasty exit, storms fired in West Virginia and Kentucky, and were impressive enough for us to stop and grab a few shots in Charleston and Huntington:
Video captures - click to enlarge

Small hail and lightning were the only attractions today, nothing compared to what we are expecting to see out west. Nonetheless, we spent a couple of hours filming the show. We stopped by the WOWK-TV (Channel 13) studios in Huntington to share the catches - which you may have seen on their 11PM Charleston/Huntington broadcast.
After these unplanned diversions, we continued west, stopping twice to check out the Lexington and Louisville metro areas after dark. Matt will be posting more of his skyline shots on raleighskyline.com later. BELOW: The Storm Highway Freestyle in urban Kentucky scenes - Lexington (left) and Louisville (center and right):
Digital photos by Matt Robinson - click to enlarge

Weakening storms rolled through the Louisville metro late, giving us a few more photo opportunities. We tried for some Ohio River bridge/lightning shots until the rain moved in.
Digital photo by Matt Robinson - click to enlarge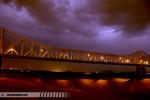 BELOW: Matt sets up and shoots lightning over a bridge in Louisville:
Video captures - click to enlarge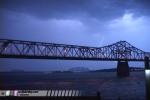 After a somewhat difficult search for a reasonable hotel with WIFI, we're currently staying along I-65 in southern Indiana for the night - with Indianapolis and Chicago on the timetable for Saturday.
So what about the tornadoes? Well, we just missed a string of active days in Texas, and the next few days in the Plains look to be very quiet severe weather-wise. So, we're taking this time to relax and tour some midwestern cities while we wait for the atmosphere to recover out west. The long-range forecast models are showing that severe weather will return to Tornado Alley by Thursday or so of next week, so we are expecting some good expedition days up ahead.
Thunder and lightning are *still* ongoing outside the hotel as I type this, but we're too tired to give it any attention. Signing off, until tomorrow...
Back to Top | View All Entries

May 9, 2005: Vehicle gear installation day


Today was a day to do the majority of the work on installing the rest the expedition gear in the car. The Jotto desk for the laptop came today, and was a pretty simple install. The base attachment wasn't quite as stable as I had hoped, but a C-clamp and some steel cable from Lowe's fixed the problem. The desk has a swivel arm and adjustable vertical support, so that whoever is operating it from the passenger seat can stay comfortable.
I also was able to make the repairs to the Inspeed anemometer to fix the vibration problem, and now it is back in service. The rotor had been damaged and out of balance after I hit a tree branch with it on the Ranger. I also finished assembling the rear communications/power console - consisting of a 750-watt power inverter, outlet strip/surge protector, XM Satellite Weather data receiver, CB radio, scanner and battery chargers. I direct-wired the power console to a main feeder wire to the battery, so there are no voltage problems now. I will have to test this setup to make sure there are no major interference issues, but for now everything seems to work fine.

As far as the storms are concerned, it's looking like we'll have a lull in the severe weather activity for the first few days of our trip, possibly until as late as Wednesday or Thursday of next week. As always, the conditions can change quickly so we'll be keeping our eyes open. At any rate, our departure date of the 14th still stands, if the Lord wills. We may even leave on the 13th if we can get on the road before 2PM.
Back to Top | View All Entries

May 6, 2005: Trip dates set, still watching model data


It looks like everyone's trip schedule is finally as 'set in stone' as it's going to be. With storm observing, it is almost impossible to plan anything ahead of time, so this is a pretty decent accomplishment! My brother Matt (raleighskyline.com, pittsburghskyline.com) and I will be leaving Charleston either late on the 13th or early on the 14th, with stops in Louisville and St. Louis for some city skyline photography. We may be able to add Kansas City to that list on the 14th or 15th, depending on the severe weather setup in the Plains.

From there, here's the plan: We'll be meeting up with Kurt Hulst from Grand Rapids, Michigan (midweststorm observers.com) and Nick Grillo from Detroit, Michigan (midwestchase.com). Kurt and Nick will be on our team until the 20th. On the 20th, William Coyle from Virginia Beach, Virginia (valightning.com) and Fabian Guerra from Chicago, Illinois will be riding with us until the end of the month. We'll hopefully be teaming up with several other vehicles along the way (as we did last year), including those of Dave Crowley and Justin Teague from Tulsa, Oklahoma (stormguy.com); and Mark Sefried from Morton, Illinois (vortexhunter.com). In all, we usually end up in a two to four-vehicle convoy with anywhere from 8 to 15 storm observers total. At any rate, having four storm observers in my car during the entire trip will help everyone cope with the exorbitant gas prices that will likely worsen in late May.

As far as the forecast goes, the severe weather opportunities for our trip are still too uncertain to make a call at this point in time. Currently the Plains region is finally experiencing a pattern shift, with severe weather already occuring Friday and continuing until at least early next week. However, the long-range models are hinting at some downtime for us at the start of our trip next weekend. It's not time to get anxious, though - springtime weather in the Plains is very volatile and subject to change within days. The models, therefore, have a hard time pinning down these patterns. We'll just have to wait - which is the hardest part. We should know more about the prospects for our trip by Wednesday. If things are clear and sunny, our plan is to use the downtime to tour a few midwestern cities (Dallas, Oklahoma City, Tulsa, Chicago, Omaha, etc) to do some urban skyline photography.

In the meantime, the Jotto desk should get here Monday, at which time I'll make the final installations/modifications to the car. Less than one week away . . . we're definately ready.

Back to Top | View All Entries

May 2, 2005: GFS model looking more optimistic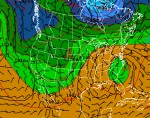 May is finally here. But the atmosphere doesn't seem to notice.

The current unseasonable cold spell in the Plains, including snow and freezing temperatures in parts of Tornado Alley, has many storm observers nervous about the upcoming season peak. But the long-range GFS model is beginning to offer hope of a dramatic pattern change in the next week or so, to a setup more favorable for severe weather (image at right). Models are notoriously flaky in their forecasts this far out, but their consistency over the past few days has been encouraging. Supercell storms could be possible as early as this coming weekend. We won't be making our trip west until later in the month, so it remains to be seen what weather pattern we'll be dealt. It's simply too soon to make a guess.

In the meantime, it's back to getting things ready here at home, not the least of which is finishing up a few big projects at the office. Business before pleasure, so it goes. The chase vehicle needs some re-organizing and preparation. Lorenzo from Inspeed was kind enough to mail out a repair kit for the Vortex anemometer mounted on my vehicle. The rotor shaft was knocked out of balance after hitting a tree limb when it was on the old Ranger truck, and has been making increasingly loud vibrations since. Reading accuracy is starting suffer, so I'll be making that repair that this week. I also picked up a Jotto mobile laptop desk for the car on eBay today. This will help with making room for everyone and allowing the person riding in the passenger seat to use the computer comfortably.

Back to Top | View All Entries

April 28, 2005: Preparations under way, trip web page started

We're getting down to less than two weeks away! Starting on May 11, we'll be going into 'standby mode' here in Charleston, watching for an active severe weather pattern to set up over the Plains. As soon as we get signs that a favorable setup for severe storms is developing, we'll be on the road heading west on I-64. My brother Matt Robinson (raleighskyline.com, pittsburghskyline.com) will be in from Raleigh, North Carolina to make the trip west with me. Matt is a talented photographer and will be our official digital still photographer on our trip. Soon after, we'll be teaming up with William Coyle from Virginia Beach, Virginia (valightning.com); Dave Crowley and Justin Teague from Tulsa, Oklahoma (stormguy.com); Fabian Guerra from Chicago, Illinois; Kurt Hulst from Grand Rapids, Michigan (midweststorm observers.com); and Mark Sefried from Morton, Illinois (vortexhunter.com). Several other observer friends from across the country are still finalizing their trip plans and also may be teaming up with us for the last half of May in Tornado Alley.

This blog will serve as our reporting outlet for the weather expeditions. We'll be posting reports, photos and video clips whenever we can find the time and an internet connection. Stay tuned to this site so you can ride along with us on a 'virtual weather expedition'. If it's tornado and storm photos/video that you're looking for in the meantime, our 2004 Plains Event Trip page has plenty from last year's season to keep you busy!

Above all, we'd appreciate your prayers for a safe and successful trip.

- Dan

Back to Top | View All Entries