Spectacular tornadoes hit southern Kansas: Supercell produces photogenic yet destructive tornadoes: June 12, 2004
ABOVE: Tornadoes at Mulvane and Rock, Kansas on June 12, 2004
EXPEDITION VIDEO 1: Mulvane tornadoes: Watch video
EXPEDITION VIDEO 2: Rock tornado and lightning: Watch video
MULVANE, KS - A supercell south of Wichita produced several incredible tornadoes in rural south central Kansas on Saturday. The following is a journal of the day's expedition. Times (CDT) are approximate. Photos can be enlarged by clicking on each thumbnail image.
For the second time this year, a phenomenal storm photography day begain with a marathon drive from the previous day's target a great distance away. Reminiscent of the May 12 expedition which consisted of a drive from South Dakota, I had driven most of the evening and night on Friday (June 11), this time from north of Des Moines, Iowa, stopping for a few hours sleep in rural northwestern Missouri. I awoke Saturday morning with a relatively short drive to Kansas City, which was within the day's Moderate Risk area outlined by the SPC.
The target was somewhat unclear as I arrived in Kansas City around noon. While supercells were likely along the dryline into Oklahoma, the triple point was forecast to be in northern Kansas into southern Nebraska. The triple point is often the favored target most days, but the surface winds and capping strength were not looking as desirable there as the day progressed. The dryline bulge near the Kansas/Oklahoma border was becoming the best-looking area for discrete storms. Discussions on Stormtrack by other storm photographers confirmed this observation, so I began heading to Wichita to meet up with Dave Crowley and crew who had already made the drive there from Tulsa.
On the way, I got a call from Pete and Tammy McConnell who were just ahead of me on I-35, so we met up in Emporia and convoyed the rest of the day. On radar, I could see storms were already firing, some tornado-warned, in southeastern Kansas and southern Nebraska. It was only around 2PM. The triple point was firing early, but we had already made our target decision.
We had plenty of time, so we decided to drift south of of I-35 to save toll money and position ourselves further south. StreetAtlas showed a paved road going west out of Madison, so we took it - discovering that not only was it not paved, but it became a primitive, narrow path meandering through cow pastures, streams and rocky hilltops. It took us forever to travel what should have been a quick shortcut! Several times we had to drive around cows in the road in the Texaco Hill area. At one point, we passed a rusty oil tank, collapsed shed and radio tower that the map marked as the big town of Teterville. Finally, we were relieved to get to pavement at Cassoday - and decided to just take the turnpike the rest of the way.
After meeting up with the Tulsa gang in Wichita, storms were starting to fire on the dryline - and the expedition was on. Two storms became clear targets - a cell in Harper County to the southwest, and a cell farther to the north. We jumped on the southern storm, arriving in time to see a high-based updraft near Conway Springs:
Digital photo: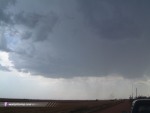 This storm underwent several changes as it moved east toward I-35. It momentarily elongated into a large line before shrinking to a discrete classic supercell east of Conway Springs, at which time it became tornado-warned based on doppler indications. We were concerned about cells to the south contaminating our storm's inflow, but our apprehension dried up along with the LP-like updraft to our south:
Digital photo:

Now with no competition from other storms to the south, our storm was poised to become a classic tornado machine as it chugged toward the deeper moisture east of I-35. We watched the storm organize as it fired out frequent cloud-to-ground lightning just to our north near Riverdale.
Video captures: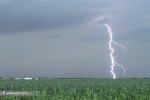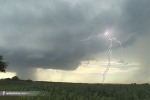 As we watched, low-level inflow bands began to appear to our east, rotation in the base tightened up, and a wall cloud rapidly condensed downward:
Digital photo: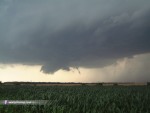 The wall cloud spun rapidly for about 20 minutes before becoming somewhat disorganized. Rotation, however, remained intense. As the wall cloud cycled down, we took the opportunity to move east to stay with the storm. We stopped about 1/4 mile west of I-35 and watched the meso continue to spin as lightning continued to strike all around. Rotation was so defined and so fast that at times, it almost gave a sensation of dizziness to stare at the base of this storm. It felt like I was spinning!
We again repositioned east on a gravel road to stay with the circulation. As we drove along about 2 miles east of I-35, we noticed a bowl-shaped lowering rapidly form in the center of a well-defined spiral in the cloud base. Before we could stop, a funnel rapidly condensed and tornado #1 was on the ground as we rushed to set up our cameras. Though the condensation never reached the ground, the tornado still did damage - we could see trees and other small debris being lofted into the air under the funnel.
Video captures: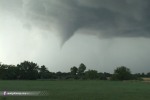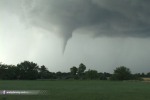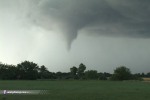 Digital photo: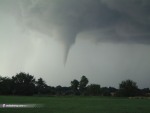 Lightning activity remained intense as the funnel lifted:
Video capture: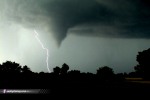 Before the funnel completely lifted, we quickly packed up and moved east to get a clearer view. The funnel dissipated, however - and we found ourselves with the Arkansas River to cross just ahead. The closest bridge was a mile to the south, so we took that route with the plan to get back north with the circulation. As we approached our east-west river crossing road, another funnel formed behind us and rocketed to the ground. We quickly stopped and filmed what would be the show of the day. The tornado changed shape, on the ground doing damage but with condensation lifting and dropping several times as lightning danced around the funnel:
Video captures: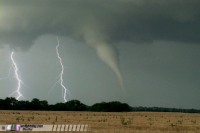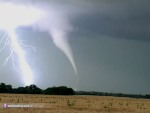 The tornado stayed steady-state long enough for us to get several 'group photos' (Left: Dan Robinson, Right: Dave Crowley):
Digital photos:


Condensation eventually filled in all the way to the ground as the funnel turned bright white in direct sunlight. The tornado is now passing south of the town of Mulvane:
Video captures: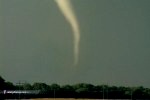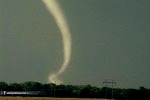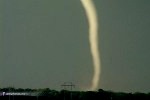 Seconds later, the tornado unfortunately hit several structures, including a house and a barn, sending thousands of pieces of debris flying. A roof is visible swirling around in the dusty debris cloud as the funnel contorted violently. Finally the tornado began to narrow and rope out as it hit a pond and a plowed field, creating a white spray followed by a dense cloud of brown dirt.
Video captures: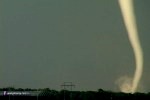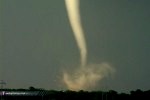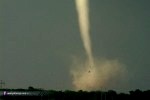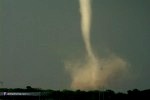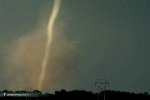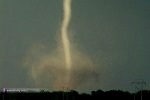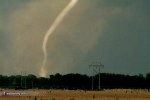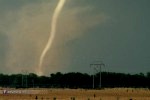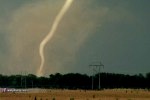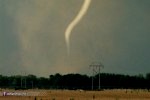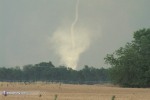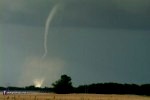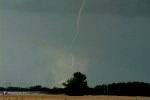 Digital photos: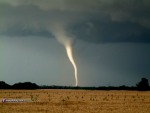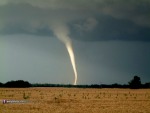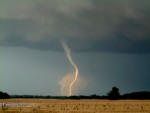 In awe at what we had just witnessed, we again headed east to stay with the circulation as we were positive it would produce another tornado soon. We stopped northeast of Udall and watched a well-defined wall cloud spin rapidly as small bits of debris from the previous Mulvane tornado rained down:
Video captures: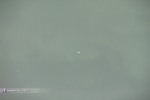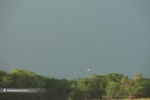 After the wall cloud moved behind trees, we once again jumped east another mile or two and stopped north of the town of Rock. Two wall clouds and parent circulations were visible, one to our north and another to our west. The western circulation weakened as the northern wall cloud tightened up, produced a funnel, and then the third tornado of the day in the golden sunset. The condensation touched the ground several times as the funnel morphed from an elephant trunk to a thin, contorting rope:
Video captures: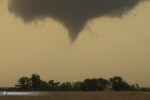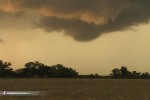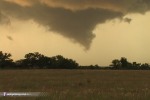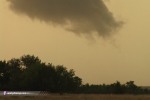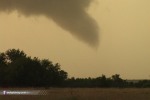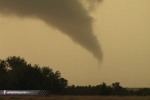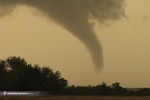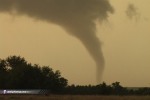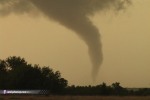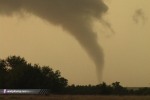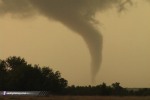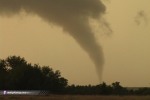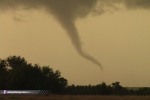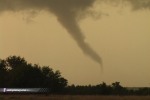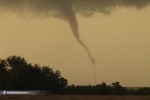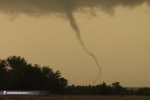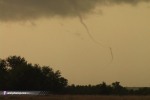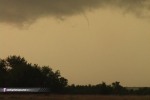 Digital photos: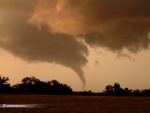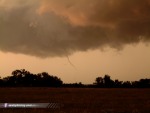 35mm slide:

After the Rock tornado lifted, we moved east again several miles and watched an incredible lightning display in the fading daylight:
Video captures: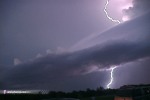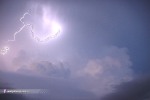 The striated sides of the mesocyclone were a breathtaking sight:
Digital photos: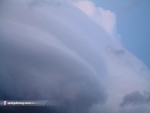 Pete and Tammy decided to head back to Kansas City, while the rest of us turned our attention to lightning as darkness fell - possibly prematurely, as at least two more brief tornadoes occured after dark to our east. After a much-needed snack stop in Sedan, we couldn't resist the relentless lightning show to our north, and stopped for a few 35mm shots:
35mm slide: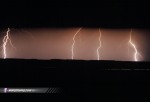 We finally arrived in Tulsa, exhausted but grateful to have witnessed the incredible events of the day. Although we were saddened by the damage of property in Mulvane, we were thankful that no lives were lost nor any injuries reported from what could have been a much larger disaster.
2004 Storm Season Index | Storm Photography Index
This is the best log of them all. Amazing Photography!
- Posted by Linda Ainsworth from Juniper Hills, CA 93543

All content © Dan Robinson. All usage requires a paid license - please contact Dan for inquiries.

Web Site Design and Internet Marketing by CIS Internet