Texas supercell spins up massive tornadoes: Remote rural areas hit, property damage minimal: June 12, 2005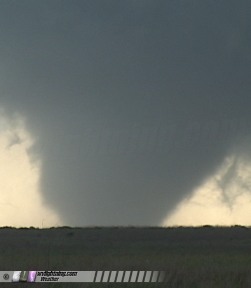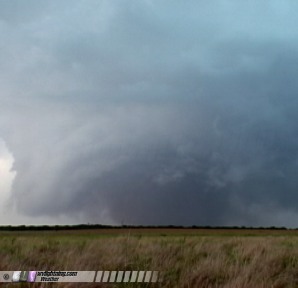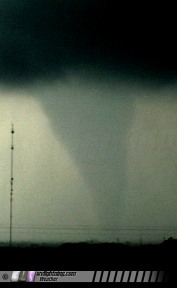 EXPEDITION VIDEO: Kent County, TX tornadoes
KENT COUNTY, TX - A large supercell thunderstorm developed in western North Texas on Sunday, June 12, producing several tornadoes, at least two of which were significant. The following is a log of the day's expedition. Photos may be enlarged by clicking on the thumbnail image.
I woke up early in the morning in Woodward, Oklahoma, our lodging spot the night before. I had the task of finding a place to patch my flat tire so I could cover the day's setup in Texas. After finding several places closed at the 8AM hour, I ended up at Wal-Mart's tire and lube center, which opened at 9. I was the first in line when they opened the doors, and after a half-hour tire patch job I was back in business.
We started our day with a target from southeast Oklahoma to just across the border into north Texas. Heavy rain, thunderstorms and cool temperatures accompanied us for much of our journey south, almost all the way to I-40. We paused at the Flying J on I-40 at Sayre for a data stop - practically sitting on the sharp boundary demarcating cool, rainy air to the north and warm, sunny and moist conditions to the south. When we resumed our trek southbound, our temperatures shot up almost 20 degrees as we entered the soupy airmass. A good sign for the day's prospects.
We adjusted our first stop west and south to Childress, Texas, where we enjoyed the food, free WIFI and massive chaser convergence at the Kettle Restaurant for over an hour.
Digital photos: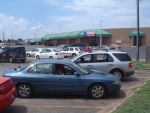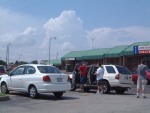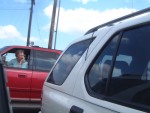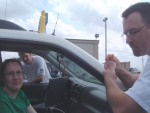 A small area of convection began to initiate on the dryline to our southwest, so we (a long caravan of storm photographers including J. R. Hehnly, Kurt Hulst, Nick Grillo, and many others whos names escape me) decided to head that way so we could jump on whichever cell became the dominant player. We dropped south to Paducah, then west toward Matador on Route 62 to intercept the most dominant cell in the line. The Matador cell quickly lost its lower structure, and we could see our southern storms rapidly gaining strength on the WxWorx radar. At Matador, we headed south on Highway 70 past Dickens, at which time the storm just to our west was exhibiting good structure with a wall cloud and well-defined inflow features. We almost stayed to watch this storm, but we could see on radar that the southern storm, less than 30 miles away, had grown into a massive supercell with no inflow-fouling convection to its south. We felt this storm had the greatest potential, so we jumped on it, abandoning the Dickens cell.
As we approached Spur, our storm looked great on radar:
Digital photo: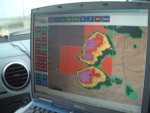 Shortly thereafter, a tornado warning was issued for Kent County. As we punched through the forward-flank precipitation region of the storm, I had a feeling that we'd see a tornado already on the ground when we emerged from the rain and the updraft base came into our view. Sure enough, that's exactly what happened. I managed to get a few fleeting shots of tornado #1 just as we emerged from the rain and got our first view of the menacing updraft, wall cloud and tornado:
Video captures: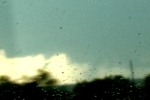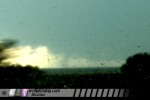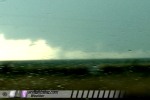 Tornado #1 was a stout stovepipe fully condensed to ground with a large debris fan, but it quickly dissipated shortly after I first caught sight of it. At this point, I broke off from the caravan to follow the storm on my own. It is difficult to stay together as a group in the storm environment where a lot of things are happening fast. I estimated the dissipating tornado and parent circulation to be about 5 to 7 miles to the west, but there were no paved roads to get closer. I tried to move towards the meso using dirt roads, but the rough surfaces and many trees made me retreat back to pavement. When I got back to the pavement and was able to look back at the circulation, I could barely see tornado #2 already on the ground, a fat barrel-shaped funnel. By the time I got to a clear viewing area to stop and film, the condensation funnel had lifted a bit, but circulation was still visible on the ground:
Video captures: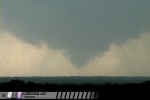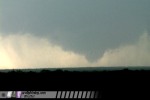 Rotation in the wall cloud was still very strong and clearly discernable, even though I was still about 4 to 5 miles east of it. Fortunately though, it was moving closer and contrast was improving. It was clear that this storm was nowhere near being finished with tornadoes, even though a new cell had developed to its south. Forced to move again due to ever-increasing hail falling, I drove one or two miles south on Highway 70 until I had a nice clear view of the entire updraft base, wall cloud and vault region of the storm. Structure was incredible, with a ground-dragging tail cloud and collar cloud racing into and around the meso. When I stopped again, I hesitated getting out at first due to frequent cloud-to-ground lightning strikes hitting very close.
Video captures: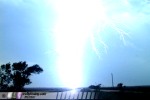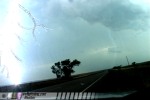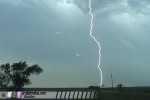 Looking at the dizzying rotation of the wall cloud, I knew it was only moments away from the next tornado. Despite the lightning, I got out and set up the cameras just in time to catch the rapid genesis of tornado #3 about two miles away. The tornado quickly condensed a very large funnel within seconds, with great backlit contrast:
Video captures: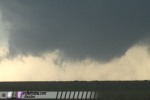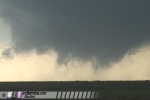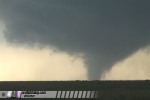 Digital photos: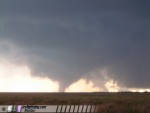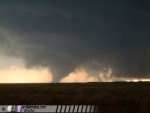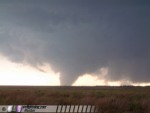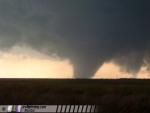 The funnel lifted shortly therefter, leaving a wall cloud spinning at unbelievable speeds along with debris whirls on the ground. The tornado circulation remained on the ground in spite of the lack of a funnel. Low-hanging scud tags rocketed around and up into the circulation as a menacing collar cloud became well-defined.
Video captures: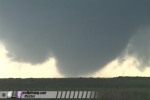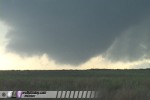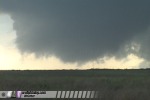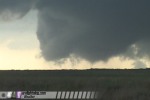 As the tornadic circulation passed about two miles to the west, another large cone funnel began to descend inside of the now monstrous collar cloud, with everything spinning around like a giant merry-go-round:
Video captures: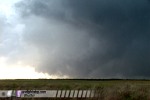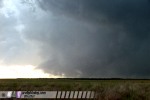 The tornado grew quickly into a very large dusty wedge, with the now ground-dragging collar cloud carouseling around it. Inflow was strong at my location. Occasionally a lightning bolt would strike behind the funnel, illuminating its edges.
Video captures: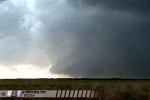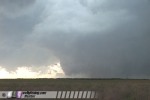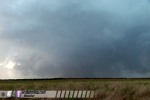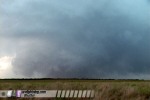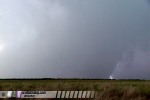 Digital photos: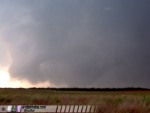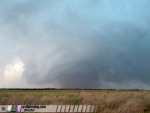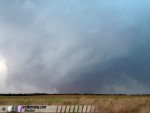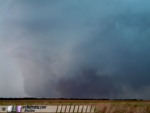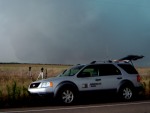 The tornado was getting progressively wrapped in rain and therefore increasingly harder to see as it moved northeast. I took a brief jaunt north to try and see if I could get closer to the spot that it would cross the road, but I completely lost sight of it. Out of safety and the fact that a new meso had spun up to the east, I decided to turn around and head south and east. Just after I turned south, a cloud-to-ground lightning strike hit just off of the road in a wheat field. The bottom few feet of the bolt glowed a fiery red and orange, followed by a large plume of smoke rising from the ground.
After turning east, the new meso was spinning up hard and looked like it was ready to produce a tornado at any moment. I pulled over in strong south winds to film, but sharp westerly RFD hit quickly, kicking up dust and tumbleweeds that obscured my view. I moved east again a couple of miles until I encountered a north road that would place me close to the passing circulation. When I turned north, I had a nice view of the structure of the entire meso:
Video capture: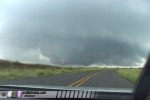 Just before I could stop and set up, two tornadoes suddenly dropped side-by-side, numbers #4 and #5. They were distinctly separate vorticies, not rotating around each other like a single multi-vortex tornado would. I saw it coming and was able to catch them with one of the video cameras:
Video captures: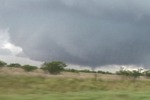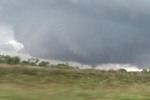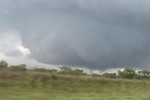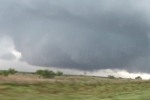 I drove to a high point to stop and film, about a mile away from the circulation center. Funnels dropped and lifted above persistent dust whirls and suction vorticies on the ground. Tree debris was occasionally visible lofting into the air. I have heard accounts that this single circulation was separate from the double tornado just beforehand, which would make this tornado #6. I can't personally confirm this though, as my view of the ground during this transition was blocked by trees.
Video captures: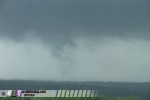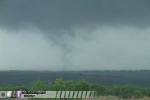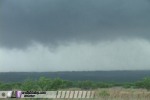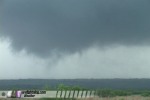 As the tornado dissipated, several rapid-fire close lightning strikes covered me and my cameras back into the car, and I sat inside and watched the circulation as it approached. Several layers of rapidly rotating rain curtains traveling in opposing directions moved closer. I was mesmerized by this sight, which eventually overtook me as I finally decided to turn around and head back to the east-west road.
I moved east to the town of Jayton to get out of the rain and ahead of the circulation again, stopping just north of town. Sporadic quarter-sized hailstones pelted me and the car. Suddenly, I noticed two sights of interest. To my south, a long, slender funnel was hanging out of the new storm to the south, with lightning striking around it:
Video captures: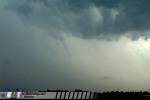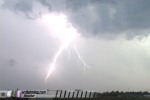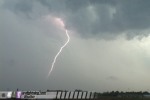 And to the west, another tornado on the ground appeared out of the rain! Tornado #6 (or tornado #7, depending on the consensus on the earlier situation) was a slender cone fully condensed to ground for several minutes.
Video captures: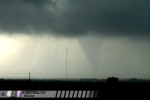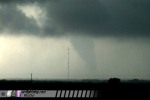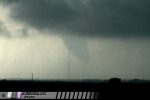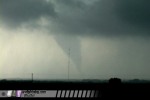 Digital photo: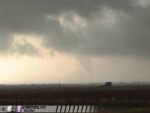 On radar, the new southern storm started looking like the more dominant player, choking off the old tornado-producing supercell I was currently on. Hail was also on the increase in size and intensity in Jayton, so I decided to move south again to position myself in view of the updraft of the southern storm. After a somewhat lengthy drive on Route 83 through Aspermont and Hamlin, I turned west on Highway 92 toward Rotan and finally got a view of the updraft base and meso, which were approaching a point just north of the paved road. A wall cloud was obvious, and the new storm looked like it might do a repeat performace of its northern predeccessor. Since it had not yet rained at this location, I was able to take a dirt road northward to within one to two miles of the wall cloud west of Hamlin. Lightning activity was very frequent and very close, but I was able to set up under power lines for some protection.
After stopping to set up, my winds cooled and shifted out of the northwest, coming from the general vicinity of the wall cloud. This did not look good for the new storm's prospects, especially since there was no convection upstream to contaminate its inflow. It appeared that the new supercell didn't have the ideal environment that its predeccessor had, and I had a feeling that tornado chances were quicky diminishing for the day.
I headed back to 92 and jogged eastward with the struggling wall cloud, enjoying an increasingly spectacular sunset color show along with powerful cloud-to-ground lightning strikes and great storm structure. Highway 92 was packed to the gills with storm photographers filming and watching the sights.
Video captures:
At one point, the setting sun shone through layers of rain curtains as lightning bolts only added to the scene.
Video captures: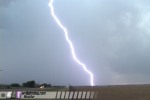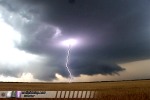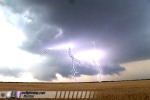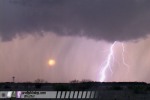 Digital photos: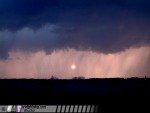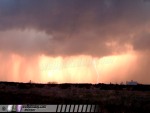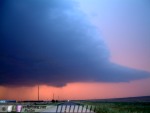 As darkness fell, the storm's appearance on radar continued to deteriorate. Lightning became less frequent and structure was becoming more diffuse and harder to see. After witnessing a brief gustnado in the distance, I called it a day. I headed north to meet up with the members of the earlier caravan at a Dairy Queen in Haskell, where the mass of tired and celebrating storm photographers overwhelmed the soon-to-be-closing restaurant.
I ended the night in Wichita Falls, preparing for a marathon drive back to West Virginia to make a 10AM meeting on Tuesday. June 12 in Kent County, Texas was a spectacular grand finale to what turned out to be a great 2005 storm season after all.
Well, a grand finale in the Great Plains, that is. The weather system responsible for this day's tornadoes would be moving east with me as I traveled home, giving me two more days of storms to follow.
NEXT EVENT: Convenient supercell/funnel expedition in Missouri
Back to Storm Photography Expedition 2005 Index
All content © Dan Robinson. All usage requires a paid license - please contact Dan for inquiries.

Web Site Design and Internet Marketing by CIS Internet