Photogenic tornado at McLean, Texas: May 16, 2017
ABOVE: The McLean, Texas tornado
4K EXPEDITION VIDEO: McLean, Texas tornado: Watch Video
4K EXPEDITION VIDEO: 4-way dashcam time-lapse of the expedition: Watch Video

Click any thumbnail on this page to view a larger version.

MCLEAN, TX - After much waffling and agonizing about whether to do a Plains trip this week, on Monday night I finally decided to just go for it. After an early night's sleep Monday evening, I was on the road west by 2:30AM Tuesday.

GPS LOG: May 16, 2017 trip path

I arrived in Shamrock, Texas at around 1:30PM, with plenty of time to mount the hail shields and get some lunch. By 4PM, storms were firing along I-40 to the west. I went west to the first storm at Jericho to find a decent looking wall cloud/occlusion: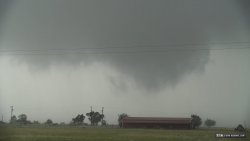 After this moved north and I lost in the rain, I moved to the next storm to the south and east, just south of McLean. As soon as I gained a clear visual on the base, a bowl-shaped lowering signaled an imminent tornado: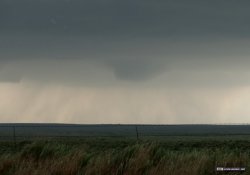 This slowly developed into a nice long-lasting tornado:
My location just northeast of the tornado put me squarely within a core of 2" to 3" hail. When this began, I was outside of the car when one audibly hissed past my head and embedded itself in the ground (you can hear this in the video). Without my hail shields, I'm certain I would have lost at least my rear window here.
After the McLean tornado roped out over I-40, I made the mistake of trying to flank the next storm to the south at Wellington. I then lost it for the better part of 2 hours thanks to a nonexistent east-west road that maps showed connecting south of Sayre. I finally re-intercepted the storm at Clinton, keeping up with the RFD punch and numerous funnels. This several-seconds-long funnel was the best-defined and probably made contact, but I could not visually confirm: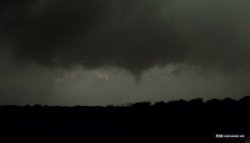 The storm eventually began struggling visually, so I broke off and headed toward Oklahoma City, where I stayed for the night.
NEXT PLAINS EVENT: Oklahoma mammatus and upward lightning >
All content © Dan Robinson. All usage requires a paid license - please contact Dan for inquiries.

Web Site Design and Internet Marketing by CIS Internet