The 2006 storm season is here!
This page is the index for our 2005 season storm season blog from last year. All of our photos and journal entries for the 2006 expedition are being posted on our 2006 Event Blog. For updates and photos from our 2006 trip, go to our 2006 Event Blog.
This web page/blog served as the reporting outlet for our 2005 storm observing expeditions in the Great Plains. The most recent storm observation day entries are listed first, and links to past entries are listed on the left-hand side of this page.
Conclusion
Wednesday, June 15: And so it ends! Most everyone has returned home, and it's back to normal life again. This season will be one of the most memorable of all, starting out with slim hopes, changing plans and unusual problems - and ending with glowing success. The total tornado catches for 2005 are 12, though that number could be higher once I am able to review the video from June 12.

In the coming days, I'll be writing up a final report for each of the expeditions this year, including stats, new photos and details. This blog will remain online indefinately, though this will be the last update.
Day 22: June 14 - Back home for tower lightning
Tuesday, June 14: After a marathon drive from Texas to make a 10AM meeting here at home, I took a nap and went back out for more observing in West Virginia on Tuesday. Storms had heavy cores on radar but otherwise weren't very impressive in person. Decided to go to the 1,500 foot television tower near St. Albans and set up for some lightning shots, and was rewarded nicely! Set up very close to the tower, about 100 yards away - ran two cameras, one wide and one zoomed in close on the tip.

Updated! A full log of the day's events from June 14, including still frames and video, has been given its own page posted at the following link:

June 14, 2005 St. Albans, WV up-close tower lightning video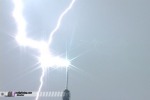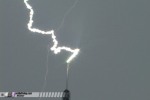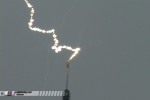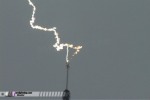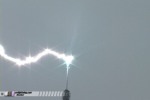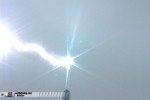 Day 21: June 13 - Missouri supercell and funnels
Monday, June 13: Wasn't planning to observe storms on Monday, as I had to make it back to Charleston for a 10AM meeting on Tuesday. However, a supercell exploded right on I-44 in front of me and tracked along the interstate, giving me an easy and unexpected chase!

The supercell developed southwest of Rolla, and the meso stayed pretty much right over, or just south of, I-44 for most of its life. The storm had a large rain-free base and strong inflow features curving in. A wall cloud quickly developed with strong RFD slots developing off and on. Saw several persistent funnels and heard the sirens going off in downtown Rolla.

Updated! A full log of the day's events from June 13, including still frames and digital photos, has been given its own page posted at the following link:

June 13, 2005 Rolla, Missouri supercell and funnels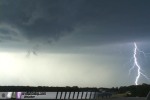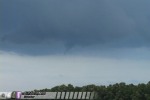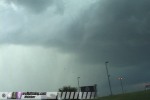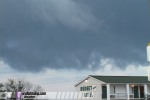 Day 20: June 12 - Monster tornadoes in Texas
Sunday, June 12: Updated! A full log of the day's events from June 12, including tornado photos, has been given its own page posted at the following link:

June 12, 2005 Kent County, Texas Tornadoes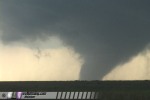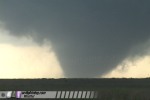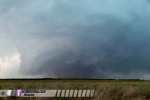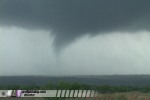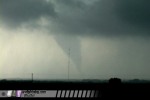 After reviewing video, the tornado tally for the day is 6, possibly 7.
Day 19: June 11 - Lightning in the Oklahoma panhandle
Saturday, June 11: Updated! A full log of the day's events from June 11, including digital photos and still frames, has been given its own page posted at the following link:

June 11, 2005 Oklahoma lightning show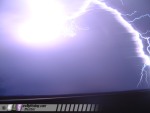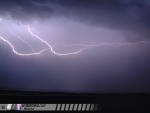 Highlight was changing a flat tire in the middle of a barrage of close lightning strikes.
Day 18: June 10 - Event in the Oklahoma panhandle
Friday, June 10: Started in Hays, Kansas and drove down to the Oklahoma panhandle, stopping in Meade, KS and Beaver, OK for data, where we ran into Erik Rasmussen and talked for a few minutes. We had three choices - storms near Liberal looked somewhat nice, a storm near Woodward that had no upstream storms to foul its inflow, and the southern end of the cluster along I-40 in Texas. None looked particularly appealing. Since we needed to get back to Hastings so Kurt could get his car, we chose the Woodward storm. Saw a few nice lightning strikes, lots of significant flooding, and a nice shelf cloud over the mesas east of Mooreland. I guess it was good that there wasn't much to see Friday, because it was 'National Farm Machinery Moving Day' or so it seemed. We managed to get behind a few long convoys of slow-moving trucks hauling massive farm machines. They were a huge pain to get around, requiring numerous leap-frog style passes over 10-15 miles to get by. We ended the day in Russell, Kansas as we need to get Kurt and Nick to Hastings so they can continue on in Kurt's car. Not sure if we'll make the setup in the panhandles today. Sunday is my last Plains trip, then I'm heading home. Hopefully I'll get one more shot in IL on Monday on the way home.

Updated! A full log of the day's events from June 10, including digital photos, has been given its own page posted at the following link:
Day 17: June 9 - Five tornadoes in Kansas
Thursday, June 9: Now we can officially quit calling 2005 a bad year. Today was the day we'd been waiting for! Five incredible tornadoes near Hill City, Stockton and Ellis, Kansas today.

Updated! A full log of the day's events from June 9, including digital photos and video captures, has been given its own page posted at the following link:

June 9, 2005 northern Kansas tornadoes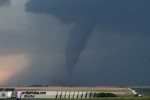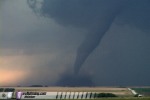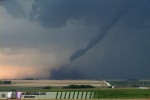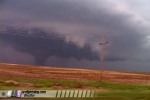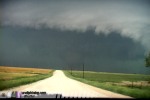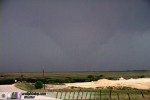 Day 16: June 8 - Rest day in Nebraska
Wednesday, June 8: With the risk area 9 hours away in the Kansas City area, we decided to take a down day to rest up. Stayed in Ogallala, Nebraska after driving down from South Dakota. Preparing for an expedition in Kansas tomorrow.
Day 15: June 7 - Supercell and tornado in South Dakota
Tuesday, June 7: Kurt Hulst, Nick Grillo and I caught an incredible supercell in south-central South Dakota on Tuesday. Saw one tornado and spectacular lightning along with breathtaking storm structure. The storm started out LP about 25 miles southwest of Belvedere, SD, where it exhibited great structure and lightning. We stopped to film for about 20 minutes, then decided to reposition about 15 miles closer. During our reposition, the storm dropped a brief tornado which we had difficulty filming due to hills and rough pavement. We stuck with the storm the rest of the evening. As the meso crossed I-90, it spun up hard, producing one of the most ominous wall clouds I've ever seen. Motion was incredible, but the storm failed to produce another tornado. Behind the supercell, a strong squall line was quickly overtaking it, eventually absorbing it. We ended the day in Murdo, where we rode out the high winds as tornado sirens blared, then had a quick celebratory dinner with Scott Blair, Eric Nguyen and Amos Magliocco.

Updated! A full log of the day's events from June 7, including still frames and digital photos, has been given its own page posted at the following link:

June 7, 2005 South Dakota supercell and tornado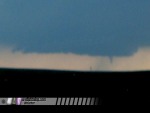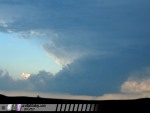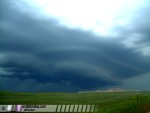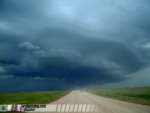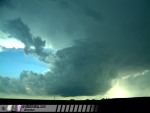 Day 14: June 6 - Turning around again
Monday, June 6: You thought it was over, right? Think again! You forgot the key phrase in storm observing - PLANS CHANGE!

I'll forgive you this time for giving up along with us. Last night I thought it was over just as much as you did. But a look at new data reveals that the northern Plains could be active this week, from Nebraska to the Dakotas. Kurt and Nick emailed from Hastings, NE saying they were still available to team up. So, we got on cheaptickets.com and got Matt a last-minute 6:30AM flight from St. Louis to Raleigh. We're on our way to Lambert Field right now to get Matt on his plane, then I'm heading west AGAIN on I-70 for a few more days of observing.
Day 13: June 5 - Heading home
Sunday, June 5: The plan was to leave Coffeyville at 8AM so we could make Sunday's risk area in southern Illinois by mid-afternoon. But when I woke up at 7AM to check the morning data and outlooks, I just went back to bed. The risk had shifted far north and east into Michigan and northern Indiana, much too far to make in time. We needed the rest, so we decided to let this one go.

2005 just isn't going to be much of an expedition to remember. There is no appreciable severe weather risk within our driving range for the next several days. This, and the fact that we need to get Matt back to Raleigh for work on Wednesday, will bring our 2005 storm observing expedition to a close.

On Sunday, we left Coffeyville, Kansas at 11AM, drove for 5 hours and spent the evening in St. Louis shooting city skyline photos. We're now lodging in O'Fallon, Illinois, and will be making one more stop in Nashville on our way to Raleigh. After dropping Matt off in Raleigh, I will be returning to Charleston by Wednesday night, bringing this 7,000 mile, 14-state saga to an end.
Day 12: June 4 - Close, but no tornado
Saturday, June 4: SPC issued a high risk for Saturday, in response to conditions that pointed to a significant tornado outbreak. Bill Coyle, Dave Crowley, Justin Teague, Grant Johnson and my brother Matt and I ended up cell-hopping and core-dodging from El Dorado to Atlanta, KS. Saw several wall clouds and circulations near Atlanta, two with very rapid rotation and rising motion, and one producing a fleeting narrow funnel condensed nearly halfway to ground. The latter sights prevented the expedition from being a total loss, though the day promised so much more. Ended the day in Coffeyville, where we are resting up for the 6-hour drive to Illinois tomorrow for our last chase of spring 2005.
Days 10,11: June 2,3 - Cap busts, nighttime wall cloud
Thursday, June 2: Thursay's setup looked good for western Kansas. We targeted Liberal, Kansas, which was good since that was where we were staying Wednesday night. We waited all day for storms to fire on the dryline bulge, and finally at 5PM we had a cell developing to the west. As we drove west to intercept, it died quickly. I called it a day and headed to Manhattan to pick up Matt, who had just flown in from Raleigh.

Friday, June 3: We headed south to Lawton and watched towering cumulus try to get going. Finally, we had a storm develop north of Lawton, and we drove north to intercept. Just like Thursday's storm, however, it also had trouble organizing. It was also racing north out of our reach. We called it a day in Minco and stopped in OKC for a steak dinner!

Later that night, supercells developed in northern Oklahoma near Bartlesville, and Bill, Matt and I headed north for lightning photos. We ended up seeing our storm morph into a monster supercell with frequent lightning, a persistent wall cloud and several funnels:

Video Captures:

Digital Photos by Matt Robinson - click to enlarge

We called it a night after 3AM and spent the night in Bartlesville. We are heading to Kansas on Saturday for a possible significant tornado outbreak.
DAY 9: June 1 - Down day for travel - Texas to Kansas
Wednesday, June 1 - The severe risk today was way up in the Dakotas, much too far for us to reach in time. Furthermore, the next few days look very good for Kansas and Nebraska, so we don't want to stray too far north anyway. We're in Liberal, Kansas now, after driving the 5 hours from Lubbock. We needed the down day to rest up, as the next few days look to be very active. Thursday looks like a good storm observation day right here close to where we are, so we likely won't have to travel far tomorrow.

Our storm observing expedition prospects look to be finally turning around, with the severe weather patterns returning to the Plains. A strong trough is digging into the western USA and will stay in place for the next week or two, providing day after day of severe storms. And on another note of good news- thanks to some gracious coworkers who were willing to swap work dates, Matt is going to be able to come out and chase with us after all. We were able to get him a reasonable last-minute flight from Raleigh to Manhattan, Kansas on Thursday. We'll be picking him up after the expedition tomorrow, and he'll be with us until at least Tuesday.

Our expedition has definately had its ups and downs. We've endured bad weather patterns, cold viruses, work scheduling frustrations and weeks of waiting in uncertainty. And our patience is paying off. We've already scored one tornado and some amazing sights, and the upcoming week looks exciting.

Had a little time today to start on the scrapbook of photos centered around the expedition vehicle - click to view.
DAY 8: May 31 - Lubbock, Texas supercell
Tuesday, May 31 - Spent the day following supercells north and west of Lubbock. We saw no tornadoes (except for a small spinup that may have been a gustnado), but the day was filled with plenty of awesome structure, hail and lightning: (click photos to enlarge):