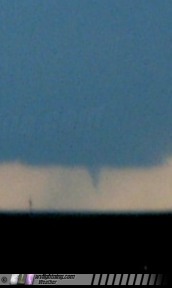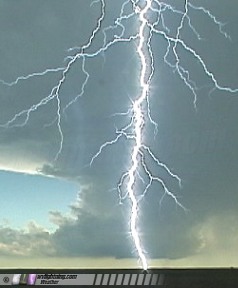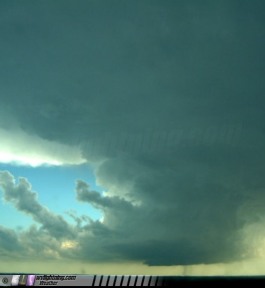 Supercell puts on a show in South Dakota: Storm produces tornado, large hail, frequent lightning: June 7, 2005
EXPEDITION VIDEO 1: Close lightning strikes near Kadoka
KADOKA, SD - Severe storms developed in western South Dakota on Tuesday, June 7. Tornadoes, large hail and damaging winds were reported across the region. The following is a log of the day's expedition. Photos may be enlarged by clicking on the thumbnail image.
For me, the drive to this target began at 4AM on Monday morning in O'Fallon, Illinios. My brother Matt from Raleigh, North Carolina had been traveling with us in Kansas and Oklahoma for the past few days, and I was on my way to Raleigh to take him back home. He had to be back to work on Wednesday, so we needed to be on our way eastbound. Furthermore, at last check, the severe weather season on the Plains looked to be sputtering to a close, so I didn't see any reason to stay. Since I had decided that my storm photography trip had ended, we'd already started the long drive back east on Sunday, pausing in St. Louis for cityscape photography on the way.
Just after midnight, however, I began looking at the latest model runs and SPC outlooks. It appeared that the next few days in the northern Plains would be sufficiently active. And just then, I read an email from Kurt Hulst that he and Nick Grillo were in Hastings and could ride along to share expenses. Lastly, I checked airfares online and found that I could get an inexpensive short-notice plane ticket to fly Matt back home out of St. Louis in the morning. So, after reserving his flight, we got a very short night's sleep, having to wake up at 4AM to head to Lambert Field west of St. Louis.
After taking Matt to the airport and leaving St. Louis, I made it to Hastings, Nebraska at 5PM later in the afternoon. Kurt and Nick transferred all of their gear and luggage to my car, and we began the trek north toward a target of southeastern South Dakota.
Digital photo: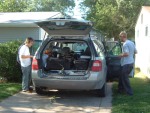 Scott Olson, a storm photographer friend in Brookings, South Dakota, had offered us space to lodge at his house that night. We arrived in Brookings around midnight, making this day's journey my longest in duration and the most distance covered in a single day: From O'Fallon, Illinois at 4AM to Brookings, South Dakota at midnight, via Hastings, Nebraska, a marathon drive totaling over 900 miles in 20 hours!
We left in the morning for a preliminary target of Pierre in central South Dakota. The entire central and eastern part of the state was outlined in a moderate risk for severe storms, with tornadoes probable. West of Brookings, we encountered a flock of birds flying in a rotating column formation resembling a tornado. Perhaps the birds were trying to tell us something?
Video captures: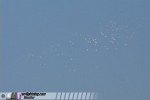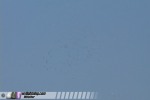 We arrived in Pierre by early afternoon, and decided to adjust our target westward to get closer to the frontal boundary where we felt storms would have a better chance of staying organized. We dropped south to I-90, then began heading west. West of Murdo, we could see convection already in progress ahead of us. As we continued driving, the distinctive base of an LP supercell became visible on the horizon to the southwest. This storm looked promising, so at Belvidere, we exited and set up south of the interstate to watch its progress as it moved our way. The structure of the storm was impressive even from a distance:
Digital photo: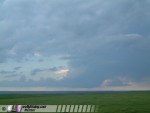 As we watched, it was apparent that our storm was the one to stay with. A wall cloud began to condense as it transitioned from an LP into a classic supercell. We were still very far from the storm and wanted to get a closer view, so we immediately got back on I-90 en route to a better vantage point south of Kadoka. But the storm wasn't going to wait for us. As we crested the next hill and the storm's base came into view again, a funnel was descending from the wall cloud. This circulation was confirmed to be on the ground by storm photographers closer to it, and so we had our first tornado in progress. The highway was very rough, making zoomed-in videography nearly impossible. I did manage to get a nice shot of the funnel along with the entire storm above it:
Digital photos: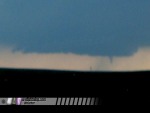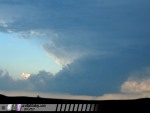 Straining to keep the tornado in view in between hills, we watched as the funnel transitioned into a skinny pencil-thin rope:
Video captures: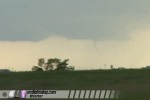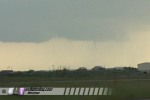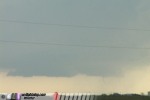 The afternoon was still young, and we felt that this storm had the potential to keep producing tornadoes. For this reason we continued driving to get closer, rather than stopping to film this tornado at a great distance.
The tornado dissipated as we exited I-90 at Kadoka and began heading south. We stopped for about 10 minutes south of Kadoka along Highway 73 to film the storm, then moved south again as the updraft approached. The structure was breathtaking, with a flat base, wall cloud, inflow bands and anvil. Powerful cloud-to-ground lightning strikes rained down from the anvil overhead, many striking very close to our position. The resulting scenes were in themselves enough to make for a great storm photography day:
Digital photos: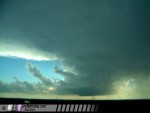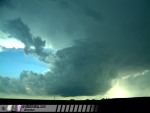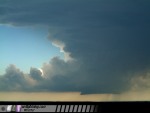 Video captures: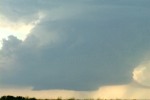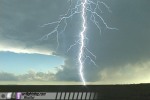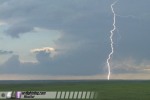 As the storm approached Highway 73, it began showing signs of trouble. Structure began to suffer, and winds shifted to cool outflow at our viewing location. The storm could not seem to sustain a distinct area of rotation long enough. Several miles south of Kadoka, we entered a broad valley full of interesting rock formations as the storm began to cycle again. A new meso was spinning up quickly to the east of the road, developing a rapidly rotating wall cloud. In the meantime, a long, ragged but distinctly rotating funnel appeared to our northwest, apparently associated with the old circulation:
Video captures: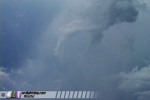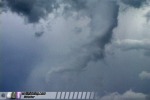 At this point, we had to make a difficult decision. The storm was moving east-northeast toward I-90, and was now east of Highway 73. It was moving into an area with no roads in close proximity to its circulation. We had only two route options: either go back north to I-90 at Kadoka and follow behind the storm at close range, or drop south to State Route 44 and then move east, staying south of the storm before shooting north and re-intercepting the updraft near Belvidere. The Kadoka option would mean we'd have to wait for the damaging hail core to cross the Interstate before re-intercepting, and if the storm turned hard to the right, we'd lose sight of any tornadoes that would form if we were on that course. The south option would take us far away from the storm before we could re-join its path, but we'd remain to the south of the updraft, a much more favorable intercept position. Besides, the southern route would allow us to observe any tornadoes that formed, though our view would be very distant and low-contrast from Rt. 44.
We chose the southern route, painfully leaving our storm behind, but getting caught up with it again at Belvidere. As we approached from the south, structure was well-defined with striated banding:
Digital photos: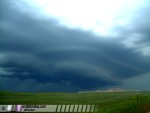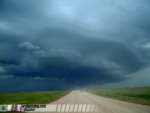 And as we got an even closer view, we observed a very well-defined wall cloud and clear slot:
Video captures: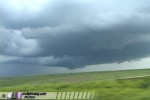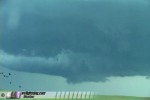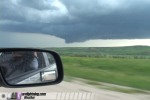 Rising motion and rotation in the wall cloud was strong, and the storm looked ready to produce a large tornado. As we entered I-90 eastbound at Belvidere, this feature broadened and lowered into the most ominous wall cloud I'd witnessed to date.
Video captures: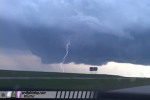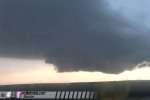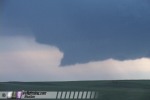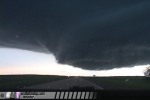 All this time, a large fast-moving line of storms was quickly overtaking and engulfing our supercell. The menacing wall cloud slowly lost its punch as the squall line moved in. We stayed with the supercell's updraft until its identity was all but lost in the encroaching line. We ended up in Murdo, as tornado sirens sounded just ahead of the now well-developed and severe line, now a derecho with damaging winds on its leading edge. We anticipated large hail, so we along with a half dozen other storm photographers including Scott Blair, Amos Magliocco, and Eric Nguyen, parked our vehicles under a gas station's overhang just as the leading edge of the storms hit. We took shelter in the gas station's restaurant and watched the action outside, a hurricane-like display of powerful straight-line winds that had debris flying, power flickering and the gas station canopies rocking. Hail was never very large nor plentiful. As the winds subsided, we parked our vehicles and grabbed a quick dinner at the diner. Scott had collected some of the large hail from the supercell's early stages, and brought it inside for some interesting post-expedition fun with 'food and hailstones'.
Video captures: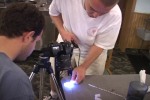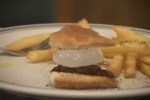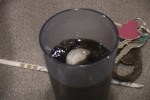 We ended our day at a hotel in Murdo, not expecting to photograph storms Wednesday's setup in eastern Kansas due to the extreme distance required to get there on time. Instead, the 8th would be a down day to rest and prepare for another chase on Thursday, which at the time appeared to be setting up in southwest Nebraska. Wednesday would be a well-needed slow-paced travel day for a destination of Ogallala, Nebraska along I-80, which would put us in a good starting point for Thursday.
NEXT EVENT: Multiple tornadoes in northern Kansas
Back to Storm Photography Expedition 2005 Index
This web site is made possible by support from CIS Internet.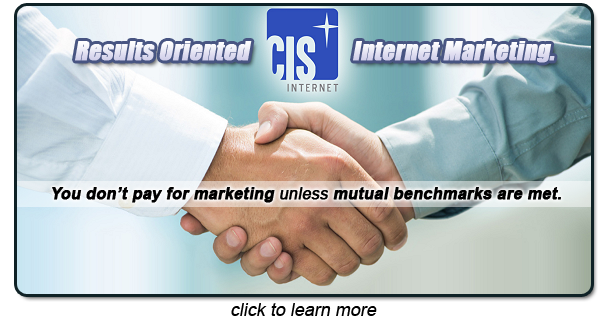 GO: Home | Storm Expeditions | Photography | Extreme Weather Library | Stock Footage | Blog
Featured Weather Library Article:
All content © Dan Robinson. All usage requires a paid license - please contact Dan for inquiries.

Web Site Design and Internet Marketing by CIS Internet