April 17: Storms keep lighting up WV
ST. ALBANS, WV - The active weather pattern continued throught the weekend with storms affecting the state again early Monday morning. The WVAH television tower in St. Albans, as is common during thunderstorms, was struck several times before sunrise. Left: Close-up shot of a lightning strike to a TV tower in St. Albans.
[ Full story and more photos ]

GALLERY: Lightning in Clarksburg and Parkersburg on Friday

GALLERY: Gallatin & Goodlettsville, Tennessee tornado aftermath

CHASE LOG WITH PHOTOS: April 7 expedition to Tennessee and Alabama

April 1: April arrives with a show
CHARLESTON, WV - Thunderstorms heralded the arrival of April in West Virginia early Saturday morning. Left: Lightning over the State Capitol on Saturday.
[ Full story and more photos ]

March 21: Icy roads return for spring
CHARLESTON, WV - Even though the calendar says it's spring, drivers still shouldn't let down their guard against the weather. Snow, sleet and freezing temperatures made bridges and overpasses slick in West Virginia on Tuesday night, causing numerous accidents on state highways. Left: A car spins out on the icy I-64 Oakwood bridge in Charleston on Tuesday night.
[ Full story and more photos ]

VIDEO: Accidents caught on camera on Tuesday : Windows Media, 2.0MB

February 12: Snowstorm affects Mountain State
FAYETTEVILLE, WV - A Nor'easter storm affected West Virginia with the highest storm total accumulations so far this season for many parts of the state. The Charleston area saw 3 to 5 inches of snow, while some of the mountain regions saw 7 inches or more.
[ Full story and more photos ]

January 18: Slippery roads strike again
CHARLESTON, WV - Wet roads and high speed contributed to a single-vechicle accident at I-64's notorious Oakwood bridge curve early on Wednesday morning. The accident was caught on tape by a Storm Highway cameraman who happened to be at that location shooting overnight weather video. The car entered the sharp curve at a high rate of speed, lost control, hit the left barrier, spun around, struck the right barrier, and finally rolled over onto its roof. [ Full story and more photos ]

VIDEO: Rollover accident caught on camera : Windows Media, 1.9MB

January 2: Lightning suspected in mine tragedy
TALLMANSVILLE, WV - Lightning from a round of unusual wintertime thunderstorms on Monday morning may be to blame for an explosion at the Sago underground coal mine in Upshur County. 12 miners were killed in the disaster. LEFT: In this video image, the thunderstorm suspected of causing the Upshur County mine explosion lights up the sky in Charleston about an hour before the accident.
[ Full story and more photos ]

MEDIA NOTICE: Video from the lightning storm that may have caused the Tallmansville mine explosion is available from Appalachian Skies. Please visit our Breaking News Page for more information.

November 8: Intense storms blast state
CHARLESTON, WV - Summer-like thunderstorms, well out of season for November, crashed through West Virginia on Tuesday and Tuesday night. In Charleston, a staggering barrage of vivid lightning after dark ravaged the downtown area, causing power outages and giving a startling display of nature's power.
[ Full story and more photos ]

EXPEDITION VIDEO: Charleston under attack from lightning barrage : Windows Media, 6.8MB

October 25: 2nd day of snowfall coats roads
SHADY SPRING, WV - Snow began falling in earnest late Tuesday afternoon in the mountains of West Virginia. Beckley remained snow-free initially, but just to the east in Shady Spring, the snow came in heavy and fast. Roads remained clear, but bridges and overpasses quickly became covered with a slick coating of snow and ice. Many motorists were taken by surprise when they encountered the slick bridges.
[ Full story and more photos ]

VIDEO: Pickup truck accident caught on video, WMV 3.7MB

On-Location Hurricane Rita Photo Gallery and Video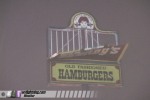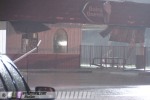 Storm Highway ON-LOCATION VIDEO: Hurricane Rita slams the Texas coast: In Port Arthur, a Dairy Queen falls apart and a Wendy's sign blows out. In Beaumont, power lines spark, winds blast through downtown and at a hospital. WMV, 15MB
[ Full story and more photos ]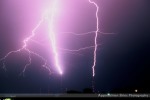 New Feature Article
"Lightning discharges to TV towers, antennas and other tall structures" is our newest online article that takes an in-depth look at the unique 'ground-to-cloud' type of lightning, with animations, illustrations, photos and video.
[ Full article ]
May 7: Hebrews 10:23 - Take a look at another story of God showing up in the life of an ordinary person.
WEATHER NEWS STORY ARCHIVES:
Past weather news stories from the Storm Highway front page are archived back to January of 2003:
2005 story archive - From January 2005 to present.
2004 story archive - Last year's headlines.
2003 story archive - Stories from 2003.