Tornadoes hit Nebraska, Iowa: Severe weather affects numerous states: May 21, 2004
EXPEDITION VIDEO 1: Hadar, Nebraska tornado: Watch video
NORFOLK, NE - Severe storms with hail, high winds, and tornadoes affected a large portion of the United States on Friday. Tornadoes raked Iowa and Nebraska in the afternoon and late evening. In West Virginia, a strong line of storms caused wind damage across many areas of the state. The following is a journal of the day's expedition. Times (CDT) are approximate. Photos can be enlarged by clicking on each thumbnail image.
We (Pete McConnell, Fabian Guerra, Damon Shaw and I)started this Wednesday in Colby, Kansas after observing Colorado and western KS the day before. We decided to head to central/northern Nebraska to play the boundary there, stopping at the North Platte library for data on the way. Finally parked for a while on the boundary on Highway 91 west of Ericson and observed several weak cumulus struggling to stay alive around 5PM.
We watched this area for about 30 minutes and started to get discouraged, especially when we saw the cells in western NE on radar looking very impressive. We had a discussion about whether or not to bail on our boundary and head for the storms to our west. They were 3.5 hours away to our west and we would not intercept until dusk. Remembering the classic accounts posted by many storm photographers in years past that reiterated time and time again "Stick to your target", we decided to do just that - and hope our boundary wouldn't disappoint. Not 5 minutes after we decided to stay, a Cu to our due east began to look solid. Little did we know, this tiny cloud would eventually give us a tornado two hours later:
Digital photo:
Another Tcu took shape to the SE. Then another. Our boundary was finally firing, and we were there!
We initially headed east for the first cell, excitedly watching it go from Cu to Tcu to full-grown Cb, growing ever larger on radar at the same time. As we closed in, it started to weaken, and a cell to the south began to explode and look like it would be the dominant player. We left our first storm for the second, which had already anviled out and was producing a nice precip shaft when we stopped to watch it on Highway 281 at Greely:
Digital photo:
But, the storms would flip-flop and the northern cell again became dominant while the southern cell's updraft disintegrated, orphaning the anvil. Back to our original storm we went, catching up to it near Tilden. As we approached it from 25 miles to the south we could see the explosive convection becoming more and more well-defined.
East of Tilden, we had a good view of the meso to the north and stopped along Highway 275 to size up the storm. Smooth inflow bands and a rounded base were taking shape, looking good. A clear RFD slot appeared to be developing:
Digital photo: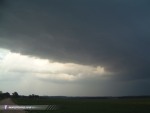 We jumped back on 275 and tried to get closer. As we did, the meso tightened up and took on a mothership appearance as a wall cloud rapidly formed and lowered:
Digital photo:
We needed to find a place to stop quickly! We found a dirt road to the north near Battle Creek that crossed the Elkhorn River, drove a mile or two north, then stopped on an east road with a nice view of the action. Rotation in the wall cloud was clear at this point, and dust was being kicked up underneath:
Digital photo:
At the time we assumed this was RFD, but later review of the video indicates possible rotation - so we may have had two tornadoes this day. Not counting it for now as I'm not sure enough of it.
With the wall cloud moving behind some trees, we decided to jump east several miles. After cresting the third or fourth hill, we saw a funnel dangling from the base and stopped at the next good view at the top of a hill just southwest of Hadar:
Digital photo:
The funnel lengthened and soon a black swirl of dust and debris appeared underneath - tornado! ( RealVideo clip, 2.3MB )
Digital photos: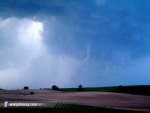 Video captures:
35mm slide:

Debris on the ground was not long-lived, and the tornado only lasted one or two minutes. From our vantage point, contrast was so-so and condensation did not make it to the ground except for possibly during the rope-out phase, which was of too poor contrast to confirm.
After rope-out, we again headed east to stay with the storm. At this point we observed a very large area of black dust rising from the ground about 2 miles to our north, apparently RFD (not rotating) but very ominous. I thought we would have a large tornado very shortly, but it didn't come to pass. Crossed Highway 81 and parked again to watch an area of weak rotation less than a mile to the north. Less than a minute later, a huge observer convoy appeared along with the DOWs and the Bushrag armored car. It was getting dark now and impossible to see anything, so we turned around east of Hoskins and headed back to Norfolk for the night.
West of Hoskins, new cells were building to our west and southwest. At one point, clear deep blue twilight sky and the crescent moon was visible in between convective towers flickering with frequent lightning:
Video captures:
After checking into the hotel, a line of severe storms was developing and moving over us. After the cores passed, we were treated to one of the best anvil-crawler/CG lightning displays I have seen in a long time ( RealVideo clip, 2.7MB ). Every lightning discharge filled the sky, and occasionally one would produce a powerful ground component with window-rattling sonic-booming thunder, setting off numerous car alarms across town (including mine).
35mm slides: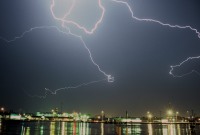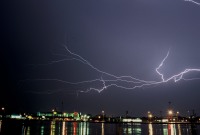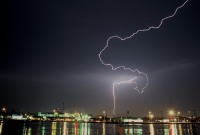 Video captures: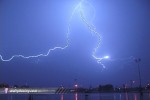 I filmed the lightning display for an hour and a half before heading to bed in preparation for the next storm photography day in southern Nebraska.
NEXT EVENT: Missed opportunities on the outbreak day of May 22
GO: Home | Storm Expeditions | Photography | Extreme Weather Library | Stock Footage | Blog
Featured Weather Library Article:
All content © Dan Robinson. All usage requires a paid license - please contact Dan for inquiries.

Web Site Design and Internet Marketing by CIS Internet