Home | Blog Index | Blog Archives | Christianity & Faith Essays
Monday, March 23, 2009 - 10:35AM
Cotton Hill/Hawk's Nest, forecast stuff
A few shots from Sunday afternoon around the 'Dries' of the New River, below Hawk's Nest Dam. Not much in the way of scenic vistas here, but still a good hike. I decided to forego trails and find my own way up the mountainside.
click to enlarge
On top of the ridge: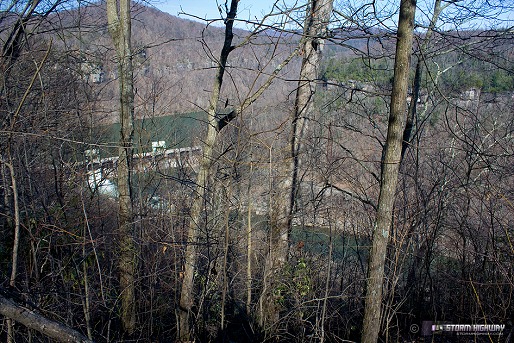 click to enlarge
Close-up of moss growing on a fallen tree: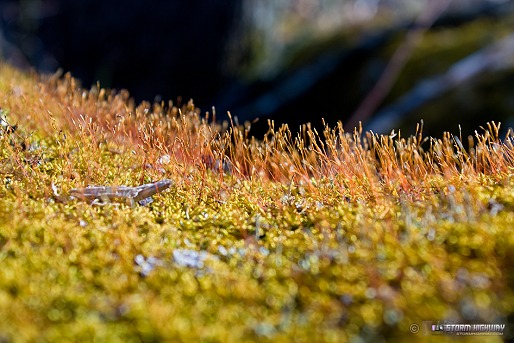 click to enlarge
Deep blue and green through the Rhododendrons: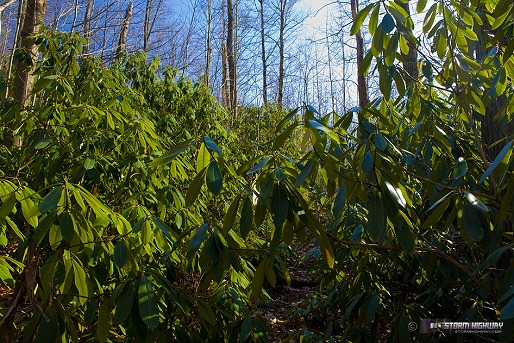 click to enlarge
A common problem with going 'off-trail' in the Appalachians are the brier thickets, most of which are impossible to get through. They will tear you up if you try! On past hikes, I've taken clippers with me to clear the brush - but it's usually a losing battle to try to break a path through this stuff. In this case, the ridgeline became increasingly covered with them and my arms were taking some damage. I finally found a brier-free path back down the mountain using a stream bed. This is way off of any trail, and may be the first time in a long time (maybe ever) that these scenes have been photographed: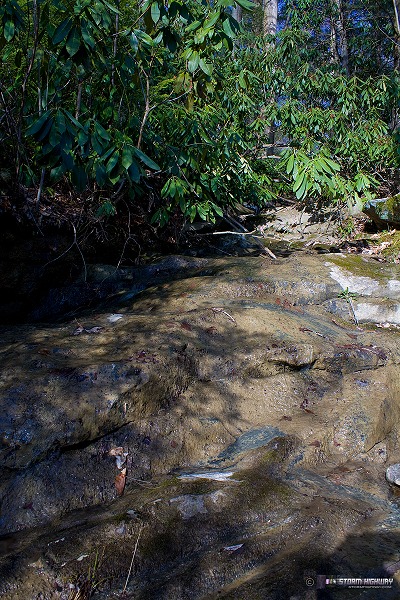 click to enlarge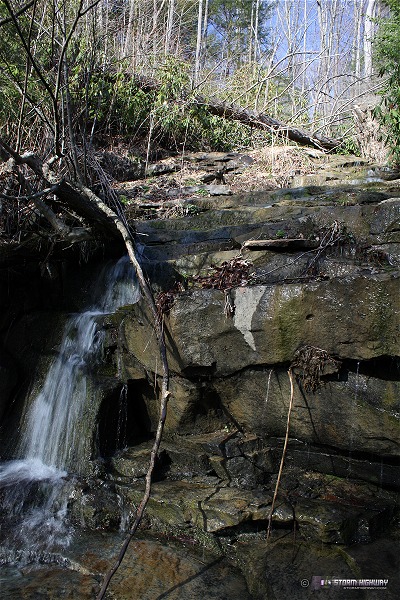 click to enlarge
I ran into a slight problem with my creek bed route.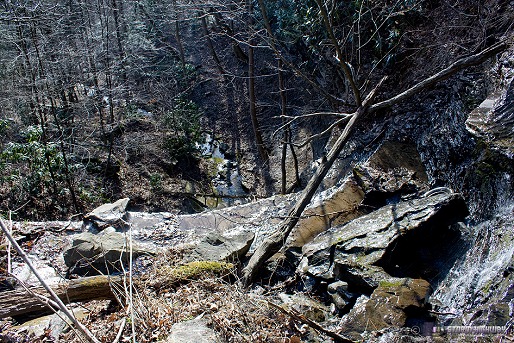 click to enlarge
The view looking back up after I made my way down around it (notice the rainbow in the mist):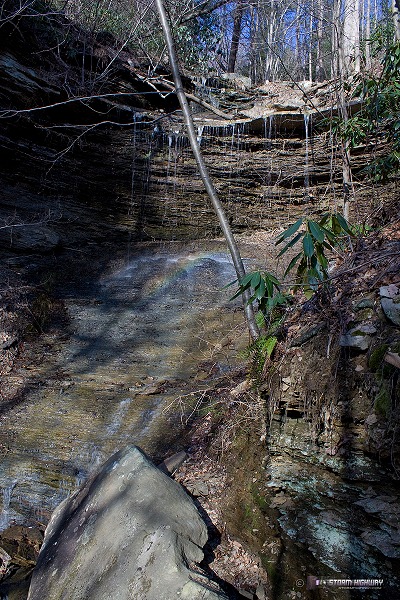 click to enlarge
Update on some weather stuff
Severe weather season is coming to life in the Great Plains, with the first substantial storm observation day of the spring slated for today (SPC moderate risk with 15% hatched tornadoes). I have not done any detailed look at data and don't plan to (as I'm not observing this), but this is looking like a fairly marginal setup - storm mode in question, timing mostly favoring after-dark tornadoes (if any) and storm motions incredibly fast - typical for late March. Something I'd be observing if I lived within a couple of hours away from, but not something I'm driving 15 hours for. Storm season is in its early stages and it's definitely not time for us long-distancers to make a trip yet.
Looking back to the 'home area', it looks like winter might score a few hits despite the calendar. The models are coming into better agreement for at least one major cold trough slamming the eastern US, with 850mb temps plummeting well below freezing while upslope flow hits the Appalachians with precip. That, of course, is the common setup for upslope snow. The first event is shown for next Monday, followed by possibly another later next week. I really hope the models are wrong, but they are all I have to go on this far out. Sorry for the bad news!
The good news is that it doesn't look like this will be a major storm at all, but rather a common mild, post-frontal upslope event. This time of year, the only real chance that upslope snows have to accumulate is if they fall overnight. Models show daytime temps well above freezing, but Monday morning's (before sunrise) temps are shown as being very close, if not just below. I expect the GFS model to back off of that some as time goes on, eliminating the risk of icy roads in the lower elevations - but I would not be surprised to see a shift to colder temps. For that reason, this one still needs to be watched closely as the event approaches. I'll post updates if I see something worth mentioning.
I do quite a lot of walking and should take the camera with me, but it's like they say, the motor mechanic is the last one to fix his own car. Dan, if you spot a good looking setup on the models for the plains how late in hour's would you leave it to set off, taking into account the 15 hours driving time.
- Posted by Mick from United Kingdom
Mick, I usually wait until around 2PM EDT to make a final decision to leave. By then all of the 12z model runs and the new (1730z) SPC Day 2 outlook are out. Early afternoon is the last big data update I can get and still make it to a next-day target on time (plus get a few hours of sleep on the way). Some days I wish I could wait until 00z (about 8PM), but by then I won't have time to get any decent sleep if I had to drive the entire way.
- Posted by Dan R. from Charleston, WV
Speaking of the 12z models - the new GFS run has warmed up Monday morning's lows to around 40F. Tuesday morning could freeze, but hopefully by then the upslope flow will have tapered off.
- Posted by Dan R. from Charleston, WV
This web site is made possible by support from CIS Internet.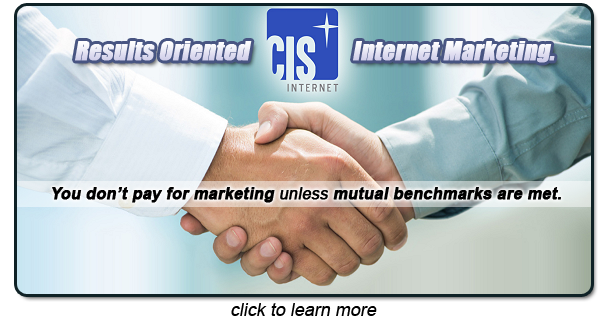 GO: Home | Storm Expeditions | Photography | Extreme Weather Library | Stock Footage | Blog
Featured Weather Library Article:
All content © Dan Robinson. All usage requires a paid license - please contact Dan for inquiries.

Web Site Design and Internet Marketing by CIS Internet