Tornado outbreak hits central Kansas: Tornadoes affect same areas hit by May 4 storms
May 5, 2007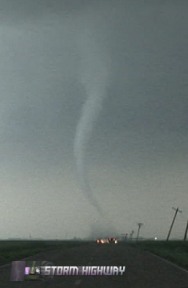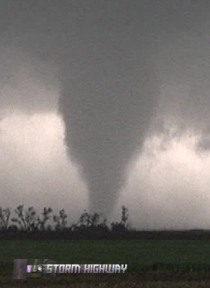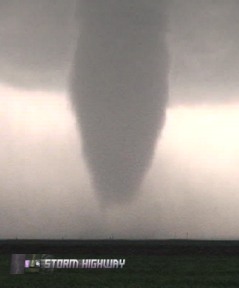 ABOVE: Tornadoes in Kansas on Saturday, May 5.
Click any thumbnail on this page to view a larger version.
EXPEDITION VIDEO: Tornadoes near Macksville, Kansas Watch video clip
MACKSVILLE, KS - An extensive outbreak of tornadoes occured in central Kansas, less than 24 hours after the first wave of tornadoes struck the same area. The town of Greensburg, devastated by an F5 the night before, found itself surrounded again by several tornado-producing storms. Remarkably, I found myself shooting video of tornadoes within the damage paths of the previous day's storms!
Fabian Guerra, Craig Maire and I started out in Pratt, Kansas and moved northwest to Dodge City, where storms were already firing. The storms were racing northeast today and were hard to keep up with. Fast-moving storms also mean that it's hard to keep a observing caravan together, so once again I found myself separated from Craig and Fabian by the time I reached Dodge City. From Dodge City, I drifted south to intercept the tail end of the line of storms, which at this point were linear and not looking very promising. I made it to Protection, Kansas and parked in a spot where the southern storm would eventually pass within 45 minutes. On the way, I snapped a photo of one of the distant storms at the exact place that Matt and I had filmed the tornadoes on April 23.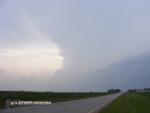 The Protection area is turning out to be a tornado hotspot this season, with tornadoes visible from the town on three different days this year - including the beginning of what would become the Greensburg tornado on May 4.
I found a high spot southeast of Protection to watch the southern storm move in.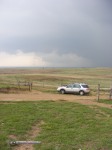 The storm was not looking very healthy as it raced past, but I stayed with it nonetheless. In the tiny town of Wilmore, I ran into good friends Justin Teague, Greg McLaughlin and Joseph Tyree, at which point we caravanned intermittently throughout the day. We nearly left the storm at Haviland, favoring new development back on the dryline to the southwest. But the inability to get around Greensburg ended that plan. This was a good thing, as our storm began to quickly intensify west of Pratt. A wall cloud quickly condensed and began rotating:
Our storm was ramping up very fast. Shear markers showed up on ThreatNet, and a tornado warning was issued. As we followed the circulation, a compact cinnamon-swirl funnel developed nearly over our heads, spinning at tornadic speeds. Rotation was so rapid that I expected a debris swirl underneath any second.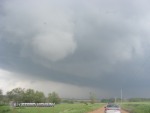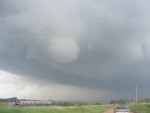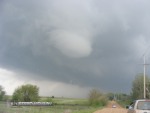 The dirt roads we were on were dry, but their increasingly deep sand-like consistency was making control difficult. I broke off from Greg and Justin's vehicle to head to hard pavement at Iuka.
I deviated from my no-dirt-roads rule north of Iuka, since the roads were dry and passable and doing a good job of keeping me up with the main circulation. I stair-stepped to Stafford, keeping just southeast of the now well-defined wall cloud.
The wall cloud was rapidly growing and tightening its rotation. Just south of Stafford, a faint but strongly rotating black dirt swirl under the wall cloud marked the first tornado of the day. There was no place or time to stop, so I snapped a quick photo out of the window.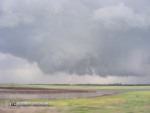 Nearing Stafford, I was getting much closer to the wall cloud, within less than a mile.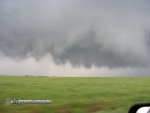 I made it through Stafford and turned north on a county road to keep up, at which time I realized I was running low on fuel. Looking at the map, it was clear that I had to turn around and refuel in Stafford as there were no towns north or east of there, at least none that I would be able to make it to on the gas I had left. This meant I would lose the first storm. I was frustrated at first, but soon was placated by the fact that new supercells were developing south and west. After filling up in Stafford as their 'all clear' tornado sirens were sounding, I headed west on Route 50 to catch the next storm in the line.
The base of the next storm came into view northwest of Macksville, at which time I saw there was already a fully condensed cone tornado on the ground! By the time I stopped to get a shot, the funnel had partially lifted.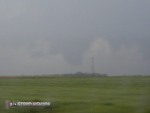 I quickly turned north out of Macksville to close the gap, taking photos out of the window. The tornado never regained full condensation to ground, but put on a nice rope-out show with a writhing, segmented funnel aloft: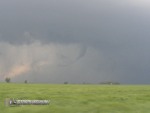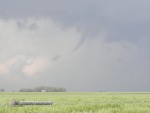 I caught up with the circulation north of Radium, at which time a new area of rotation was evident just west of the road. Almost instantly, rotating rain curtains descended a few hundred feet west of the road and moved east over the road. I gunned it northbound at 50mph, watching the rain curtains keeping up just behind me! I kept driving north to keep out of the rain, which cost me some good shots of the third tornado of the day. If only I had eyes on the back of my head! After a few minutes, I happened to look back to see a fully condensed tornado just to my southeast. I pulled over, fighting the rain I'd been trying to get out of. By the time I got the camera out, the tornado had partially lifted before I could start taking photos. Like the last one, it too remained aloft during its rope-out phase. In my haste I didn't get any decent shots of this tornado, but nonetheless here they are. I'm south of Great Bend here, which is the town most storm photographers who saw this tornado referred to.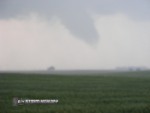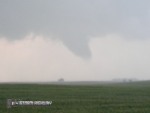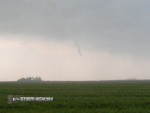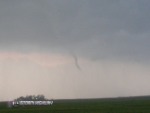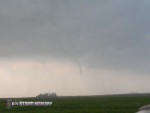 I moved east a mile or two to Highway 281, then dropped south for yet another supercell moving up from the southwest. I caught up with the circulation southwest of St. John, and moved north and east to stay with it. As I was driving north about a mile south of Route 50, a slender tornado quickly descended directly in front of me, kicking up a black 'drill bit' debris cloud and snaking wildly near the ground. It was past sunset and nearly dark at this time, which made shooting photos and video difficult.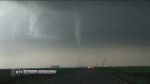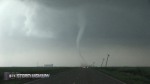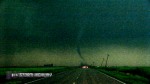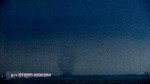 The road was closed ahead due to damage from yesterday's tornadoes, ending the expedition northward. Note the leaning telephone poles in the above shots, marking the start of the damage path from yesterday. The skinny tornado ahead of me was actually coming down inside the damage path from one of the May 4 tornadoes. That's the same spot hit by a tornado twice within 24 hours!
At the same time that the skinny tornado was in progress, a much larger tornado was emerging from the haze from the northwest. Yet another instance of two tornadoes at the same time, facing me with the decision of which one to shoot! After the smaller, closer tornado started fading, I moved the camera to the larger tornado, which remained quite steady-state for some time.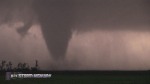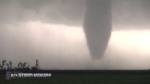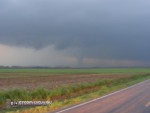 I moved back to Macksville to check out yet another supercell coming up the line, but darkness precluded seeing anything.
I caught back up with Justin, Greg and Joseph at the Sonic in Pratt - the same place Matt and I ended up eating dinner after the April 23 tornadoes. Today was a challenging expedition, with little decent images and video captured due to the fast storm motions and low light issues. However, it was a successful day with five more tornadoes logged for the season.
NEXT EVENT: Linear storms in western Oklahoma (report coming soon) >
this is so incredible
- Posted by drake wulser from emma missouri

This web site is made possible by support from CIS Internet.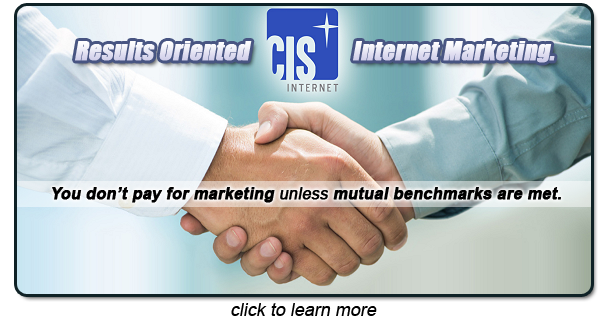 GO: Home | Storm Expeditions | Photography | Extreme Weather Library | Stock Footage | Blog
Featured Weather Library Article:
All content © Dan Robinson. All usage requires a paid license - please contact Dan for inquiries.

Web Site Design and Internet Marketing by CIS Internet