H U R R I C A N E K A T R I N A
S T O R M O F T H E C E N T U R Y
"Catastrophic": Katrina's impact will be the worst in US weather history: City of New Orleans floods, unprecedented disaster widespread in southern LA, MS: September 3, 2005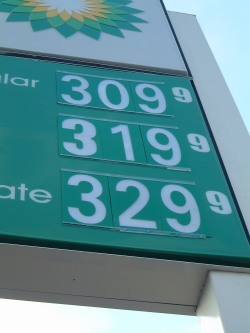 ABOVE: Satellite photos show examples of the complete destruction of Mississippi coastal areas. Only foundations of buildings remain among piles of debris and collapsed bridges. (Satellite imagery courtesy NOAA) RIGHT: Gas prices jumped over the $3/gallon mark in Charleston, West Virginia on Wednesday.
NEW ORLEANS, LA - The Gulf Coast continues to reel from a direct strike from Hurricane Katrina, a strong Category Four storm. Levee breaks have resulted in the flooding of nearly the entire city of New Orleans. Problems such as looting and lawlessness have made rescue and relief efforts difficult. With a death toll expected to soar into the hundreds and damages topping $30 billion, Katrina will easily be the costliest and deadliest weather disaster to strike the United States. The economic effects will be felt nationwide, and a few of the ravaged areas may be permanently destroyed.
WEST VIRGINIA IMPACT: Katrina's economic impact is beginning to reach the Appalachian region. Gas prices are on the rise past $3/gallon due to damaged oil facilities off of the Gulf Coast.

KATRINA DISASTER: HOW TO HELP
StormTrack is compiling information on where to donate your time, money or resources to help with the relief efforts for areas devastated by Hurricane Katrina.
Visit StormTrack Katrina Relief Page >
SPECIAL FORUM: StormTrack is maintaining a special forum dedicated to information on the Hurricane Katrina disaster:
StormTrack Hurricane Katrina Forum
HURRICANE KATRINA CHASER PHOTOS AND VIDEO:
The following storm observers covering Katrina have posted video and photos on their respective web sites:
* Doug Kiesling, stormobservervideo.com - reporting from New Orleans
* George Kourounis, stormobserver.ca - reporting from Gulfport, MS
* Scott McPartland, psphoto.com - reporting from Gulfport, MS
* Jim Edds, extremestorms.com - reporting from Biloxi, MS
* Mark Sudduth, hurricanetrack.com - reporting from Gulfport, MS
* Chris Collura, sky-observer.com - reporting from Biloxi, MS

SATELLITE IMAGERY OF HURRICANE KATRINA DAMAGE:
Graphic images showing the unbelievable damage on the Gulf Coast:
* NOAA color satellite photos of MS, LA
BELOW: Category 5 Hurricane Katrina in a NOAA satellite image on Sunday morning. (Image courtesy NOAA)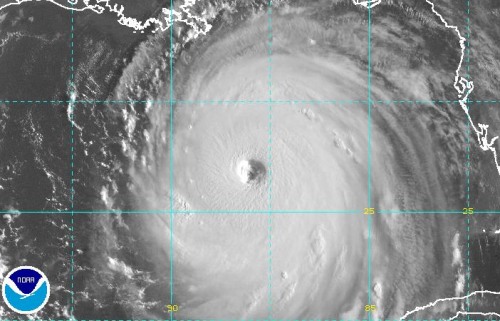 Before the Storm: Ominous National Weather Service Statement
Never before has the National Weather Service released such a graphic and ominous warning of an impending weather disaster. The following statement was released by the NWS before Katrina made landfall in Louisiana and Mississippi:

URGENT - WEATHER MESSAGE
NATIONAL WEATHER SERVICE NEW ORLEANS LA
1011 AM CDT SUN AUG 28 2005

...DEVASTATING DAMAGE EXPECTED...

.HURRICANE KATRINA...A MOST POWERFUL HURRICANE WITH UNPRECEDENTED STRENGTH...RIVALING THE INTENSITY OF HURRICANE CAMILLE OF 1969.

MOST OF THE AREA WILL BE UNINHABITABLE FOR WEEKS...PERHAPS LONGER. AT LEAST ONE HALF OF WELL CONSTRUCTED HOMES WILL HAVE ROOF AND WALL FAILURE. ALL GABLED ROOFS WILL FAIL...LEAVING THOSE HOMES SEVERELY DAMAGED OR DESTROYED.

THE MAJORITY OF INDUSTRIAL BUILDINGS WILL BECOME NON FUNCTIONAL. PARTIAL TO COMPLETE WALL AND ROOF FAILURE IS EXPECTED. ALL WOOD FRAMED LOW RISING APARTMENT BUILDINGS WILL BE DESTROYED. CONCRETE BLOCK LOW RISE APARTMENTS WILL SUSTAIN MAJOR DAMAGE...INCLUDING SOME WALL AND ROOF FAILURE.

HIGH RISE OFFICE AND APARTMENT BUILDINGS WILL SWAY DANGEROUSLY...A FEW TO THE POINT OF TOTAL COLLAPSE. ALL WINDOWS WILL BLOW OUT.

AIRBORNE DEBRIS WILL BE WIDESPREAD...AND MAY INCLUDE HEAVY ITEMS SUCH AS HOUSEHOLD APPLIANCES AND EVEN LIGHT VEHICLES. SPORT UTILITY VEHICLES AND LIGHT TRUCKS WILL BE MOVED. THE BLOWN DEBRIS WILL CREATE ADDITIONAL DESTRUCTION. PERSONS...PETS...AND LIVESTOCK EXPOSED TO THE WINDS WILL FACE CERTAIN DEATH IF STRUCK.

POWER OUTAGES WILL LAST FOR WEEKS...AS MOST POWER POLES WILL BE DOWN AND TRANSFORMERS DESTROYED. WATER SHORTAGES WILL MAKE HUMAN SUFFERING INCREDIBLE BY MODERN STANDARDS.

THE VAST MAJORITY OF NATIVE TREES WILL BE SNAPPED OR UPROOTED. ONLY THE HEARTIEST WILL REMAIN STANDING...BUT BE TOTALLY DEFOLIATED. FEW CROPS WILL REMAIN. LIVESTOCK LEFT EXPOSED TO THE WINDS WILL BE KILLED.

AN INLAND HURRICANE WIND WARNING IS ISSUED WHEN SUSTAINED WINDS NEAR HURRICANE FORCE...OR FREQUENT GUSTS AT OR ABOVE HURRICANE FORCE...ARE CERTAIN WITHIN THE NEXT 12 TO 24 HOURS.

ONCE TROPICAL STORM AND HURRICANE FORCE WINDS ONSET...DO NOT VENTURE OUTSIDE!

This web site is made possible by support from CIS Internet.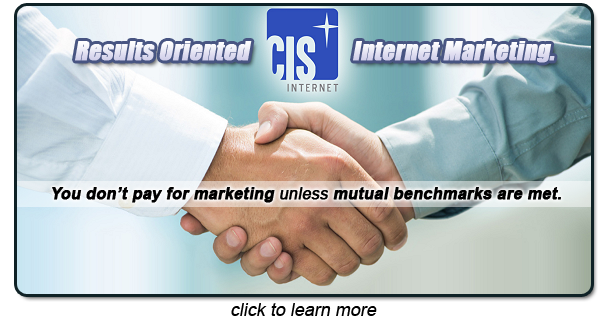 GO: Home | Storm Expeditions | Photography | Extreme Weather Library | Stock Footage | Blog
Featured Weather Library Article:
All content © Dan Robinson. All usage requires a paid license - please contact Dan for inquiries.

Web Site Design and Internet Marketing by CIS Internet