Home | Blog Index | Blog Archives | Christianity & Faith Essays
Sunday, October 16, 2011 - 8:37AM CDT
Louisville's I-64 Sherman Minton Bridge closure: 'Shermageddon' bypasses
Updated 2/17/12: The Sherman Minton Bridge was REOPENED on February 17, 2012.
To the joy of all Louisvillians and I-64 travellers, this article is now completely useless! That is, unless the bridge ever gets shut down again in the future. If you're nostalgic for September 2011-February 2012, or just curious about the alternate routes, read on - otherwise, enjoy your straight shot across the Ohio River and Indiana/Kentucky state line to wherever your travels take you.

Updated 12/31/11 with notes on traffic and detours (click to jump to update)

The Short Answer: Here's a quick summary of what I've figured out, if you're looking for a quick answer and don't want to read this entire article. As it turns out, during low-traffic times (such as late at night, overnight hours and on weekends), it is safe to go right through the heart of the city without worrying about any traffic jams. In that case, the shortest way around the Sherman Minton (both in time and distance) is to go right through New Albany on surface streets between I-64 and I-65 (jump to the end of this article for a map of this route). The next-shortest route after that is to use I-265 from I-64 to I-65 (the official detour).

Weekday morning and evening rush hours are definitely times to consider using one of the four 'long' bypasses outlined below. I have not yet driven through Louisville during daytime off-peak weekday traffic, but friends have and told me they haven't had problems. So, the best route to take around the closed bridge depends on what time and on what day of the week you will be passing through Louisville - you are most likely to have long delays during the typical rush hour times.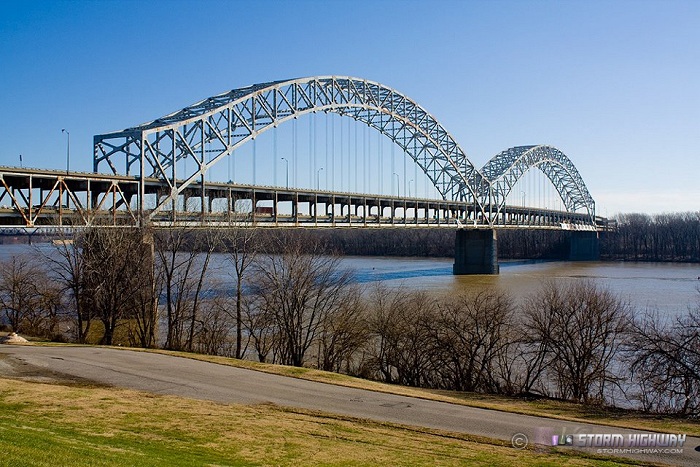 The closed Sherman Minton bridge on Christmas Day 2011
The Sherman Minton carries I-64 across the Ohio River at the Kentucky-Indiana state line on the west side of Louisville. During routine repairs in September, dangerous cracks were found in some of the critical load-bearing members of the bridge - and it was immediately shut down. The bridge - carrying a major artery in the Louisville metro - remains closed, and recent developments have put the estimates of repair time, and thus the continued closure of the bridge, at 6 months or more. As one would expect, this is a huge crisis for Louisville, already dubbed 'Shermageddon' - causing major traffic problems and overwhelming the city's other two bridges across the Ohio.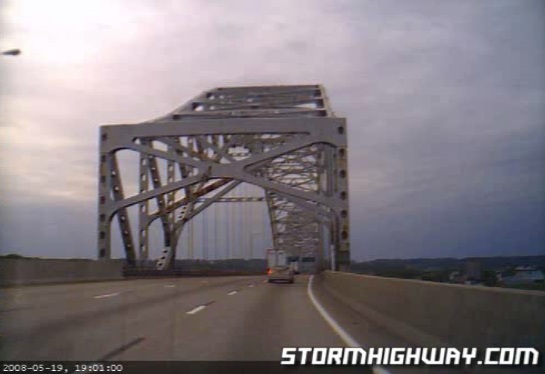 Crossing the Sherman Minton westbound (upper deck) in May 2008
So, I've been researching the available options for alternate routes to deal with the big hole in I-64 in Louisville during my next trip east. The following options depict routing choices coming from the west (traveling from St. Louis to Charleston, WV) - if you're westbound, you'd just reverse these.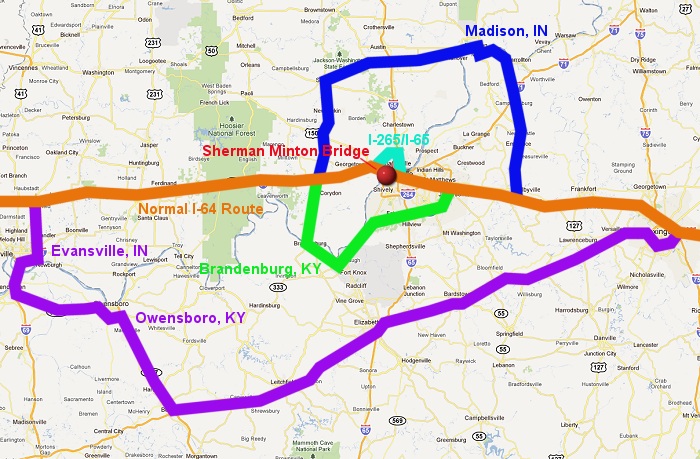 Potential bypass routes (the normal I-64 route is orange) - descriptions below
Option 1: Louisville metro via I-265 to I-65
MAP: Click for Google Maps plot of route option 1

The first option is to take a gamble and face the Louisville traffic jams (created by the bridge crisis) on the I-265 beltway to I-65 (turquoise route on the above map). In most cases, it takes less time to just wait through traffic backups on your main route rather than try to circumvent them on secondary roads. Aside from interstates with good frontage roads, choosing the back roads almost always takes you far off of your original route and into other delays, making you end up losing time compared to waiting out the backup on the highway. Secondary roads also get jammed themselves from all of the other 'clever' drivers making the same bypass attempt you are - except there you've got traffic lights, intersections and slow speed limits to compound the situation. As long as traffic on the highway is inching along, at least you're moving - and will likely get you through faster than a valiant bypass attempt. At least that's been my experience.

I have, however, occasionally run into jams that are far better to bypass. In the Midwest, long backups on interstates can easily be bypassed with considerable time savings by taking the option-plentiful county road grid between exits. Such is the case on places like heavily-traveled I-55 and I-65 south of Chicago, where a one-lane construction zone can create an agonizing 10-mile, 90 minute wait on the interstate. In those cases, exiting and going even 3-4 miles away from the highway to take a parallel route will save you a huge amount of time compared with waiting out the jam. Complete shutdowns (due to an accident) are the other situation where bypasses are obviously better. In either case, it won't matter unless you have some foreknowledge of the degree of the backup before you hit it, either via DOT web sites, electronic signs or from experience in dealing with the spot before.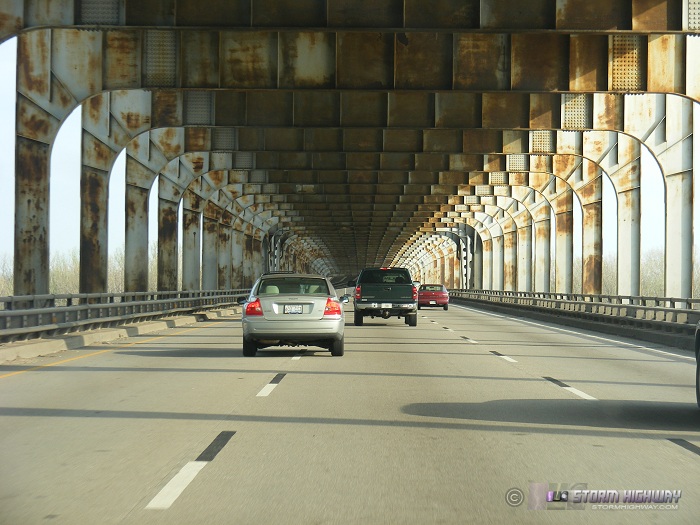 Crossing the Sherman Minton eastbound (the lower deck) in April 2008
With the Louisville situation, I would imagine the scales may very well be tipped in favor of taking a complete bypass of the metro area, particularly during the typical rush hour times. On the other hand, there may be times of day (particulary late at night) where there may be no jams at all. If you live in the Louisville metro, I'd appreciate a comment below as to your experiences at different times of day!
Option 2: The Brandenburg, KY bypass
MAP: Click for Google Maps plot of route option 2

Exiting I-64 at Corydon and taking highway 135 south to the Ohio River bridge at Brandenburg is the shortest of all available bypasses outside the immediate Louisville metro (green route on the above map). Brandenburg is roughly 30-40 miles downstream of the Sherman Minton (depending on whether you measure as the crow flies or along the river trace) but is the first available bridge across the Ohio to the west. Once across the river, one would then head east to join up with Route 60, then north to the west end of the Gene Snyder Freeway, Louisville's outer beltline highway. From there it should be smooth sailing to re-join I-64 well east of the Louisville congestion. Google maps shows the direct I-64 route between Corydon and the Gene Snyder/I-64 junction to be 37 miles, while the Brandenburg bypass totals out at 70 miles - almost twice the distance. With the towns, traffic lights and speed limits on the bypass, the transit time should be about 90 minutes, roughly 45 minutes longer than the normal route takes when the Sherman Minton is open. So the question would be for this option, does the Louisville traffic jam on I-265/I-65 add more than 45 minutes to the trip? During rush hour, I could definitely see this being the case.
Option 3: Palmyra-Salem-Madison bypass
MAP: Click for Google Maps plot of route option 3

Coming in at 121 miles, 2 hours and 45 minutes (compared to the normal route of 54 miles and about an hour I-64) this path, like option #2, involves exiting at Corydon, but going north on highway 135 through Palmyra to Salem (dark blue route on the above map). The route then turns east on highway 56 through Scottsburg, followed by crossing the Ohio River at Madison, IN (the first available bridge east of Louisville). Once in Kentucky, Highway 55 south returns you to I-64 at Shelbyville. Despite not having the longest mileage, this route takes a considerably longer time than the others here, mainly because it is 2-lane highway for the entire path. I'd consider this either a last-resort option, or one to take if you have the time and inclination to take a scenic diversion. I only included it here primarily to show a route that uses the first bridge east of Louisville.
Option 4: The Evansville-Owensboro bypass
MAP: Click for Google Maps plot of route option 4

One option I've read as being suggested for long-haul travelers is to cross the Ohio at Evansville, Indiana, then take Kentucky's parkways (Audubon to Green River to Western KY) through Owensboro and then on to Lexington, rejoining I-64 on the east side of Lexington (purple route on the above map). As the longest of the bypasses, this route tallies out at 242 miles and 4 hours, compared to the normal 176 miles and just under 3 hours for the normal non-closed Sherman Minton bridge route. For this route to be preferable, the jam in Louisville would need to add over an hour to your travel time AND the Brandenburg bypass would need to become congested to the point of it taking much longer than normal. This may very well be the case, especially if elevated rush hour traffic numbers causes gridlock where you must pass through Brandenburg's core area. I have read some internet posts that indicate this is happening during the morning and evening rush as a direct result of the Sherman Minton situation, which would make the Evansville-Owensboro bypass a practical option, particularly for truckers. Aside from a short stretch at Henderson, KY, this route is all limited-access four-lane highway - whereas the Brandenburg route is mostly 2-lane until you reach the Gene Snyder. So if you hate the idea of 2-lane roads and want to avoid any hint of the Louisville jams, this one is your best bet.

Local residents and travelers, please feel free to comment below about your experiences with getting around/through Louisville - both I and future readers will appreciate the info!

So why am I interested in this? I-64 between St. Louis and Charleston, WV is one of the highways that is like a 'second home' to me, due to the number of times I've traveled it in the past 10 years. It is by far my favorite long-distance route to drive. I have all of its exits, towns and landmarks memorized, as well as all of the best places to stop for food, coffee the cheapest gas. Add to that the fact that Louisville was high on my list of potential relocation cities, and the Sherman Minton Bridge shutdown was as big news to me as any local story is.
Update! Report on the traffic and detours as of December 18:
UPDATE: I have driven through Louisville twice now, both times opting to take the shortest of the detours through the heart of the metro area via I-265 and I-65 (Option 1 described above). I drove through eastbound at 2:00AM on a Monday, and back westbound at 5:00AM on a Tuesday. Both times I encountered no traffic problems at all, despite morning traffic beginning to increase at the 5:00AM time. It's reasonable to say that at least the overnight hours are safe to take the I-265 bypass, the shortest of all available routes, without encountering backups.
I would also like to comment on the "official" detour posted for westbound traffic (see the map below). The downtown ramp from I-64 westbound to I-65 northbound (across the JFK Memorial Bridge) is closed, since it would require I-64 westbound traffic to awkwardly merge and cross over the main stream of traffic from I-71 to I-65. So, you must divert from I-64 to I-71 well before downtown to get onto I-65 north. To that effect, signs are directing westbound I-64 traffic onto the Gene Snyder freeway northbound, then south on I-71 to the main I-65 ramp downtown (blue route shown below). This is a rather excessive detour. Instead, you can take the Watterson Expressway north from I-64 to I-71, a much shorter route (purple route below). I think they might be sending people onto the Gene Snyder since rush hour may be problematic on the Watterson, but at off-peak traffic times, it's a non-issue. So, if you're westbound on I-64 at off-peak times, you can ignore the detour signs that direct you onto the Gene Snyder and continue on down to the Watterson.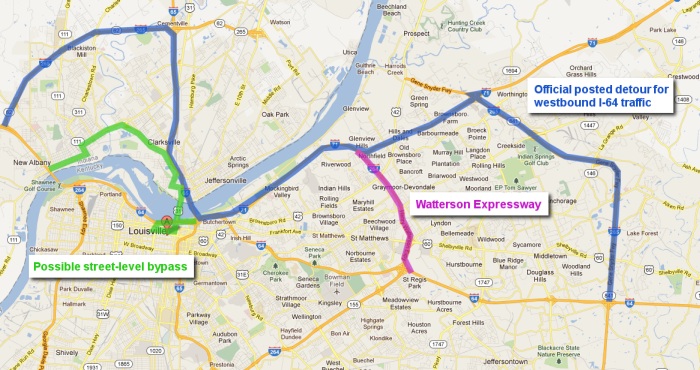 Westbound detour options
I suspect that you may be able to save some time during the overnight hours or other low-traffic times by taking I-64 into downtown, crossing the Clark Memorial bridge, then re-entering I-64 at New Albany (green route on the map above), but I can't vouch for if that actually takes less time than the I-71 to I-265 detour. That route would involve surface streets and traffic lights, but would be significantly shorter mileage-wise than all other routes. I may try taking that route and timing it when I pass through Louisville again on the way home from my annual Christmas trip to Pennsylvania. Stay tuned for another update...
Update 12/31! Street-level bypass through New Albany:
UPDATE: Good news! The street-level bypass through New Albany is a viable alternative during low traffic times, and is the fastest way of all the options to get around the closed Sherman Minton. I would not attempt this during rush hour or other heavy traffic times! I have used the street level bypass twice so far, both during low traffic times, and had no delays. Old Indiana Route 62 is a 4-lane highway for part of its length, making this a short trip. There are some stop signs and traffic signals to get through in New Albany, but the delay is minimal compared to taking I-265 all the way around.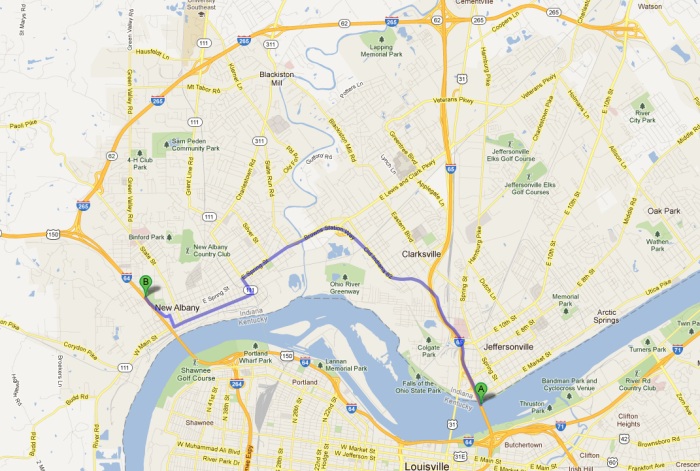 New Albany street level detour
LINK: Google Maps plot of the New Albany bypass
Coming from the west (from St. Louis), simply take I-64 all the way to the last open exit at New Albany (right before the Sherman Minton bridge), then follow the above route to southbound I-65.
Coming from the east (from Lexington), you must still take the Watterson or the Gene Snyder to I-71 to access I-65 north (the downtown ramp from westbound I-64 to northbound I-65 is closed). Then, once across the river, exit at Old Indiana Route 62 and follow the above route to westbound I-64.
Thanks so much for this info!!!! Awesome and totally appreciated!!!
- Posted by dhp from 63064
Thanks for this info, helped alot!!!!
- Posted by mph
Thanks very much for the info.. We are traveling east to DC from Denver and this would have been a big headache without your info :)
- Posted by Elizabeth
Thanks so much, this really helps, wish someone would do this in all major cities. By the way, we are so totally in need of our interstate system being totally rebuilt, come on congress get with it....Cody
- Posted by Cody from Evansville
All content © Dan Robinson. All usage requires a paid license - please contact Dan for inquiries.

Web Site Design and Internet Marketing by CIS Internet