Home | Blog Index | Blog Archives | Christianity & Faith Essays
Saturday, March 28, 2009 - 6:29PM
Building 82 implosion coverage - HD video!
Update 6:29PM Saturday, (Posted from Charleston, WV):
Added more photos, 2 new videos from the VX2100 and the live streaming camera (see below). Cameras #2 and #3 were positioned roughly 100 feet away from the base of the building!
HD VIDEO 1: Building 82 - HD camera #1 (close wide shot)
HD VIDEO 2: Building 82 - HD cameras #2 and #3 (extreme close-ups)
VIDEO 3: Building 82 - SD Camera #4 (close zoom)
VIDEO 4: Building 82 - Streaming Camera #5
Camera #6 (Mino HD Flipcam) unfortunately ran out of memory before detonation. Some still frames from video: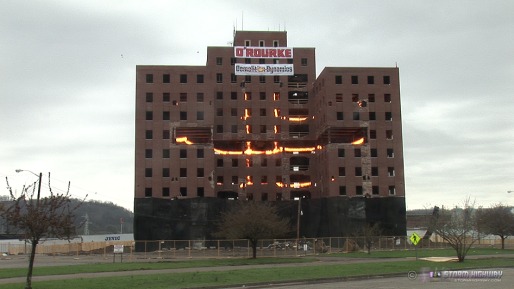 click to enlarge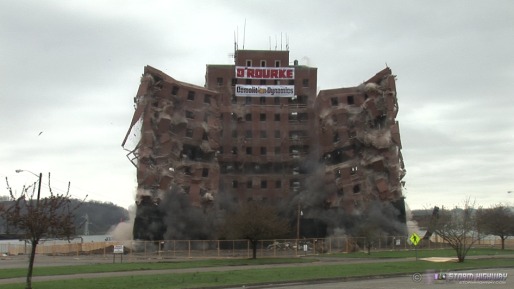 click to enlarge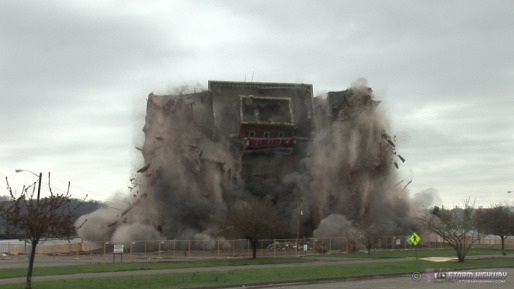 click to enlarge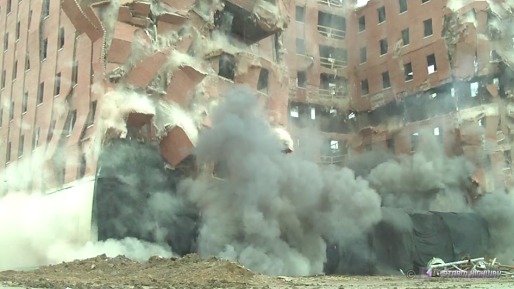 click to enlarge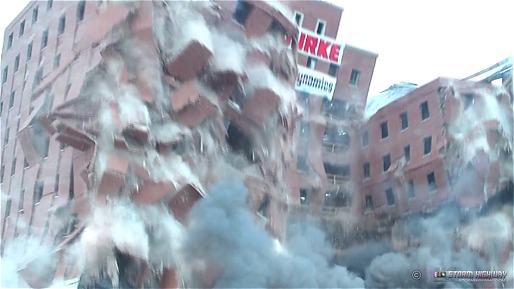 click to enlarge
Cameras #1 and #4: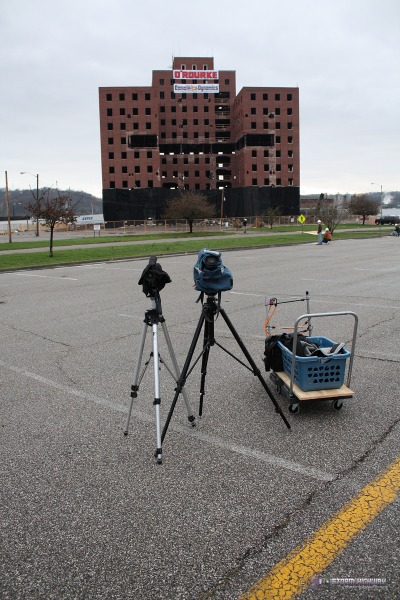 click to enlarge
Crowds gathering to watch: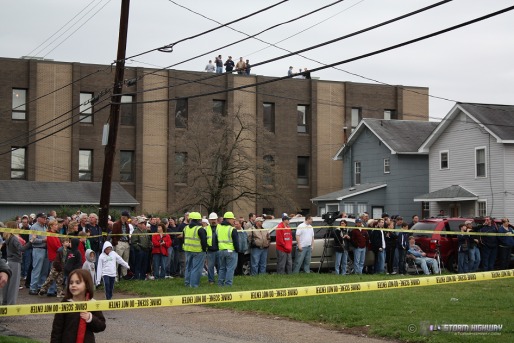 click to enlarge
I didn't get good stills of the event due to being too preoccupied with video to claim a good viewing spot outside the safety perimeter. All of my video cameras were in restricted areas that I couldn't stay in, so I had to just turn them on and get outside the perimeter. I had to hold the still camera blindly above a row of people, which didn't turn out too well. You can see the position of cameras #2 and #3 in this shot.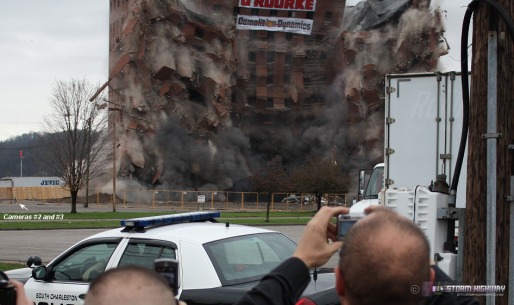 click to enlarge
Dust cloud approaches: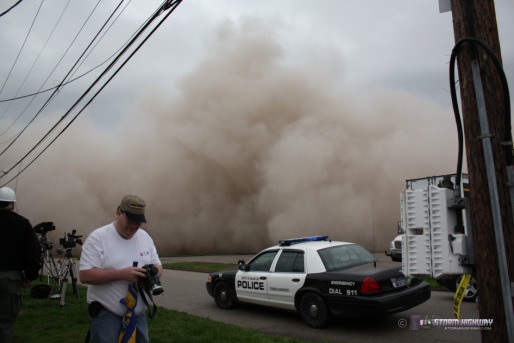 click to enlarge
Enveloping police cars: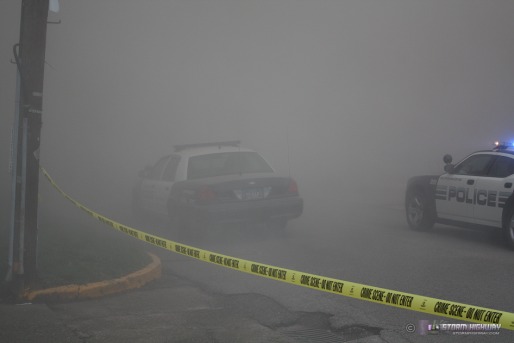 click to enlarge
The particulate fallout in the dust cloud was surprisingly heavy and quick, coating everything. Porta-braces again save the day: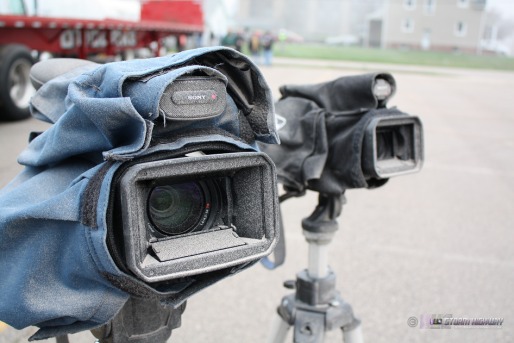 click to enlarge
The streaming setup, still going! I'm still trying to get all the dust out of the keyboard: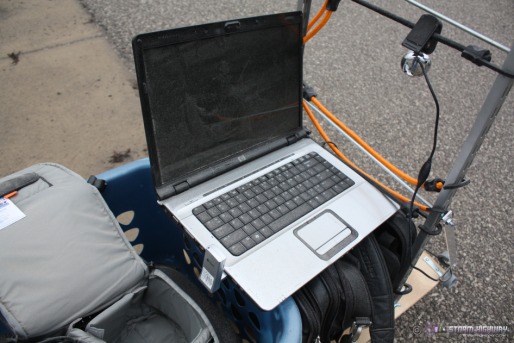 click to enlarge
I had to get all the cameras close to the building running 1 hour before detonation. That meant Tony's Mino Flipcam, which was set up closest, ran out of memory too early. Too bad, it would have had an incredible view. It was buried in dust when I retrieved it, but still works!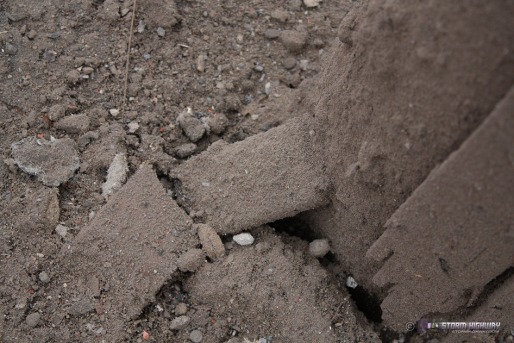 click to enlarge
Shots of the aftermath: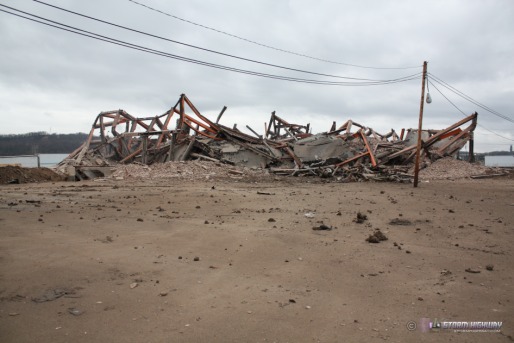 click to enlarge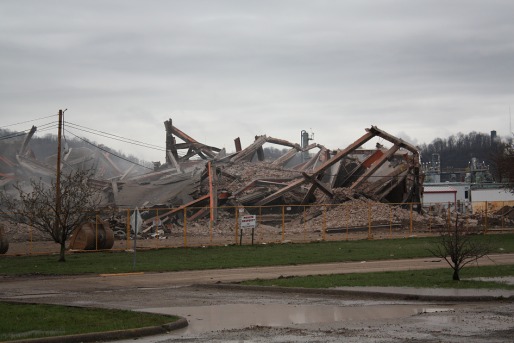 click to enlarge
Update 10:44PM Friday, (Posted from Charleston, WV):
We will be streaming live video of the implosion tomorrow starting at approximately 8:30AM! The link will be posted here on the blog, so check back after 8:30!
Update 5:05PM Friday, (Posted from Charleston, WV):
It looks like we'll have four cameras on this thing, two of which will be placed within 100 feet of the structure, on its south side. Three cameras in HD, one in SD. Still some technical and perimeter clearance issues to be worked out between now and then, not to mention potential rain issues. Stay tuned!
8:10PM Tuesday, (Posted from Charleston, WV):
I have been offered the privilege of media access to the former Union Carbide Building 82 implosion in South Charleston, currently scheduled to take place on Saturday morning at 9:00AM. The access gives me the ability to place cameras anywhere in and around the site. The plan for now is to keep the big cameras back in a safe spot, and use a few 'disposable' cameras close to the structure (we're still checking on the feasibility of a rooftop cam). A big thanks to Andy Spradling at the University of Charleston and my office colleauge Tony Schliesser for making this opportunity happen.
Building 82 is a 11-story, 106,000-square foot brick and steel structure built in 1948 and donated by Dow Chemical to the University of Charleston in 2001. The implosion will be performed by Cincinnati-based Demolition Dynamics Company. Here are some photos I took of the site today: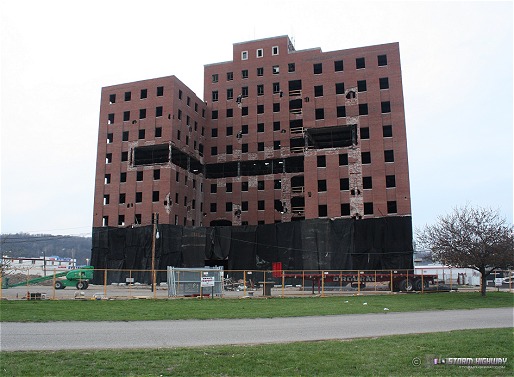 click to enlarge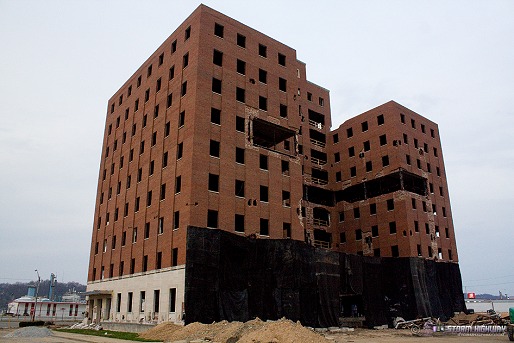 click to enlarge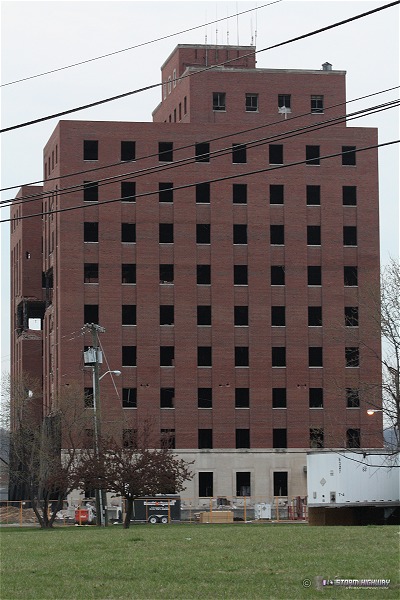 click to enlarge
Looking at Building 82 down I-64 westbound: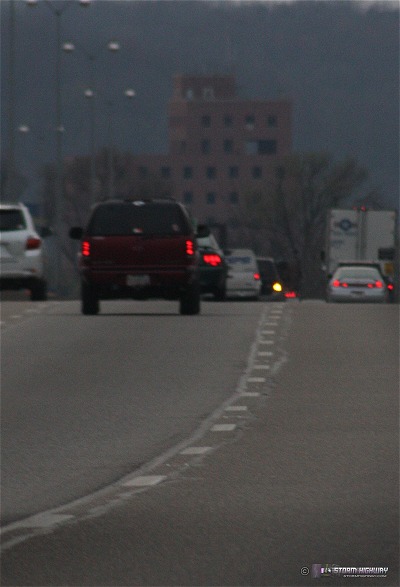 click to enlarge
Building 82 is visible in this panorama I shot back in July of last year from Spring Hill Cemetery, toward the background on the right-hand side of the image:
Click to enlarge
Stay tuned for updates and video clips from the cameras (If I can retrieve them all!). I'm planning on doing some blogging and possibly live streaming during the event if I can get everything set up.
Dan, that should be a fun photo session. Make sure you have a dust mask to put on in case the dust cloud goes your way. For a similar event in Richmond, I positioned myself near an official who had a radio with the countdown which made the photography easier but I was still blasted with dust. Good luck.
- Posted by Bill Hark from Richmond
Very cool! Can't wait to see the outcome.
- Posted by Rob Russo from Charleston
Cool info! I'm gonna be there also. I've heard a good view will be from the mexican restaurant, formerly Shoney's. I can't wait!
- Posted by Wes Wilson from Williamson
Shoney's and the library are good spots, but they will be packed! I'd say arrve at 5AM to ensure a good spot.
- Posted by Dan R. from Charleston, WV
Is there a site on the internet which will broadcast the Bldg. 82 implosion? I would like to watch it if possible. My email address is [email protected]. Thank you. NL
- Posted by Norman Lawhorn from Lenoir City, TN
I hope to be streaming live here on stormhighway.com in the morning. Still working out the technical details on that.
- Posted by Dan R. from Charleston, WV
that was awesome. 2nd thing like this I've been to, last was the old Chelyan Bridge back in the late 1990s (can't recall when exactly), and I love it. Got real lucky too, found a parking spot at almost 8:00am within 50ft of the entrance ramp to Montrose Drive, 100yd walk and front row curbside view from the corner of 3rd and B I think it was (the street that runs north-south between the 2 gas stations) and as soon as I got back to the car, I was on the interstate. But it was amazing. I worked doing abatement on Building 42, the large green building across the street from 82, and it is weird not seeing both of those buildings down there now. After it was over, I hung around for the dust to clear, and took a good long look. Made me kinda sad really. But all in all, was a good implosion. Looks like it dropped pretty much where they wanted.
- Posted by Bob from Chelyan, WV
Dude, that was awesome! Those poor cameras!
- Posted by David Drummond from Lubbock, TX
So was your equipment still good after this event? GREAT shots!!!
- Posted by Steve Miller OK from Moore, OK
Thanks!!! A little canned air to the front of the cameras and the laptop, and everything's good :)
- Posted by Dan R. from Charleston, WV
Great shots!! Thanks for posting. That dust on the camera. Ouch.
- Posted by Bill Hark from Richmond
All content © Dan Robinson. All usage requires a paid license - please contact Dan for inquiries.

Web Site Design and Internet Marketing by CIS Internet