Home | Blog Index | Blog Archives | Christianity & Faith Essays
Sunday, June 20, 2009 - 8:30AM EDT
Nickel Plate Road #765 in North Judson, Indiana
HD VIDEO: NKP 765 between North Judson and LaCrosse, IN (viewable in full HD - select 1080p resolution and full screen)
I don't know where to start about this phenomenal day. Maybe the fact that if I had entered the Chicago convenience store 15 seconds later, I would not have heard the radio ad about it and would have completely missed it. 15 seconds was all there was between me driving back to West Virginia after a failed storm photography expedition, not ever knowing that this was 30 minutes off of my route back home. Nothing short of the Lord orchestrating a gift, possibly for no other reason than to just make my day. I don't deserve it. I'll explain more about why this event was so significant for me - but first, here are a few photos (I have many more to go through). Video clips are above.
I want to give a commendation and a quick plug for the organizations that made this event happen: the Hoosier Valley Railroad Museum in North Judson and the Fort Wayne Railroad Historical Society.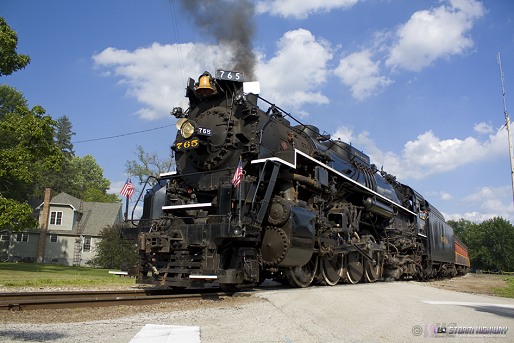 click to enlarge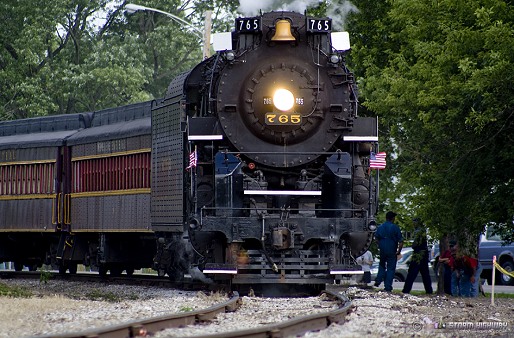 click to enlarge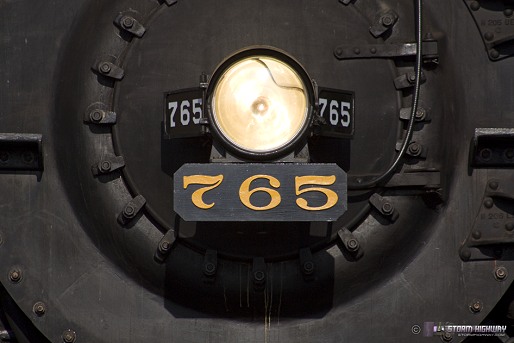 click to enlarge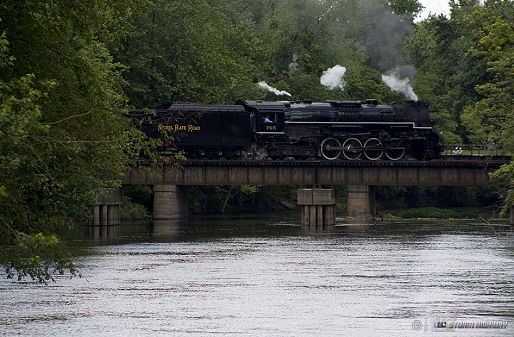 click to enlarge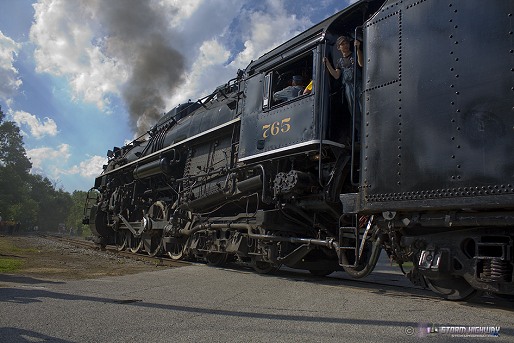 click to enlarge
click to enlarge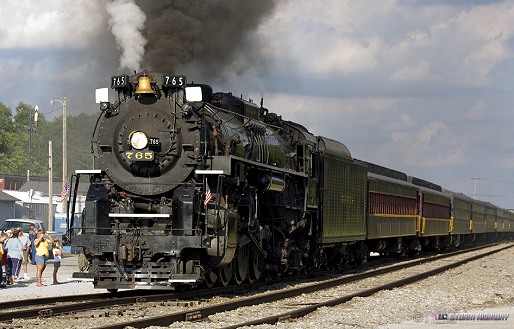 click to enlarge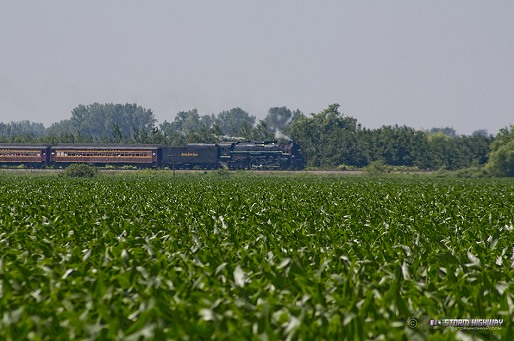 click to enlarge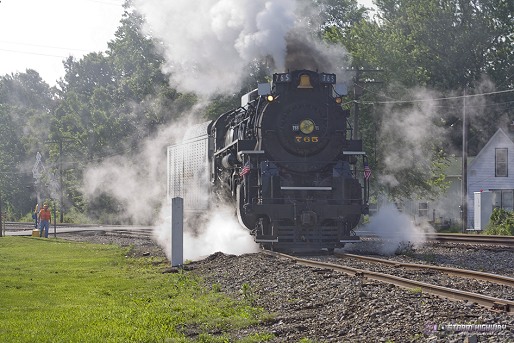 click to enlarge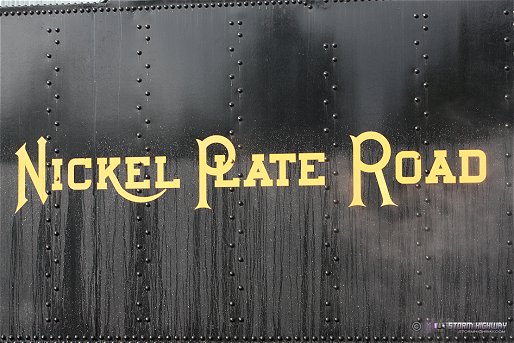 click to enlarge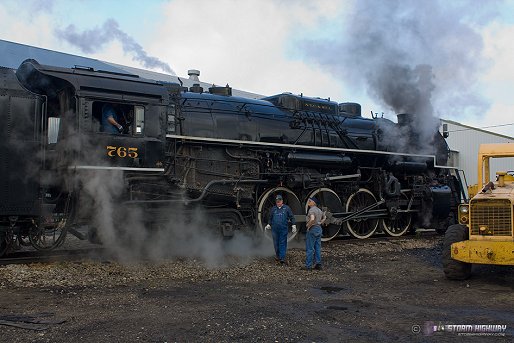 click to enlarge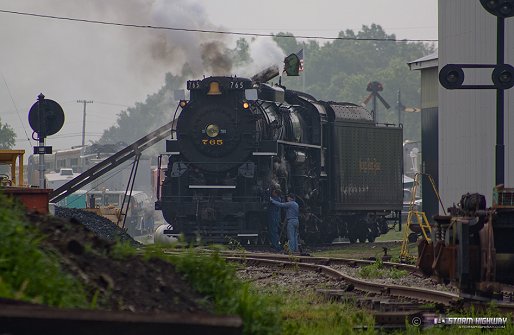 click to enlarge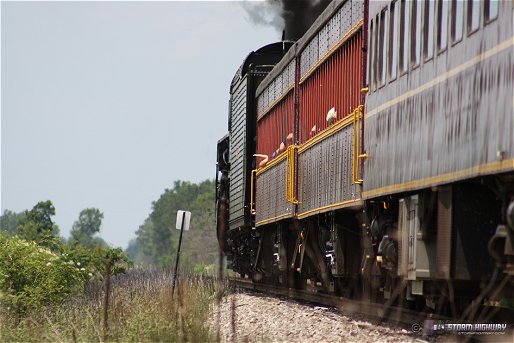 click to enlarge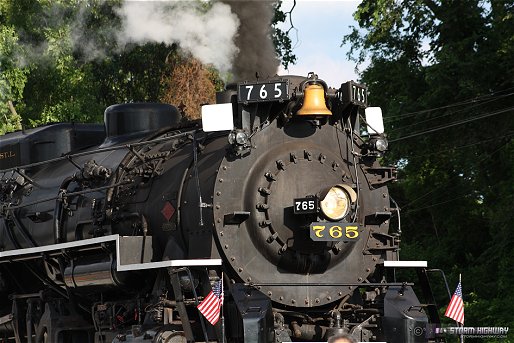 click to enlarge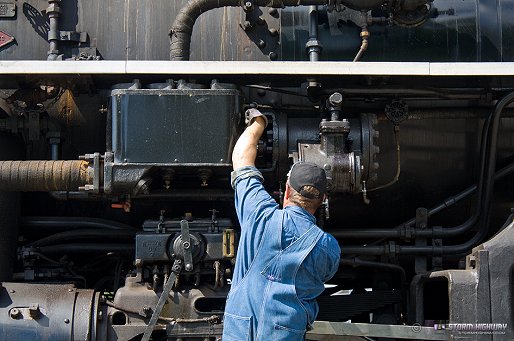 click to enlarge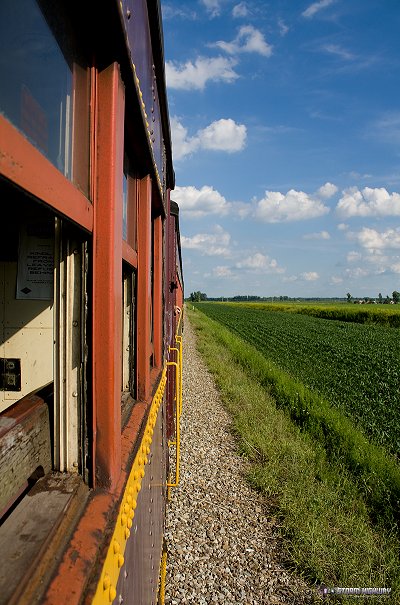 click to enlarge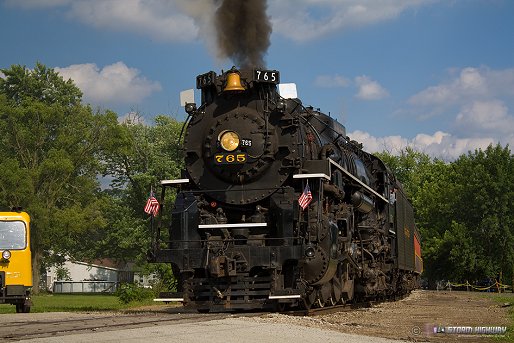 click to enlarge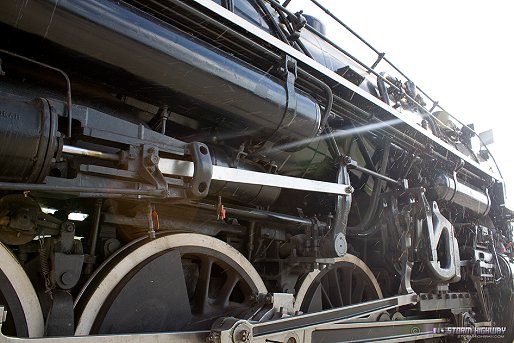 click to enlarge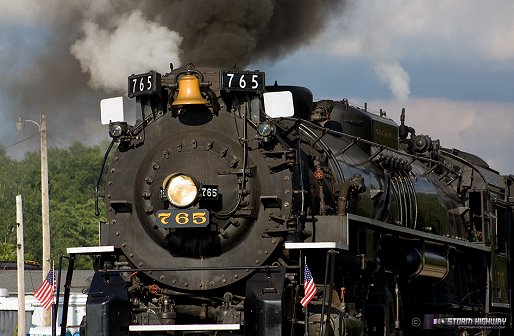 click to enlarge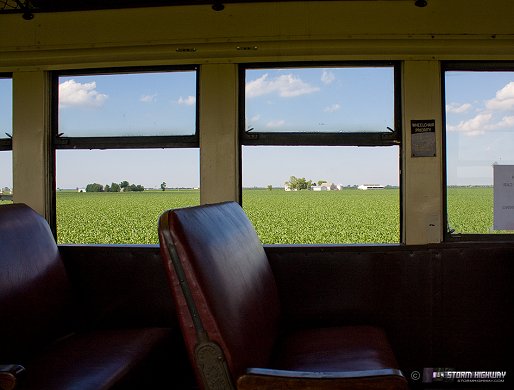 click to enlarge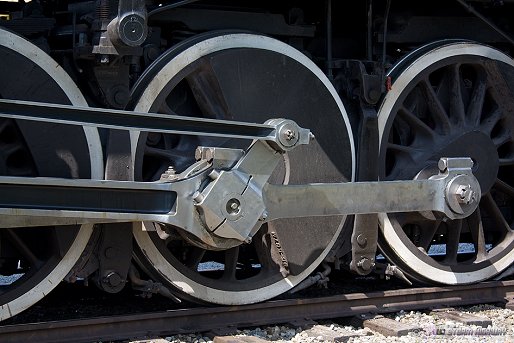 click to enlarge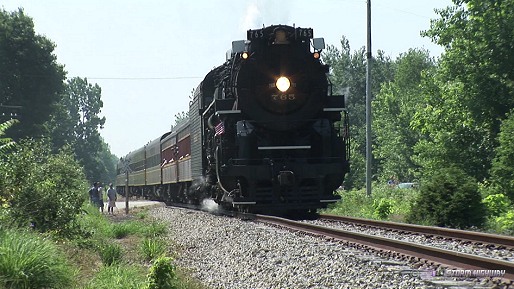 click to enlarge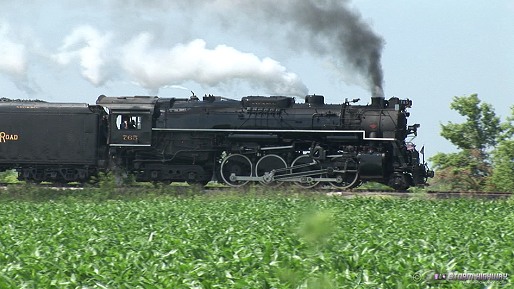 click to enlarge
Cinders on my arm after riding the 4PM excursion in an open-air coach: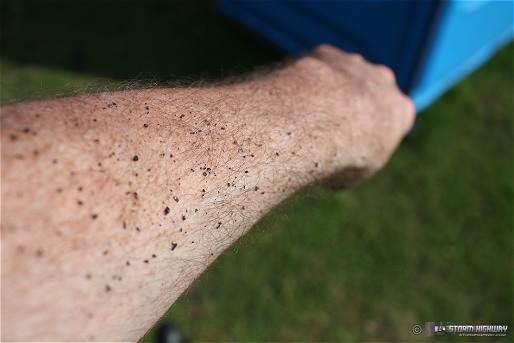 click to enlarge
My ticket: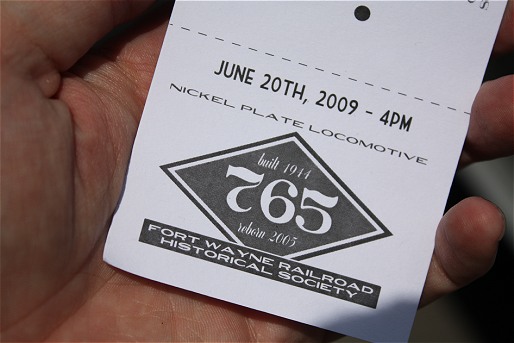 click to enlarge
My truck and 765: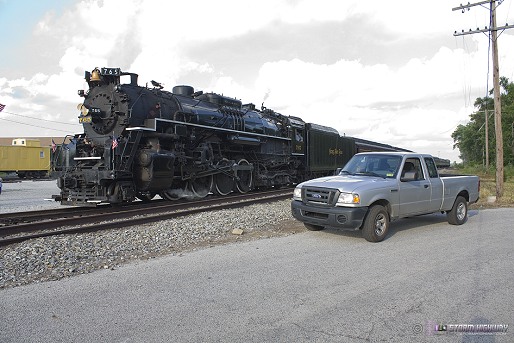 click to enlarge
If you know me and my family (or I've you've read this blog for very long) you know that trains were a huge part of our lives when I was growing up. This is owed to the influence of my late grandfather C.A. Wiggins, Jr.. I caught the railroad bug at an early age thanks to him, and steam excursions were a part of my childhood and adolescence. My grandfather took me on my first steam trip in 1977 at age 2, pulled by Southern #4501.
As a family, our vacations were frequently railroad-centric - with trips to Horseshoe Curve in Altoona, the Spencer shops in NC and as many steam excursion trains as we had time and money to ride (usually one or two every year). While we 'rode behind' various locomotives through the years on these trips, it was three that were the most frequently used and therefore 'fixtures' of our railroading experiences: N&W Class J #611, N&W Class A #1218, and NKP #765. 765 was a regular on many of our excursions from the mid 80s to early 90s.
Thanks to the insurance and liability climate in our country and rising operating/maintenance expenses, mainline steam excursions largely ceased in the early 1990s, and fairly suddenly at that. The last steam operation I saw was in 1994, when Milwaukee Road #261 led the last steam-powered New River Train in West Virginia. Norfolk Southern discontinued their steam excursion program, and consequently both 611 and 1218 were taken out of service and placed on permanent museum display in Roanoke. 765 suffered mechanical problems in the early 90s and was taken out of service indefinitely.
A few years after 1994, I started to accept the fact that I would probably never see live steam in person again - at least not like it used to be. The economics of running steam just don't work well in today's economy and legal climate, and railroading itself is becoming less and less popular in our culture compared to what things were like as recently as the mid-90s. As I got older, my childhood affinity for trains faded - and today, I sadly admit that I have pretty much abandoned the hobby altogether in favor of other things. I never keep up with the happenings in the realm of trains these days. Sometimes I think about how strange it is that something I used to love so much can mean so little to me now.
Fast forward to June 20. Excited at forecast models advertising a monster derecho (a powerful thunderstorm complex) over downtown Chicago, I jumped in my truck for a two-day storm photography trip to document the event as it came through the city. The storm event turned out to be a major bust. But while in Chicago, I happen to hear an ad that 765 will be running in North Judson, IN. I typed the town name into my GPS mapping program and was shocked to see that it was only a short distance from I-65 in northern Indiana, just off of my route back home. A no-brainer for me to go and check it out.
I never expected my reunion with steam after 15 years to impact me as much as it did. The sensory experiences - the sights, sounds, smells and even the ground shaking were exactly like they were when I was a kid. And it wasn't just any steam operation - this was 765! Like seeing an old friend after 16 years. Most of the day I could not believe my eyes and ears that I was really getting to see this again - a part of my past that I thought was gone for good. I did not want the day to end. All that was missing was my family, and in particular, my grandparents (my grandfather passed away in 1996, my grandmother this January). The day was perfect - but if I could have had one other thing, that would have been it.
Dan this is awesome! I am so glad you got to see it! :D
- Posted by Jes from Charleston, WV
Thanks Jes! Yet another example of how the Lord is good.
- Posted by Dan R. from Dayton, OH
Wow that's awesome!
- Posted by Sarah from Williamsburg, VA
Your article came close to bringing tears to the eyes for me!! I have followed steam all my life as well starting in the mid 70's with the 4501 running out of Cincinnti. I'm real glad you were able to see 765 back in action and to top it off you have the shots and video of the last run on June 20th with the guest whistle on her which was a personal dream come true for me!! AMAZING HOW FAITH WORKS!!
- Posted by Dave from Cincinnati, OH
It was an awesome two weekends in North Judson, I'm glad you liked it and had fun. Do you know about the big steamfest in Michigan the end of July with 8 working live steam locomotives being present running all day excursions? #765 #1225 # 4449 daylight is coming over from Washington St and the #261 will also be there. Glad you enjoyed it......One of the 765 crew guys
- Posted by Justin from Fremont OH
Thanks everyone - part of the reason this was such a great thing was because I'd already decided I couldn't afford to do the Owosso event - too far of a distance for just a leisure trip. The Chicago storm trip was a business-related venture, and being there at the right time and only having to drive an extra 50 miles out of my way was unexpected and unbelievable.
- Posted by Dan R. from Charleston, WV
I am glad you liked it. It took us a year of planning and a ton of hard work in the weeks before 765 arrived to make these events happen. Everything went well with both parties, and everyone wants to do this again next year. Hopefully we can make these trips again next year.
- Posted by Jason (the guy in the NKP motor car) from Valparaiso, IN
Thanks Jason - the whole family is talking about coming if the event happens again next year. We've got a new generation to introduce to steam!
- Posted by Dan R. from Charleston, WV
All content © Dan Robinson. All usage requires a paid license - please contact Dan for inquiries.

Web Site Design and Internet Marketing by CIS Internet