Home | Blog Index | Blog Archives | Christianity & Faith Essays
Monday, May 14, 2007 - 9:56PM
Late afternoon along the Coal River
I figured I'd take a break from long-range forecasting for a post or two. I started going for drives in the Coal River area back in 1997 in the middle of the night, after I got off of work at the newspaper. I would always grab a glass-bottle Coke and a beef jerky and listen to the MBN programming on WJYP radio while I cruised these back roads around Charleston. Ten years later, it's still one of my favorite areas to escape to in the Charleston area. On this warm and comfortable afternoon, I took a break from my incessant work on the computer to make another trip back along the Coal.
Coal River Road starts in St. Albans and runs about 10 miles or so to Forks of Coal, where the river splits into the Big and Little Coal rivers. The road is windy but relaxingly lazy at it follows the river. About halfway between St. Albans and Forks of Coal, the road passes through the small town of Tornado.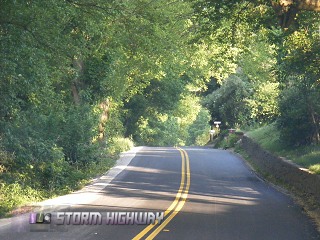 Little Coal River Road near Forks of Coal
The Coal River itself is shallow and smooth-flowing except for a few rocky spots here and there, making it ideal for canoeing and paddling.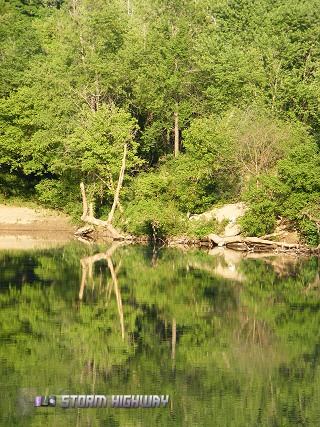 River scene south of Tornado
In the 1800s, locks were in place on the river allowing barges to navigate. Today, all traces of the locks are gone except for an underwater line of rocks across the river.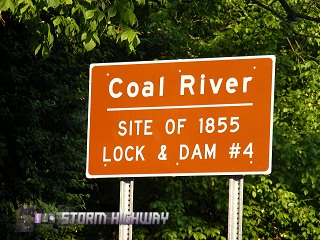 Sign marking the location of an old lock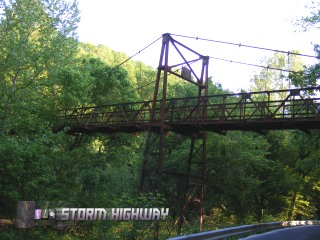 Old suspension bridge at Forks of Coal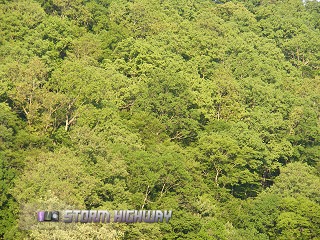 West Virginia spring foliage near Forks of Coal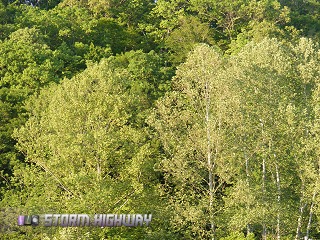 At Forks of Coal, the Little Coal River branches away and meanders generally southward deep into the mountainous Coalfields region, so named for its abundance of coal deposits and mines. The Big Coal continues in a more southeasterly direction toward the Beckley area.
Both Coal Rivers are an important railroad route for coal shipments. The CSX (formerly C&O) line follows the Coal River from St. Albans to the split at Forks of Coal, at which point the tracks diverge and follow both rivers to a myriad of mines in the mountains. Today I decided to take the Little Coal route. Little Coal River Road crosses four-lane Route 119, then continues on for a while before dead-ending at the CSX railroad tracks. Aside from the occasional train, it is very quiet out here with no sounds except for birds and small rapids in the river. This remote spot is a great place to park and hike around, which is exactly what I did today.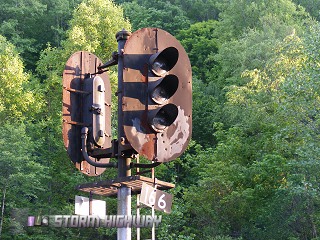 Old C&O signal, still in use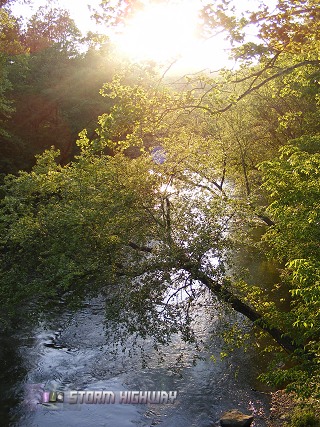 Little Coal River scene
Due to the frequent, heavy coal trains, the Little Coal branch of the CSX tracks uses concrete crossties rather than wood ones.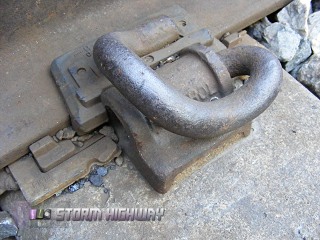 Concrete crosstie and rail clip
A trail follows the east side of the river up to a tunnel on the CSX line.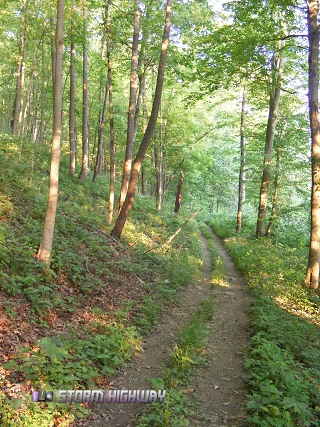 Four-wheeler trail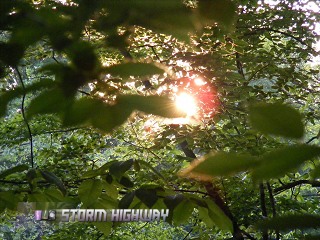 Foliage along the trail
At the north end of this trail, the railroad tracks cross a bridge and plunge into a short, curved tunnel.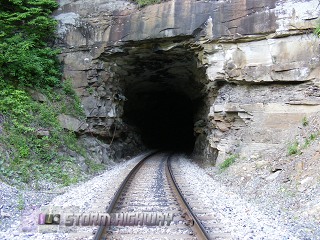 Tunnel on CSX's Little Coal branch
This tunnel is somewhat unique in that it does not have a concrete, brick or stone arch lining. The tunnel design, called a 'natural rock' tunnel, was simply blasted through and left with the bare rock exposed.
Rock formations on tunnel walls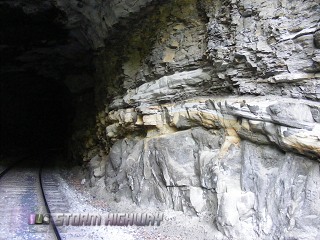 Tunnel walls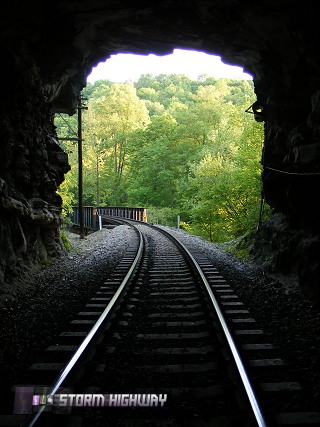 View from the inside looking out
I stayed at outside the tunnel entrance for about 20 minutes, waiting for a photo of a train that never came. At that point, it was getting dark, so I decided to head back.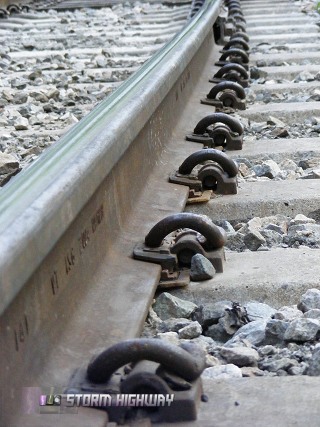 CSX tracks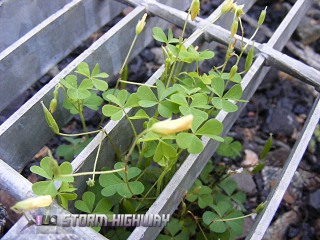 Clovers growing in a grate on the railroad bridge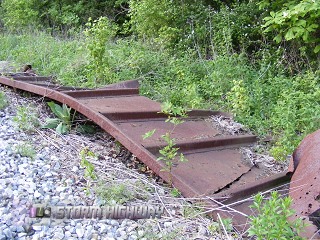 Rusted remains of a derailed coal hopper car
Just a side note to this post. There is a viral video circulating on the internet now of some guy who films a train from underneath, appearing as if he's laying on the tracks. But here's his secret. He was under the end abutment of a bridge, holding his camera up through a gap in the crossties with either a tripod or a long pole. The crosstie gaps at the end of railroad bridges tend to be wide enough to do this. Here is an example: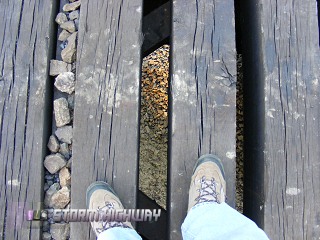 Gap in crossties
This web site is made possible by support from CIS Internet.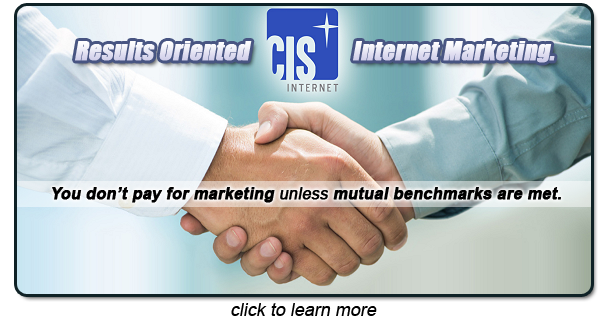 GO: Home | Storm Expeditions | Photography | Extreme Weather Library | Stock Footage | Blog
Featured Weather Library Article:
All content © Dan Robinson. All usage requires a paid license - please contact Dan for inquiries.

Web Site Design and Internet Marketing by CIS Internet