Home | Blog Index | Blog Archives | Christianity & Faith Essays
Thursday, November 5, 2009 - 7:02PM
Ida Gulf coast landfall possibility; and finally a new phone
I don't have much of a commentary on this, other than to mention that a tropical system will be moving in the Gulf of Mexico in the next few days, possibly making a US landfall as a hurricane! This is nearly unheard of in November, so it will be an interesting storm to watch.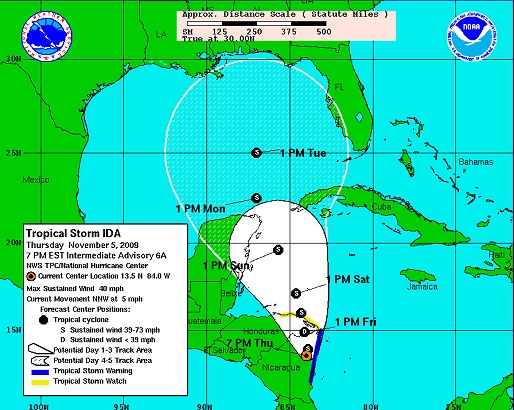 Ida's NHC forecast track through Tuesday
New phone
After over a decade of using cheap no-frills phones, I'm finally 'with the times' in the mobile device world with a new Blackberry Pearl. (And again, since rumors have gone around in the past, I have to say that I don't get paid to make these posts - so BlackBerry/AT&T, if you're reading this, how about a Christmas gift card or something? A free car charger/handsfree kit would be nice!)
I had the opportunity to get either an iPhone or a full-sized Blackberry model, but I chose the Pearl for its smaller screen and laptop tethering ability. I will be doing a lot of mobile web site design/video work in coming months, and wanted to have the smallest screen I could for r&d/testing purposes. I have already got my push-email and my Facebook accounts set up on this, and it is really nice to watch the emails come in in real time wherever I am. I can also take and send photos to Facebook with a couple clicks, although the built-in camera is pretty low-grade and useless for anything other than that.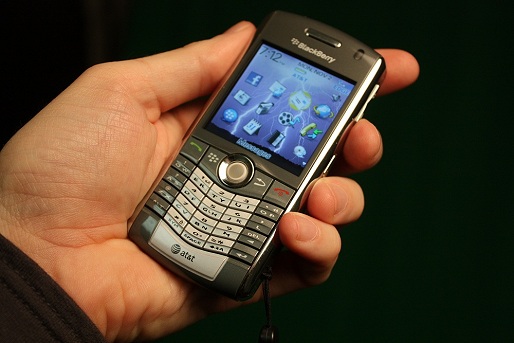 I have been especially impressed with the Pearl's 'half-qwerty' keyboard. Basically, the Pearl has keys layed out like a full keyboard, but with two letters per key. At first I thought that this would be harder to use than a full keyboard, but it turns out that the phone has a typing algorithm that allows you to type on the half keyboard just like you would on a full one. There is no special typing method that you have to learn - you just type away, and the device automatically knows which of the two letters on each key to use. It feels just like using a full keyboard, it doesn't slow my typing down at all. The algorithm so far has never been wrong about which letters to use. I have to hand it to whoever thought this up - nice job.
Another nice perk is that I got a 2GB micro SD card, which is big enough to fit all of my mp3s onto the device. So, this means I finally have a mobile mp3 player - another thing I probably never would have bought by itself but could have always used.
And yes, for those of you who know my past track record with cell phones, I do have insurance on this thing. However, since the Blackberry is a device that I actually use every few minutes during the day (to check new emails and Facebook notifications when they come in), I think I may be less likely to lose track of it. I have it set to chime quietly when new emails come in, so it's always making a little noise to remind me of its presence. My old phone would see a call sometimes only once or twice a day, so it was easier to forget about it. I also put a camera wrist strap on the included port, as the Blackberry has a very slippery surface and would be very easy to drop.
For any who read this blog that actually call me, since I still have my home VOIP line (which I intend to keep indefinitely), my primary phone number will stay the same as it always has. I simply changed the VOIP's simultaneous-ring number to the new phone. All of my voice mail goes to the VOIP line anyway, as it has for years - so I will probably not ever activate voice mail on the cell phone. In fact, email is probably a better way to reach me now, since it all comes to the Blackberry.
This web site is made possible by support from CIS Internet.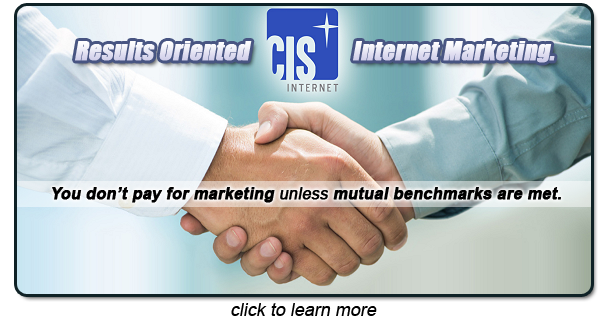 GO: Home | Storm Expeditions | Photography | Extreme Weather Library | Stock Footage | Blog
Featured Weather Library Article:
All content © Dan Robinson. All usage requires a paid license - please contact Dan for inquiries.

Web Site Design and Internet Marketing by CIS Internet