Home | Blog Index | Blog Archives | Christianity & Faith Essays
Monday, April 7, 2014 4:48PM CST
The downside to being successful on Youtube: Google, are you listening?
After months of getting nowhere with Youtube/Google regarding the rampant copyright infringement of other users/spammers re-uploading my videos, I figured it's time to go on a big public relations blitz to see if I can finally get their attention. Here is an unedited screen capture of what my Gmail inbox looks like every once in a while - full of DMCA takedowns by me, all discovered and issued manually!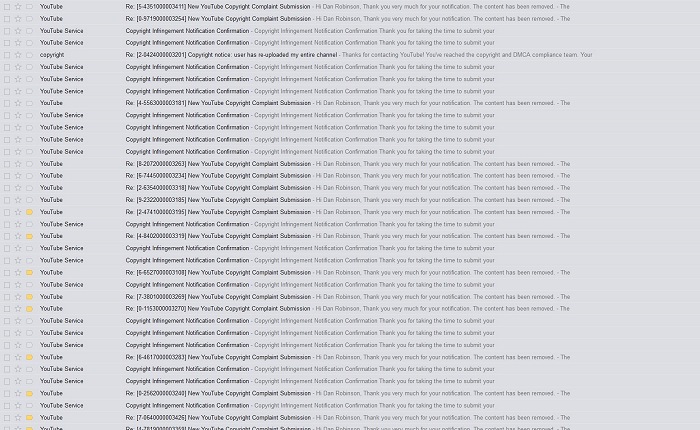 My channel has over 5 million views since 2012 and over 5,000 subscribers. I was previously with an agency that had my videos on their channel. Nearly one-quarter of the over 20 million views on that agency's channel were from my videos. Between the agency channel and my channel, my videos have garnered over 10 million total views.

I have submitted hundreds of DMCA takedowns for videos since October of last year. All of these require manually searching for infringing videos on a daily basis, and manually filling out the DMCA form for each one. I spend at least one hour per day on this task.

In some cases, I find so many infringing videos at one time that I get a "Submission frequency limit exceeded - Please come back later to submit your next copyright complaint." error. So the thieves have an unlimited reign to upload my videos, but I'm limited in how many I can DMCA at a time.

I have applied twice for Content ID, a utility that would automate the discovery and takedown of infringing videos. The first application, back in November, was rejected. The second, sent back in February, has yet to receive a response. The agency channel I mentioned above? That channel, that I helped boost to over 20 million views, has been awarded the Content ID program, yet I have been rejected.

Spammers are rampantly uploading videos that copy the title AND description text from my videos (their actual videos do not match the title and description). Some of these are beginning to compete with my videos in search results. I have reported dozens of these as having misleading text, none have been taken down.

I have sent emails to Youtube regarding these issues several times since January 1, and have not received a response. Not ONCE.

The spammers are uploading not only my videos, but hundreds of copies of other videos as well. How does this help the quality of Youtube when there are 1,000 copies of the same video out there uploaded by spammers? I would venture to say that the "x amount of hours of video uploaded to Youtube every day" statistic we see in the news is actually 90% re-uploaded content. This is diluting the value of the entire site and the potential for those of us who create original content.

Sunday morning, a spammer re-uploaded my entire channel to theirs. I sent both a direct email copyright complaint (with all of the required DMCA legalese) and over 50 individual DMCA takedowns via the form (I could only do 10 at a time due to the aforementioned limits) before the offending channel was removed.

The lack of support and communication from Youtube about these critical issues is absolutely unbelievable. I would think it would be in Google's/Youtube's best interest to listen to the concerns of its "legitimate" content creators and not blow us off like this. I want to be successful on Youtube, and the platform has promise. The success of producers like me means the success of Youtube.

Youtube/Google, are you listening? Please contact me! My channel is "stormhighwaycom". Thank you!

Hi Dan, in addition of my previous request (for licence) just a minute ago, I'm reading through your posts and site. I fully agree with your complaint to Google/YouTube and I am very empathic of the topic, because I experienced about the same issues of digital downloads (and re-ups) of the music industry (another total ripoff). My conclusion is: if you bite the bullet (publish anything at all), the it's from that minute on, your belongings (creations) are not belonging to you anymore. Not even if you wrote the bible. Anybody is - obviously - "allowed" to interpret said publication, even pretending black is white and vice versa. This is the reason, that helped me understand that the essence of resonation (Logos) is the sole making. Sharing (the joy of) the makings is sheer will power. All the rest is hype and superficial. Keep my fingers crossed you surrender (in the spiritual way, I mean). And it's the reason, why I don't "release" CD's of books anymore, but simply share (e.g. on YouTube - hey, all the blokes in hell need some intertainment, too, no?... :-) ). Best Fizzè
- Posted by Fizzè Mensch from Switzerland
Fizzè, I appreciate you taking the time to comment. Unfortunately I have to disagree - I have rent, groceries, medical bills, gas for my car, electricity, camera equipment, taxes and many other expenses that I have to pay that I don't get for free. If I don't get paid for my work, how can I expect to survive, let alone keep shooting photos and videos for people to enjoy? Dealing with copyright infringement is very difficult, but that difficulty isn't reason to give up and let the thieves not only win, but take the only hope I have to continue doing what I love - that is, the prospect of revenue to support me and my efforts.
- Posted by Dan R. from New Baden
This web site is made possible by support from CIS Internet.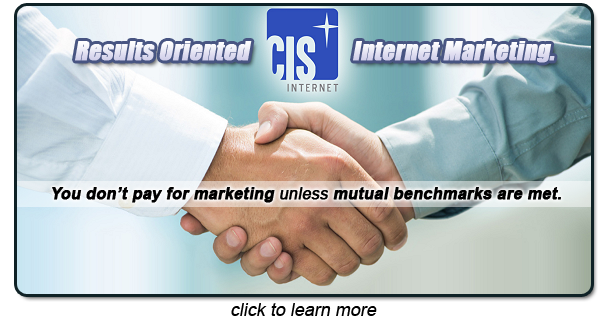 GO: Home | Storm Expeditions | Photography | Extreme Weather Library | Stock Footage | Blog
Featured Weather Library Article:
All content © Dan Robinson. All usage requires a paid license - please contact Dan for inquiries.

Web Site Design and Internet Marketing by CIS Internet