Winter tornadoes with snow on the ground near Jacksonville, Illinois: February 20, 2014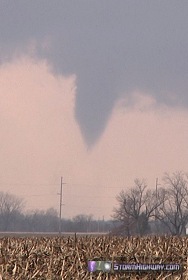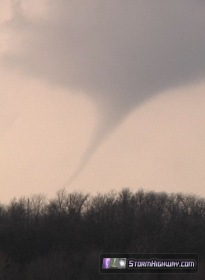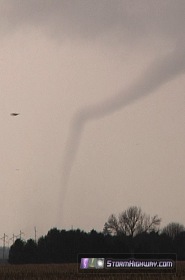 HD EXPEDITION VIDEO: February tornadoes in Illinois: Watch video
GPS LOG: February 20 trip path
CHAPIN, IL - The Midwest has a fascinating and storied tornado history, which is one of the primary reasons I chose to move to the St. Louis area instead of somewhere in the Great Plains out west. This event was the latest installment of that history in this region, where severe weather can and does occur year-round. A strong negatively-tilted trough approaching the area brought strong moisture returns into Missouri and Illinois, impinging on a snowpack from repeated arctic outbreaks and winter storms in the previous weeks. A deepening surface low in Missouri would be racing northeast, swinging a strong cold front through the area. The stage was set for a severe weather outbreak, with mainly damaging winds expected across Illinois, Kentucky and Tennessee.
I had been hesitantly planning to photograph storms this event, for no other reason than it was in my backyard. It is more common for setups similar to this one to produce a fast-moving squall line - fun to get out on a local storm photography for, but not worth any serious effort or long drives. The initial visible satellite imagery at sunrise on Thursday was not encouraging, with most everywhere within a 2 hour's drive (as far as I was willing to go) socked in. However, as morning progressed, several trends were noted. One was a nice clearing nosing its way northeast from MO into IL across the Mississippi River north of St. Louis. The second was the pronounced backing of winds in this region in response to the rapidly deepening low out west. The third was the sharp warm front situated along I-72, with mid-30s and fog to the north and 50s/mid 60s to the south. It became clear to me that this was a legit 'sleeper' play that would far exceed the MDT risk area to the south and east in chase potential.
I departed home (New Baden, IL) just after noon and headed up Highway 67 out of Alton, hoping to catch what appeared to be the storm with the strongest radar returns and the biggest gap between storms to its south. I had initial concerns that I would not make it in time due to slow traffic, particularly in Jerseyville. However, as I made my way north I became more confident that I'd make it.
Cellular data in this region is horrible, and I had slow or no internet. I wanted to intercept storms as they approached and crossed the warm front. All I had to locate the front were surface obs in ThreatNet, which showed it located somewhere along or north of I-72 (I could not even pull a satellite image from the internet due to the slow data). As I reached I-72, however, I could finally see visual signs of the boundary in the form of low clouds and fog to the north. I positioned just south of this boundary and just to the right of the storm's track, about halfway between Chapin and Jacksonville. As soon as I found my first viewing location, I could see a base and wall cloud already in progress.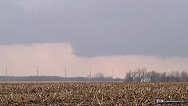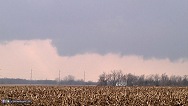 I had the camera turned on for no more than a minute before a funnel descended.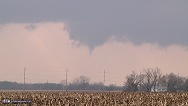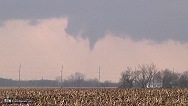 A weak dust swirl was evident for about 10 seconds at ground level. The last image in this sequence shows a small needle funnel segment condensed close to the ground as the tornado dissipates: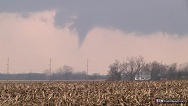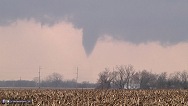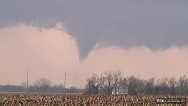 As this tornado dissipated, a second wall cloud and funnel well to the north of the first rapidly organized with a stronger RFD cut.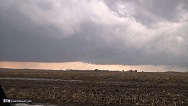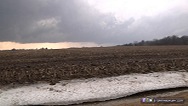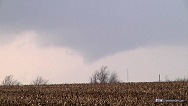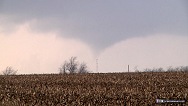 This annotated image points out the old and new mesocyclones: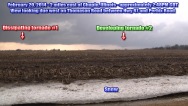 After about 3 minutes, a second tornado was in progress, which lasted for approximately 7 minutes. This tornado became fully condensed several times, but remained a small rope for much of its life. Snow on the ground is visible with the tornado in some of these shots: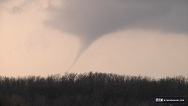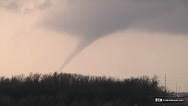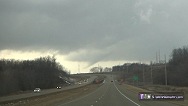 As tornado #2 dissipated, a large RFD gust front curled to the south with 60mph+ westerly winds as it passed.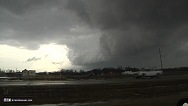 I attempted to catch up to successive storms by blasting east on I-72 toward Decatur, but I could not get ahead of the next storm's precip core due to dangerously low visibility and a severe hydroplaning hazard.
Other observer accounts from this event:
New to this web site. Love it. Thank you
- Posted by donna searer from Pennsylvania
Nice shots of the tornadoes! It's always amazing how rope tornadoes stretch out with the bottom half still a straight column. Last week's storms didn't disappoint. It was cloudy most of the morning too, but it finally cleared a few hours before the storms came through. Near st. louis, I encountered a very heavy rain curtain and gusty winds. There was a shelf cloud, but it wasn't real impressive. I maybe saw a single lightning bolt the whole time. It was even windier behind the front which caused a good sized tree branch to snap. Not bad for the first severe weather event of 2014. Spring's so close yet still so far.
- Posted by Tim
My aunt & uncles farm in TOWERHILL ILL. ( NEAR PANA,ILL.), was destroyed by a tornado,on FAB. 20TH.2014. DO YOU POSSIBLY KNOW ANTONE WHO HAS PICTURES OR VIDEO OF THIS TORNADO? IF SO, PLEASE CALL DAWN AT 217-493-3223. THANKS SO MUCH!
- Posted by Dawn from Savoy,Ill
Excellent report and great early-season catch, Dan! Dawn - go to the Storm Track Web site, then go to the Target Area section and click on the picture linked from L. Kimbrel's report - I think that might be the one you're looking for. If you don't know the Web location for Storm Track, just do a Web search and it will come up.
- Posted by John Farley from Pagosa Springs, CO
Where do you get the maps for Shear, Instability and the other stuff
- Posted by Joseph Meyer from St. Peters, MO
All content © Dan Robinson. All usage requires a paid license - please contact Dan for inquiries.

Web Site Design and Internet Marketing by CIS Internet