Litchfield, Illinois tornado: April 19, 2011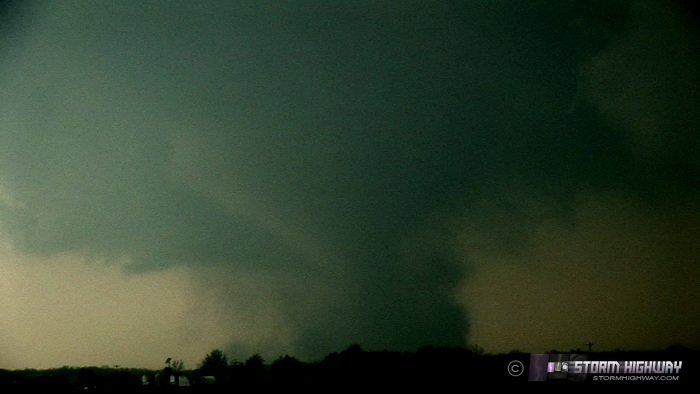 ABOVE: Tornado in Litchfield, Illinois on April 19, 2011.
HD EXPEDITION VIDEO 1: Tornado in Litchfield, IL: Watch Video
Click any thumbnail on this page to view a larger version.
LITCHFIELD, IL - Several tornadic supercells moved across the region north of the St. Louis metro area on Tuesday, April 19, bringing the first respectable tornado storm photography day to the lower Midwest.
The setup for the afternoon provided two targets. The first was a warm front lifting north through the morning, located about 50 miles north of I-70 by mid-afternoon. To the west, a surface low was in eastern Missouri, tracking eastward just north of I-70, backing surface winds from the St. Louis/I-70 corridor northward. Aloft, a 50 knot southwesterly midlevel jet was present. Strong instability afforded by clear skies was abundant south of the warm front.
The second target was an outflow boundary from early morning storms which bisected the St. Louis metro area. The boundary was visible on radar slowing and stalling directly over the city, extending eastward along the I-64 corridor. Both the warm front and the outflow boundary looked like viable plays for the day, and I initially chose the outflow boundary - as it was favorably oriented for a storm to latch onto and deviate to the right. If the outflow boundary lit up, it not only presented high tornado potential for the St. Louis metro, but would threaten to interfere with inflow to the warm frontal storms farther north.
My outflow boundary target was very convenient, as I didn't have to leave my apartment in New Baden (the boundary was literally overhead). I anticipated a storm firing well west of St. Louis, grabbing the boundary somewhere west of the city and tracking due east as it latched and turned right. By 3PM, storms began to fire and turn right up on the warm front near Bowling Green, MO, north of St. Louis, producing tornadoes. I didn't jump on this activity right away as I saw convection trying to fire southeast of St. Louis along I-44. If these storms had matured, they would have likely been the boundary-grabbers I was waiting for. However, as the hour wore on, convection upstream of STL was not able to establish itself, and I decided to start heading north on I-55 to the warm front, keeping a close eye on the original target should a storm develop there.
I stopped to pick up Robert Duffield, a friend from O'Fallon, who would tag along on the day's expedition. I decided to simply get north in front of the tornadic supercell tracking eastward from Missouri along the warm front, which was an easy intercept course - the storm had turned so hard to the right that it was moving nearly due east. We exited at Benld and jumped over to Highway 4 to begin the northward intercept course. At this time, storms to the southeast of the original supercell were beginning to intensify, and looked to replace it as the new dominant cells. For this reason we stopped east of Carlinville to watch and wait. Despite the storms only being 10 to 15 miles to the west, there was no visible storm structure - no base, no inflow tails, no shelf clouds, nothing. I was concerned the storms had a lot of maturing to do.
Finally, the new storms quickly took hold and threatened to cut off the original supercell to the northwest. We plotted a course to the northern of the two evolving supercells heading toward Girard. I picked the northern storm, since it was more likely closest to the actual warm frontal boundary and even though it could suffer from inflow problems from the southern cell. I feared the southern storm was too far south of the boundary to tornado efficiently. We stopped a few miles north of Standard City and looked west to observe the storm. I could finally see a base, but it was very faint and buried in precip.
Rain was rapidly filling in to the east of the storm, which caused us to not get a visual on the EF3 Girard tornado which was in progress about this time. With rain and hail rapidly overtaking us, the only play at this point was the southern storm, so we began heading in that direction. Our map showed no I-55 crossing at Waggoner just ahead, with the nearest county road crossover a few miles to the north. I-55 is essentially like a river here, with very few bridges and interchanges to get over it. Expecting the southern storm to eventually move northeast and tornado on the warm front, we headed north just west of Waggoner toward the next I-55 crossing. With the core of the northern storm approaching, we were forced to move east, but the road we chose turned out to be very narrow gravel and had the appearance of a driveway that would dead-end. Not wanting to chance it, we headed back south to Waggoner, discovering that there was indeed a I-55 bridge here.
With the southern storm turning more to the right, it was apparent we needed to dive south more than east. We took the frontage road south toward Raymond, then turned east on Highway 48. In retrospect I wished I had taken the frontage road southward on I-55, which would have afforded a great view of the tornado. However, The map indicated that east options were sketchy east of the frontage road, and I did not want to get stuck in front of the hail there. So, I chose to jump two miles east on 48 and drop south ahead of the storm. About 2 miles into our southward turn, the road narrowed in an ominous sign that it probably was not going to continue to be a road. Sure enough, it dog-legged east and south, right into the yard of a farmhouse, continuing through a field as a path of deep mud. We had no choice but to turn around. About a mile into our northward backtrack, I looked southwest and saw the first debris whirls rapidly developing under a nub funnel at cloud base toward Litchfield. Tornado!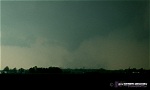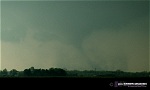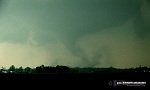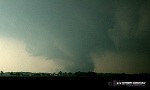 The tornado developed and intensified quickly, becoming quite strong and shrouded in a large dusty debris cloud within a minute (the tornado was later rated EF2). We stopped for pictures briefly. I quickly decided that we needed to get back north to 48 to continue east and south before getting pummeled by large hail. We plunged into the very heavy forward flank rain and small hail just south of 48. This core was the darkest I have ever driven into, with light levels dropping close to nighttime!
I was aiming to get ahead of the storm for its next cycle, but the storms went rapidly linear and outflow-dominant immediately after the tornado. A huge 'whales mouth' shelf cloud plowed southward along the entire line. I decided the day was likely done at this point, so we began the short drive back south to the Metro-East of STL. I kept watch on the squall line for any sign of inflow corridors getting re-established, but it seemed the outflow had firmly entrenched itself all along the line, sealing the deal on any further tornado potential. We hit the squall line at Highland, IL, which completely lost power as the gust front winds struck. I parked under a dark gas station canopy to wait on the indicated 2-inch hail, but the largest we saw were quarters.
We continued south on Highway 4, encountering several more bursts of hail and westerly winds in excess of 50mph. I arrived back at my apartment by 9PM, briefly considering a run to the Prairie State power plant for lightning - but opting to call it a day instead.
Had the two problem roads that my GPS map showed actually existed, we would have likely been at least 2 or 3 miles closer to the tornado with much better contrast. However, the day was still a huge success, demonstrating yet again that the Midwest is a completely viable storm photography region outside of the Great Plains. A few notable highlights of the expedition include:
We only saw one other observer the entire day.
Roads were empty - not the slightest traffic issues.
I used a half-tank of gas, making this my cheapest tornado ever despite $4/gallon fuel.
I left home at 4PM and returned at 9PM, which makes this my shortest tornado storm photography day ever, both in miles and hours.
This was tornado #52 personally, my second Illinois tornado and third Midwestern (non-Plains) tornado.
Looking forward to many more great storm photography days like these in the Midwest.

Other observer reports from this day:

Great catch especially with the short trip. Congratulations! If you look at a paper map where you got "Delormed", were there through roads as on Delorme or are the paper maps more correct.
- Posted by Bill Hark




Congratulation! It is very nice catch in the day with widespread wind damage and less tornadoes with fast moving supercells. Great!
- Posted by Luka Lee from Arizona




Good job Dan! Glad the eastern locale is throwing you enough bones :-).
- Posted by Blufie from Oklahoma




Thanks for the comments! Bill, I'll have to look at some other sources to see how those roads appear. The first road north of Waggoner may have gone all the way through, but it was narrow gravel that just had that 'look' that it would end up in someone's driveway, so I didn't chance it and just turned around for another east option. The second time we got hosed by the roads was minutes before the tornado - we were trying to get south on a road Delorme showed going all the way west of Raymond - it ended up in someone's front yard. The 'road' the GPS showed was a Bowdle-esque mud path through a field. We had to turn around - so we viewed the tornado about 3 miles farther away than what I was intending. In general, the IL road network is better than the Plains, but we seemed to hit the rare problem spots at the wrong times.
- Posted by Dan R. from New Baden, IL




Those field roads usually do go all the way across the section to a hard road. But with the rains we'd just had, you're right about them being treacherous mudpaths! A quick hint for future reference, at least in this area: if you 're faced with the mud field road option, try the next road over either way. You'll almost always get a hard road. And Dan, you didn't see another observer because you didn't look up on my front porch! I'd have waved at you. This tornado was headed straight for my place but lifted.
- Posted by Linda K from North of Nokomis




Incredible capture Dan, congratulations!
- Posted by Paul from Decatur, IL




Dan, I saw the same tornado with Roger Hill. We were traveling on a private tour with him and ended up following this storm. We waited right next to I55 as it crossed the highway towards Raymond. We actually saw it spin up to the right of us behind some warehouse-like buildings and cross the highway.
- Posted by John Citron from Haverhill, MA



All content © Dan Robinson. All usage requires a paid license - please contact Dan for inquiries.

Web Site Design and Internet Marketing by CIS Internet