Home | Blog Index | Blog Archives | Christianity & Faith Essays
Wednesday, April 9, 2008 - 1:34PM
Thursday, April 10 Missouri/Arkansas/Illinois chase - updates
This is an ongoing blog post covering Thursday's expedition - new updates are listed first.
Update 1:10AM EDT Friday: Just arrived back home a few minutes ago. Lightning data was not impressive with the squall line early on, so I decided not to wait around for it. It was either bail and get home around midnight, or stay for some lightning in the squall line and get home after daybreak - an easy choice. I can get lightning close to home without that kind of trouble. The drive home was relaxing and uneventful - not all chase busts are that bad. Friday will be another storm photography day here in West Virginia, but I will probably not be venturing very far from home. Then, I'm heading to Raleigh after the storms are done in WV - a lot of miles covered this week!
The 4km WRF model nailed Thursday's outcome almost perfectly. I will be looking at that model much more this season, although it isn't run every day (only on demand). The later convection in northern Missouri and Iowa turned out to be the place to be - numerous tornado reports out of that area and some nice tornado images coming in too. Too far out of my range for the day though, so I'm not disappointed. Come to think of it, all of the models did a great job with their portrayal of this system. Even the RUC has done well with the evolution of the squall line tonight. According to its latest forecast, the front edge of the line will be passing Lexington at around 11AM. The NAM/WRF has it here in WV by late afternoon, and is showing it being quite strong. Forecasted QPF amounts are high, so there could be a full spectrum of severe weather for us including flash flooding, hail and strong winds. Thankfully it will be later in the day, giving me a chance to rest up beforehand.
Looking ahead, cold air and precip in the forecast for Sunday-Tuesday is making me cautious about a dusting or two of snow in Charleston. Another big trough is hinted by the long-range GFS over the Plains in late April. Maybe another repeat of April 23 last year? It's too soon to tell - but as always one to watch.
As you can tell from my shorthand typing, I'm exhausted and ready to sign off for the night. Going to do just that and get ready for tomorrow - another potentially big day.
Update 4:39PM CDT Thursday: Decided to post a few photos of the "Wabash Ocean" in Illinois while I wait here in Dale. The Wabash River is in flood, with entire fields underwater many miles away from the actual river. The waterlines indicate it was about three feet higher than it is now - I can't imagine what that must have looked like. In places, I-64 is like a causeway across a huge lake - with water as far as you can see on either side!
I shot most of those photos from inside the car - because of this:
Every time I stopped the car, massive swarms of these flies would surround the vehicle. I've never seen these before. They were worst around the floodwaters. I assume they would bite, but I wasn't going to find out for myself - I stayed in the car!
Update 4:13PM CDT Thursday: Sitting just off I-64 near Dale, Indiana now. I'm trying to find a reason that would talk myself into staying here for the afternoon to give something to the southwest a chance to impress me. The SPC downsized the moderate risk area, but raised the tornado probabilities along the Mississippi River. The trends so far today have not supported this outlook, however. The models show a strong squall line developing later this evening along the IL-IN border and moving eastward. That may be enough for me to stick around so I won't go home completely empty-handed. I'm just not sure I want to forfeit getting home at a decent hour this evening for that possibility. If I kept driving east now, I'd make it home by 9PM. If I wait for the squall line, it might be 3AM or later! Not sure if a little lightning will be worth that.
Update 8:24AM CDT Thursday: The new SPC Day 1 is out, but I'm not sharing the optimism on the tornado probabilities to our south. The storms in northern MO that fire on the 4km WRF model later don't get within intercept range of STL until after dark. This is one of those situations that looks so bad early on that it is actually better than a normal bust, in that I may end up saving gas and getting home early due to giving up on the very morning of the event. That is, rather than waiting all day and driving additional hours away from home, going after some glimmer of false hope in futility. Since I'm already here, I'm reluctant to just call it a day this early - but unless things drastically improve by noon, I'm heading back. Not even the lightning prospects over STL look worth sticking around for now.
Furthermore, the prospects for decent lightning and maybe a few severe events are setting up east of here, keeping an early retreat back home from being totally uneventful.
Update 6:04AM CDT Thursday: I might be a little overly pessimistic, but it's looking like a bust on all counts this morning. The precip mass that the models indicated is happening, but as a mess of early convection at worst and a squall line at best. St. Louis itself may not see any lightning until well after sunrise, and the worst of the squall line looks to pass well to the south. If all of this mess can clear out of here by noon (including the line down in northeast TX) then we might have a shot at something, but I don't see it happening now. The latest 4km WRF confirms my concerns - with the only glimmer of action showing up to the north of STL very late in the day.
Update 10:56PM CDT Wednesday: Just checked in to the hotel here in Belleville, Illinois (just outside of St. Louis). Tomorrow's target will likely be within a fairly easy drive of the STL metro - though I still can't pick out a specific area yet due to the widespread nature of the good parameters. Not much of an obvious focus on the models - so I'll just have to look at things in the morning before saying too much more. Although I will say that I'm hesitant to go too far west at this point. As for tonight's lightning photo shoot, the RUC and WRF are keeping the thunderstorms south of STL for most of the night. However, radar seems to suggest we might get some lightning here in the next few hours. Heading out to find a quick dinner, then grabbing 2-3 hours of sleep before checking in again on the lightning situation. Hopefully I can get a few shots over the arch by 3AM, in time to get back and finish out a night's sleep.
1:36PM EDT Wednesday: Leaving here and heading west in about 15 minutes. Plan is to make it to STL by nightfall and rest up for tomorrow, and maybe shoot some lightning over the arch if decent storms move in on the warm front before dawn (which models agree on happening). 12z models seem to portray more of a dry slot after the warm frontal precip moves out. Still looking like a crazy setup, though I'm still concerned about the massive QPF amounts on the models. No high risk from the SPC - yet.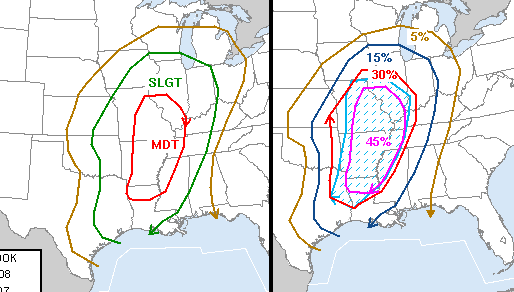 SPC 1730z Day 2 outlook
Dan I will be headed out there as well with a few guys from MI. Maybe will se you out there. Kurt
- Posted by Kurt from GR, MI
Boy, Texas sure has been hit today. They've been popping from maf to dfw all day. It sounds like Breckenridge (100 miles west of dfw) had a probable tornado with damage and injuries.
- Posted by Jim C from Denver
Looking at the radar right now... 5:43 mdt. Looks like you've got some stuff headed your way there on 64 IL/IN line. Doesn't look like any of it has been warned as severe though. Good luck.
- Posted by Jim C from Denver
Should have read 5:43pm MDT 4/10
- Posted by Jim C from Denver
This web site is made possible by support from CIS Internet.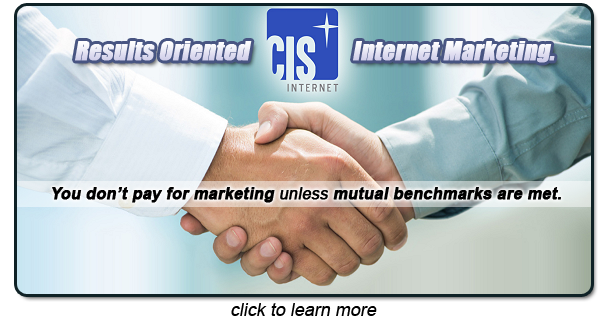 GO: Home | Storm Expeditions | Photography | Extreme Weather Library | Stock Footage | Blog
Featured Weather Library Article:
All content © Dan Robinson. All usage requires a paid license - please contact Dan for inquiries.

Web Site Design and Internet Marketing by CIS Internet