Home | Blog Index | Blog Archives | Christianity & Faith Essays
Thursday, August 27, 2009 - 2:20PM
Tropical Storm Danny another non-event
2:29AM Friday, (Posted from Charleston, WV):
The latest models and official NHC forecasts continue the trend of suggesting that Danny will be a non-event for the US Atlantic coast, aside from the usual agitated surf from an offshore storm. Intensity forecasts no longer show Danny reaching hurricane strength before it transitions to an 'extratropical low' (a non-warm core system similar to a nor'easter) off the New England coast. This, coupled with the newest track forecast consensus keeping Danny too far offshore to make any chaseable impact on either the Carolinas or Massachusetts, means that I'm going off of 'intercept standby mode' for this one. As such, I also won't devote any more blog time to this storm unless some major changes in the direction of a worthwhile landfall intercept take place.
Despite Danny's fading, we have another area of disturbed weather to watch in the eastern Atlantic that, according to models, may develop into a new tropical system (which would be named Erika if no other storms form beforehand) in the next 2 to 3 days. This storm is too far out to even guess on a potential landfall location, but may be something to talk about by early next week.
Coastal residents have the large upper-level trough currently over the eastern US to thank for keeping Danny from becoming a threat in both track and intensity. However, long-range models are suggesting that this upper air pattern may shift to a western troughing configuration, with weak upper flow over the southeast US. This would make it easier for any Atlantic tropical systems that approach Florida and the Carolinas to make landfall before getting steered away and/or weakened by upper level winds.
2:20PM Thursday, (Posted from Charleston, WV):
Tropical Storm Danny has been defying both intensity and position forecasts in the past day or so, remaining weaker than expected and drifting farther west than anticipated. Though models still have the storm tracking in a path that threatens both North Carolina and Massachusetts, at this time the storm's defiance of models as of late makes its future behavior difficult to call. In this satellite image, you can see the swirl of broken clouds marking Danny's center of circulation, but the area of heavy rain and storms is off to the east of this center: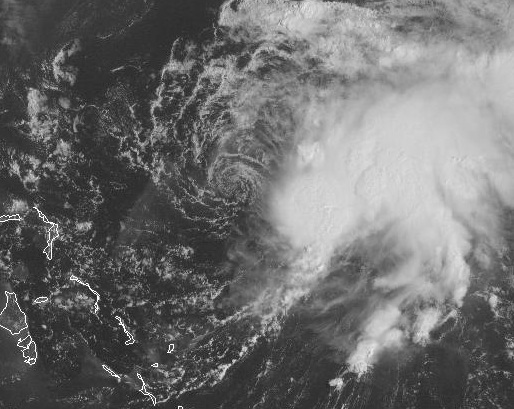 Visible satellite of TS Danny at 1:30PM EDT Thursday
This means Danny currently has what is called an 'exposed center' - not a good sign for development in the short term. A strengthening tropical cyclone needs to have the convection (storms and heavy rain) developing right on and around the center of circulation. This allows the surface pressure to fall, which encourages more storms, which causes even more pressure drops, which leads to stronger storms, and so on. Until Danny starts developing convection around its center, the storm will not strengthen much, if at all.
The other scenario that sometimes happens with a storm such as this is that the area of convection away from the current circulation may persist long enough to create its own surface circulation. This may then replace the 'outside' circulation and therefore become the new center of the storm. The area of convection to the east of Danny's center may very well do this over the next day or two. Not much to do now but just watch and wait.
All content © Dan Robinson. All usage requires a paid license - please contact Dan for inquiries.

Web Site Design and Internet Marketing by CIS Internet