Home | Blog Index | Blog Archives | Christianity & Faith Essays
Sunday, August 30, 2009 - 6:37AM
Sunday morning miscellaneous updates
As has been typical for me during the past 13 years or so, I've again gravitated to a nightside schedule - and so am still awake early on this Sunday morning with some time to kill before church. Most of my Sundays lately have ended up starting in mid-afternoon, where the evening service has been my morning service. Not the greatest pattern to be in, but until I figure out a way to force the onset of sleep at a normal hour, that's probably going to remain commonplace. Today I just happen to be still awake late enough that it just makes more sense to stay up for the morning services. There are some nice benefits to being a night person - IE, no distractions or interruptions, and free parking on the street downtown. I'm going to have to start finding a way to flipping back to a dayside routine though - it's hard to do all the necessary business interaction tasks - like sales and customer service - in the middle of the night!
Video studio upgrades
With storm season on the way out, I've decided to ramp up the video production side of business. I have some encouraging upgrades to the studio happening this week. First, I've moved my office into a larger room in the building, combining my studio and office into one large area. I just finished moving all the equipment and furniture overnight, and I'm typing this post from the new room. The larger space allows for a much more flexible and conventional lighting setup, and having my main production/editing PC in the same room will allow capturing directly into the same computer I do all of my editing on. No more annyoing file transfers from the laptop after a shoot. I also purchased two new Lowel Pro tungsten light kits (used as shadow fillers and backdrop accents) which should arrive around Wednesday. In addition to that, three new backdrops are on the way - a white, a black and a chroma-key green, which brings my backdrop kit to 4 different selections.
I also played around with the idea of constructing a 'cyclorama', which is a system of seamless curved paneling that eliminates the visible corners between the back wall and the floor. The end result is that there are no seams or corners visible in the shot, just a total white or black background (like in those MAC vs PC commercials, and that 'construct' loading program scene in the Matrix). Cycloramas (or 'cycs' for short) can be very expensive and elaborate, but as I said, I felt that all I would need is a cyc to join the floor and back wall. Not too terribly complicated, just a few sheets of plywood and a frame of 2x4s. However, I decided to go with the fabric backgrounds for now. They're long enough to drape from the wall down to the floor in a gentle 'flowing' configuration that mimics a cyc. We'll see how that works for now.
I'll post some pictures of the new setup once all the new equipment arrives later this week.
Weather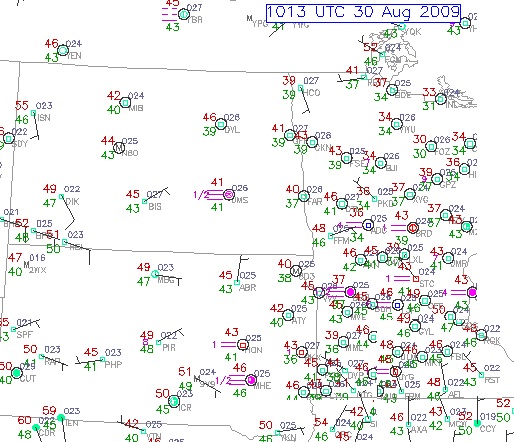 Obs at 6:37AM
It's August 30, and we have below freezing temperatures in the US outside of mountain areas! 30°F in Bigfork, MN with frost advisories in northern Wisconsin. That's pretty amazing to me to think that with some drizzle or fog, icy roads could be happening right now in this country. In August!
It's also hard to believe September 1 is already here (well, in a couple days, but you know what I mean). And with that comes the typical end of my convective storm season. This year looks like just that - typical. Hurricane season so far has not been much to talk about, and thunderstorms have been either unremarkable or too far away from here to worry about. It's a persistent pattern that doesn't seem to want to break. In fact I've actually got to the point that I've stopped checking the models and the SPC web site every day - probably for the first time since last September. Unless a good fall severe weather outbreak or two pops up, or a landfalling Atlantic hurricane presents itself, I think weather will be an afterthought for me until the winter season starts in mid-October.
I guess that means look for more boring blog posts for the next month or so!
Another wave incoming Dan, though it look's like it may well take the path of the last 2.
- Posted by Mick from UK
Yeah, Erika looks like the next one. I'll probably start watching it closely if it looks like it may head for the Atlantic coast.
- Posted by Dan R. from Charleston, WV
This web site is made possible by support from CIS Internet.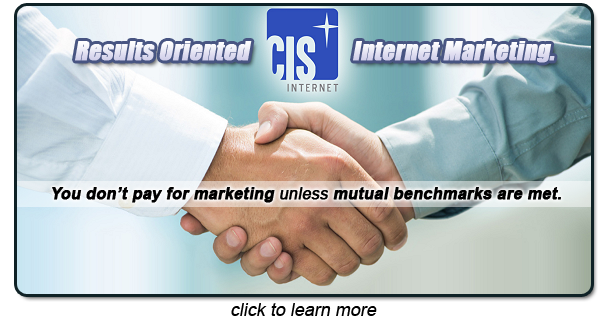 GO: Home | Storm Expeditions | Photography | Extreme Weather Library | Stock Footage | Blog
Featured Weather Library Article:
All content © Dan Robinson. All usage requires a paid license - please contact Dan for inquiries.

Web Site Design and Internet Marketing by CIS Internet