Home | Blog Index | Blog Archives | Christianity & Faith Essays
Tuesday, August 4, 2009 - 12:34PM
Extreme close-ups of lightning: at 1300mm
HD EXPEDITION VIDEO: Upward lightning at the WVAH tower, August 4
MORE INFO: About upward lightning to towers and skyscrapers
4 days after buying the new lens! A decaying but electrified MCS (meso-convective system) passed over the WVAH tower site Tuesday morning. I observed eight upward lightning discharges to the tower, several of which I captured extreme close-up images using a 1300mm telephoto lens (all shown here). I also ran HD video, but it was trashed by the wind shifting my umbrella shelter - which partially covered the video camera's field of view. I don't have enough hands and eyes to keep track of everything! This day though, I was more concerned with getting the 1300mm stills, so I'm more than happy with how the day went. Overall the storm was very cooperative, with little wind and no heavy rain - making it as easy as it could possibly be to keep the setup dry. This event brings the total number of discharges I've documented at this tower to 48 in 4 years!
This first photo is a wide-angle shot for reference, showing the size of the 1300mm frame. Ironically, I don't have a current wide-angle shot of the tower, this image was taken back in 2004 when the new tower has just been completed (the original collapsed due to icing in 2003). The smaller tower is the old WCHS mast that the new tower also replaced. I need to go and get a new reference photo sometime soon.
So what's next after this? The next step up in sharpness and/or zoom length involves lenses running about the ten thousand dollar range (using the Canon 800mm L with a teleconverter), so obviously I'll need to seek out some sponsorships/partnerships to make it happen. Stay tuned!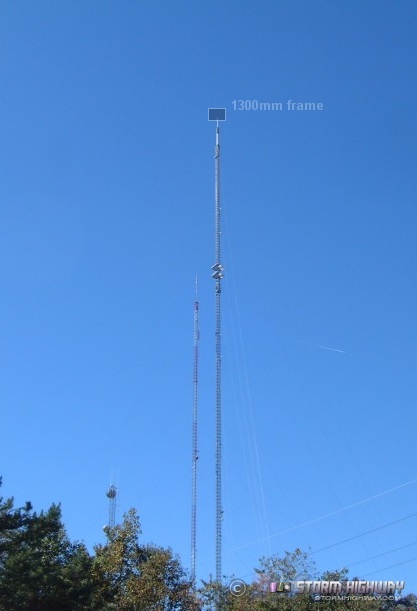 Click on any of the following images for larger versions.
This first image is a stack composite of six of the following frames: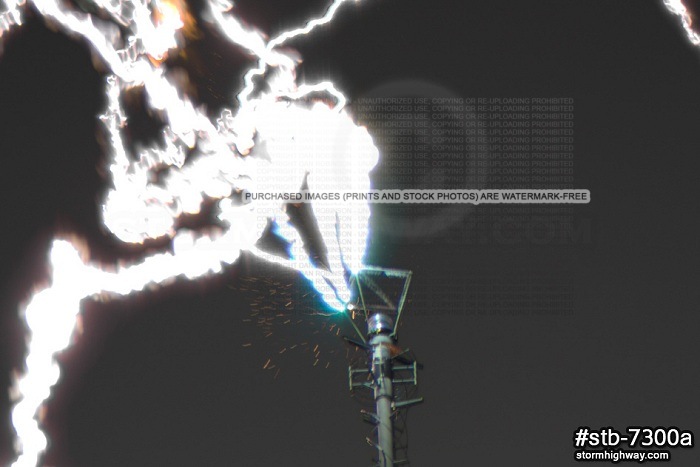 Individual strokes:
Intense (high current) return stroke: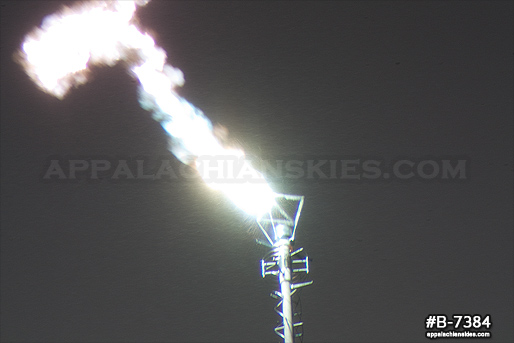 Explosion of sparks and smoke (first image shows decaying channel 'bead out' segment in upper left):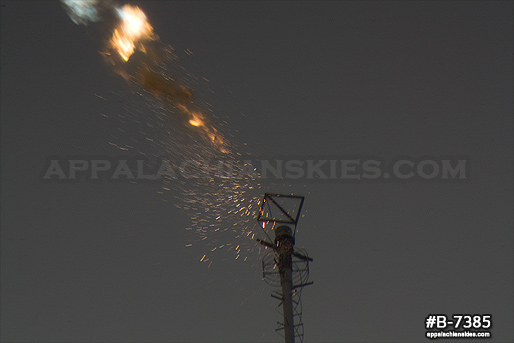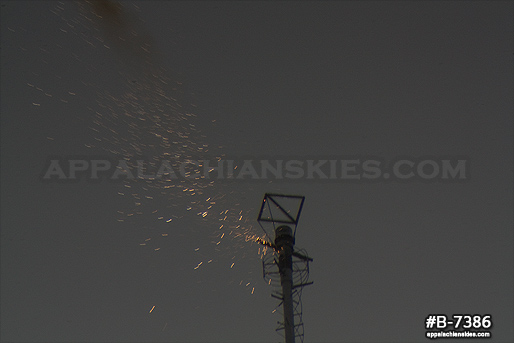 Return stroke details: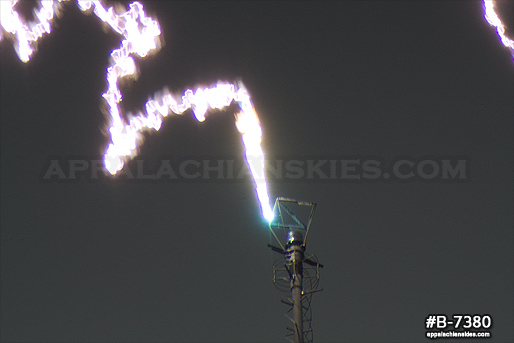 100% crop: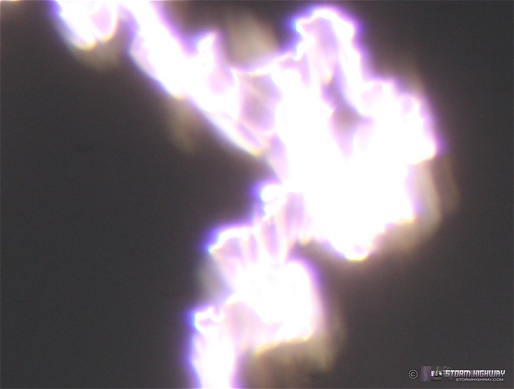 Upward leaders: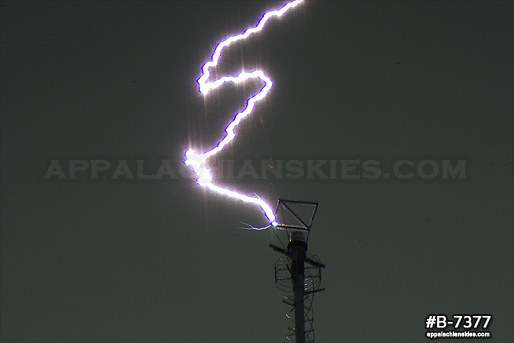 100% crop: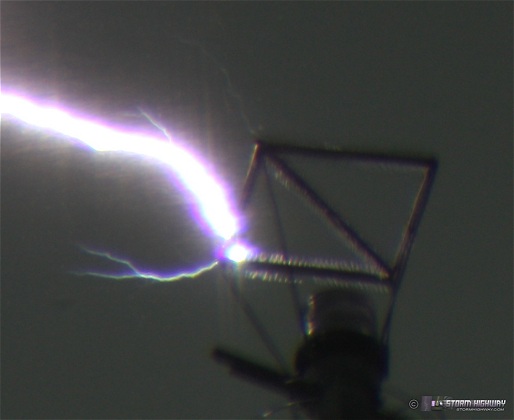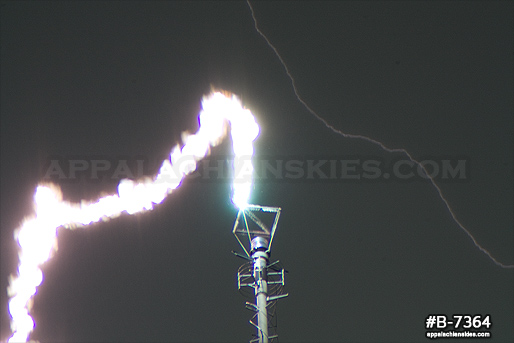 The decaying phase or 'bead out' stage of the lightning channel: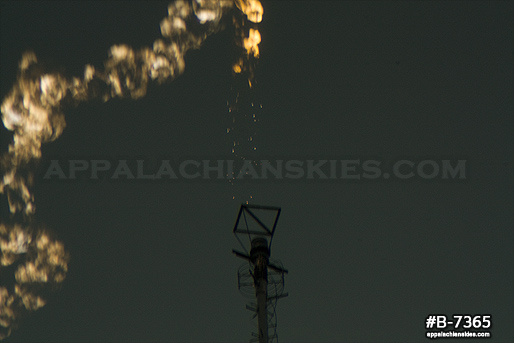 Notice the arcing and sparks at the bracket below the strobe lamp: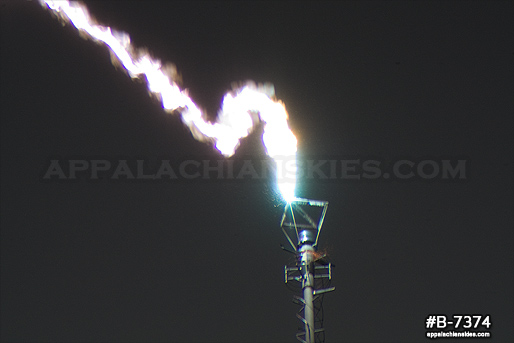 100% crop: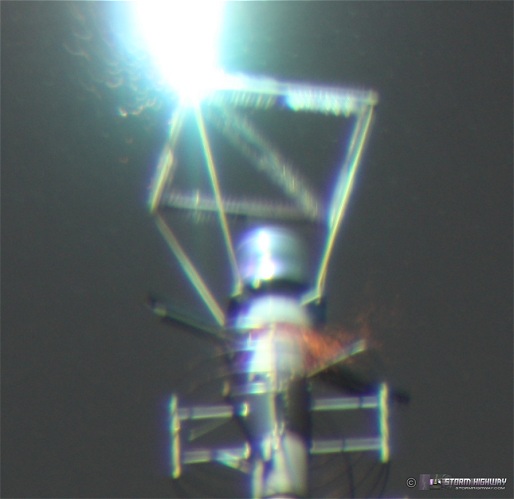 Sparks coming from the bracket base and the top conductor: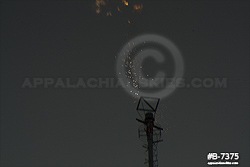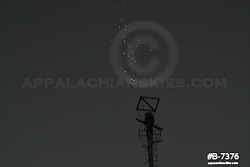 A problem with the long lens is that a slight bump moves the tower tip from the frame. This happened with the second discharge to the tower - however the lightning channel still made it into the frame: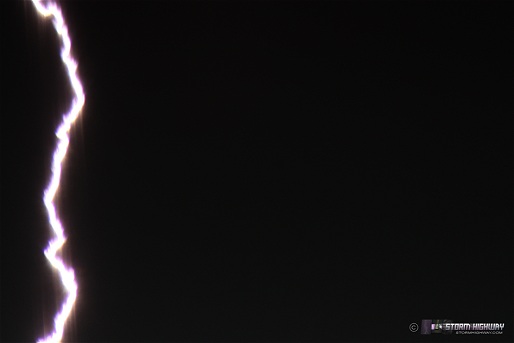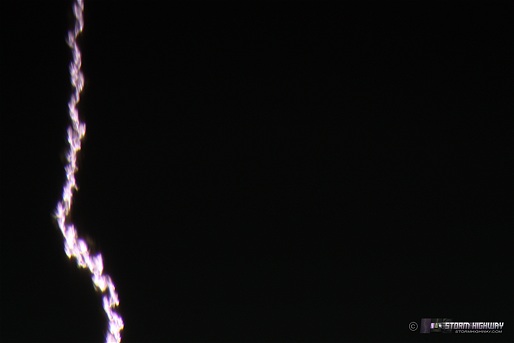 A shot of the camera/shelter setup: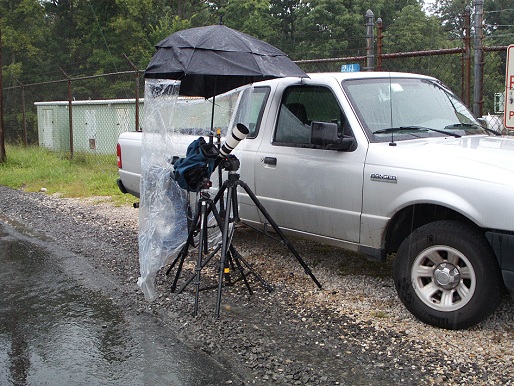 Fantastic Dan :)
- Posted by Mick from UK
Those are amazing. You can practically see the electrons.
- Posted by Katie from Melrose, MA
wow great work!
- Posted by Dave
Thanks! Glad you all like it!
- Posted by Dan R. from Charleston, WV
Very cool shots. Love the close-ups. I am happy you got to use your new toy.
- Posted by Bill Hark
Wow. Very cool shots Dan.
- Posted by Eric from Fargo, ND
Dan. Great images and video. Seeing the detail with the unconnected leaders is very helpful. You have a great setup.
- Posted by Tom Warner from Rapid City, SD
Lightning my favorite element of Storm: now why can't my shots turn out this spectacular?!? *sigh* That tower sure got OWNED!
- Posted by Karla from Burleson, TX
Thanks Tom! Those little leaders are visible on roughly a third to a half of subsequent return strokes on video. The lower few feet of the main channel gets severely stretched by the wind drift, so I believe the leaders are a sign of new propagation to fill that gap when it gets too big. I'd like to get nighttime long exposures to better capture these, but my main concern there is how far the main channels drift during the discharge. Continuing current and M-components are pretty long-duration with these, coupled with the wind drift means that the channels sweep across the frame quickly, smearing the exposure. I've been able to avoid this so far with the short daytime exposures. Can't wait to do more of these!
- Posted by Dan R. from Charleston, WV
Thanks Karla!
- Posted by Dan R. from Charleston, WV
Congratulations on your purchase. Looks like you got lightning close ups covered nicely. With that camera maybe you can catch a tornado 50 miles away :-)
- Posted by Steve S. from Cape Canaveral, FL
Whoa! Amazing shots - both with the camera and to the tower. Thanks for sharing.
- Posted by Ericka from Boston, MA
Unbelievable pictures Dan. I like your umbrella set-up too:-)
- Posted by Pete McConnell
Excellent work! Thanx for sharing...
- Posted by Groucho Capt. Spaulding's World blog) from Kansas City-MO
Nice shots Dan - Looking forward to more ! Thanks
- Posted by Randall O. from Alabama
Dan What great pictures the best is here I live in the lighting capital of the world (they claim) Grow up in Charleston Sam
- Posted by Sam from Fl
Amazing! I'm trying NOT to spend all day browsing the site. Just went through the tornado gallery--fantastic!
- Posted by Katia from MI
fantastic shots well done would lov to be there!!
- Posted by mitch from au