Home | Blog Index | Blog Archives | Christianity & Faith Essays
Tuesday, December 1, 2009 - 8:44PM
Southeast/Carolinas chase
Update 1:02AM Thursday, (Posted via BlackBerry from Raleigh, NC):
Back in Raleigh - again - after another run down I-40 and east to near Jacksonville. Saw plenty of lightning this time, which was nice- but nothing else to speak of. With that, we're done with this event. Not a bad trip at all, considering the convenience of a Raleigh base. Events this time of year are make or break, we'll just try again next time. Heading back to Charleston in the morning.
* * *
Update 8:38PM Wednesday, (Posted via Laptop from Raleigh, NC):
Convection starting to ramp up now - we are on the way back out down I-40.
* * *
Update 8:07PM Wednesday, (Posted via BlackBerry from Raleigh, NC):
Decided to return to Raleigh after seeing no encouraging signs of anthing worth holding out for on the coast. I don't think the event will be totally done until the cold frontal passage, but hanging out in Raleigh to keep an eye on things is a much more appealing option than staying mobile. If something pops up later, we can easily go back out.
* * *
Update 5:04PM Wednesday, (Posted via BlackBerry from Wilmington, NC):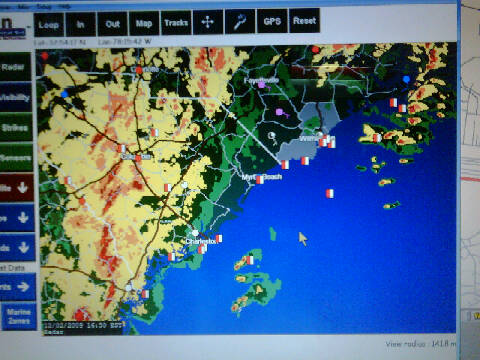 Radar image
Matt and I are in Wilmington now and waiting. We are just south of the warm front. Tornado wise, not looking too good. Upstream convection is pathetic, but we are waiting to see if current precip area will tap into instability axis that is just edging on shore. Some cells out to sea may provide some photo ops later if they can maintain lightning. Not really expecting too much, but we're here so we'll stay for a while and give this thing every chance to do something.
* * *
Update 11:57AM Wednesday, (Posted via Other Workstation from Raleigh, NC):
Wind fields are about as good as it gets along the coast. The Morehead City sounding is classic. Instability isn't great but looks like it will be more than enough. Probably will be heading down I40 toward the Wilmington area soon. I think there may be a decent daytime play along the warm front.
* * *
Update 3:33AM Wednesday, (Posted via BlackBerry from Raleigh, NC):
Just arrived at Matt & Beth's in Raleigh for the night.
* * *
Update 10:44PM Tuesday, (Posted via BlackBerry from Flat Top, WV):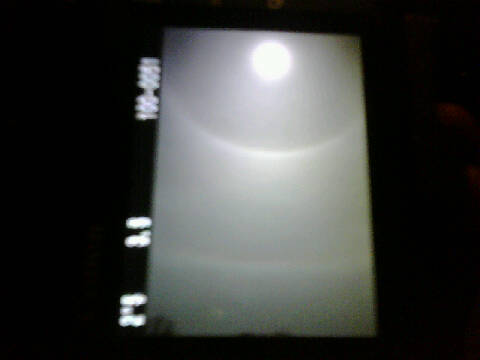 Lunar halo with arcs
At Flat Top now. Stopped briefly for a couple shots of the impressive lunar halo with secondary arcs in progress now (thanks to my brother for the heads up). This image is a photo of my dslr lcd because the phone's camera can't do night sky shots.
* * *
Update 9:00PM Tuesday, (Posted via Office from Charleston, WV):
I've said before that I was going to start paying more attention to these events, so I figure now's a good time to stay true to my words. Besides - I'm still at zero tornadoes for 2009, and the chance to avoid a shutout with an intercept in December is too good to pass up. A decent threat for tornadoes will be present across the southeastern US and the Carolinas on Wednesday and Wednesday night as a strong upper trough plows through. This will primarily be a nocturnal event, with most of the action after dark on the coastal plain of the Carolinas. However, the warm front that will move through during the afternoon may have a few daytime opportunities on it as well.
I am currently making preps to leave here sometime later this evening, so I won't use up valuable time to post a detailed forecast. If I have time later, I might.
* * *
This is a running-updates style post, with new sub-updates appearing under the same heading. New posts are listed first.
Dan, good luck!!! I agree that many of the tornadic storms will be after dark, you still have a good chance for some daylight activity. I would chase this if I didn't have to work.
- Posted by Bill Hark
Good luck Dan! If it weren't such a drive, I would go park in Valdosta.
- Posted by Clarence from Nashville
Good luck Dan!!
- Posted by Dann Cianca from Centennial (Greenwood Park), Colorado
Be safe out there Dan!
- Posted by Rob Young from Washington, PA
All content © Dan Robinson. All usage requires a paid license - please contact Dan for inquiries.

Web Site Design and Internet Marketing by CIS Internet