Home | Blog Index | Blog Archives | Christianity & Faith Essays
Thursday, December 25, 2008 - 9:53PM
US icy road toll tops 200; more ice on the way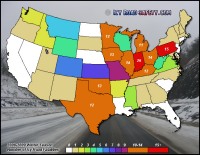 I know it's Christmas, and I've already posted 100 times this subject - but weather hazards don't observe holidays, so I won't delay this next post any longer. US icy road fatalities this season (since October) passed the 200 mark yesterday, on pace to easily surpass the combined average annual toll for all other forms of severe weather (tornadoes, hurricanes, lightning and floods). As of this evening, the toll is at 210. In the past 5 days, an astounding total of 64 people have lost their lives on icy roads in this country - 35 of those occuring on one day, Tuesday the 23rd. When I started this project, I expected to see the 200 mark reached in February, not before Christmas.
I added a map to the icyroadsafety.com site showing the distribution across the country:
MAP: Icy road danger, by state
I've also added a XML/RSS news feed to icyroadsafety.com, with the intention of shifting some of that topic off of this blog for those who are interested in it.
Freezing rain has been responsible for the majority of the recent incidents, with accident rates and severity far higher than any snowfall events this season. The recent research I've undertaken has confirmed that ice glazing from freezing rain tends to result in more serious and frequent crashes due to its invisibility and element of surprise. Snow on roads is easy for drivers to identify, ice glazing is nearly impossible to.
And unfortunately more is on the way. Tonight will require another all-night coverage marathon here in Charleston, as temps are already crashing past the freezing mark across West Virginia with a slug of precip moving up from the south. Tomorrow morning is going to be a mess.
Those are some imapressive numbers for only a few months time. I'm sure glad I don't have to deal with icy weather issues.
- Posted by Jeff Gammons from South Florida
With so much emphasis on vehicle safety, I'm not sure many people know how to drive in winter conditions anymore. I grew up driving front wheel drive vehicles in Montana where the roads would be covered in snow or ice at least 20% of the year. I've since upgraded to an older-model Ford Explorer. It has 4-wheel drive, but I don't use it except in case of emergency or I get stuck. I'm not used to driving rear-wheel drive, so I have been doing that all winter to get used to it. I don't even have anti-lock brakes. :)
- Posted by Dann Cianca from Denver, Colorado
All content © Dan Robinson. All usage requires a paid license - please contact Dan for inquiries.

Web Site Design and Internet Marketing by CIS Internet