Home | Blog Index | Blog Archives | Christianity & Faith Essays
Friday, December 4, 2009 - 10:45AM
December 4-6 snow event
Update 7:05PM Saturday, (Posted via Office from Charleston, WV):
Just now getting around to posting the final update on this storm. I called it a day around 11AM, due to the main band of snow moving out and no road ice problems observed in Charleston up to that point.
The highest accumulation I found was around 3 inches on Fort Hill, with at least 2 inches most everywhere in town. Although my thermometer was having issues (giving erratic readings), I believe the valley stayed right at the freezing mark, as the observed road ice behavior seemed to reflect that temperature - with no real bonding of ice/snow to the surfaces anywhere I could find. Anywhere that the roads were covered, it was a loose slush/snow cover that didn't bond and therefore was not very slick.
Metro 911 reported two accidents at the Fort Hill bridge during the storm, one at 9AM and the other at 11:45AM. However, I believe these were wet-road triggered rather than ice-related, as I did not see the traffic lanes on the bridge covered with snow at any time (and therefore didn't stay set up on the overlook). The Fort Hill bridge sees accident rates on par with today's every time it rains. With the borderline freezing temps and diligent salt crews, the roads rarely get very slick and see far fewer ice-related crashes.
Accident reports were higher to the west in the Huntington area, likely due to lower temps and more road surface ice bonding than in Charleston.
One icy road death so far has been recorded with this storm near Clifton Forge, VA.
* * *
Update 10:55AM Saturday, (Posted via BlackBerry from Charleston, WV):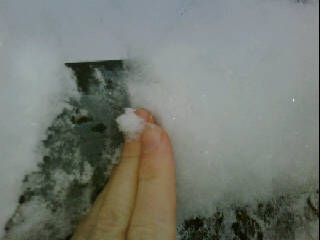 Charleston snow
2 to 3 inches so far. Road problems minimal.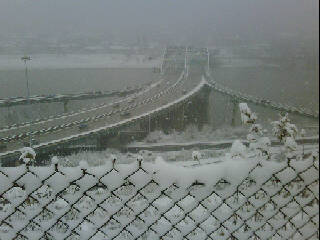 Charleston snow
* * *
Update 5:57AM Saturday, (Posted via BlackBerry from Charleston, WV):
About 1/2 inch so far. A non event as far as the roads in town, it appears we are above freezing at least in the valley. Standing down and taking a needed break from being mobile. Back out in another hour or two.
* * *
Update 5:16AM Saturday, (Posted via BlackBerry from Charleston, WV):
Moderate snow now in town, not sticking to the roads yet - but looks like that may change soon.
* * *
Update 4:27AM Saturday, (Posted via BlackBerry from Charleston, WV):
Just discovered that I may be having equipment issues and that my onboard temp data is probably shot. So I have to fly blind. Precip may be starting soon judging from radar returns.
* * *
Update 3:44AM Saturday, (Posted via Laptop from Charleston, WV):
Something strange going on out there that I've never seen. Temps rose a couple of degrees in the past few hours. It's as if radiational cooling dropped us down below, then once the cloud cover moved in, the residual subsurface heat in the ground started warming us back up. I drove around to get a temp profile, and Charleston and the valley are at 37°F, including at the Fort Hill Bridge. I got a reading of 40 degrees going up Greenbrier Street hill. Our dewpoints are at 29F, too high for wet bulbing to do much at precip onset.
Surrounding obs are all much colder, most below freezing - so it is a curious thing why there is an oasis of warmer temps here.
In light of this new development, I think the icy road threat in the Charleston area will be reduced unless temps fall sharply in heavier snow.
A couple of obs in Kentucky now showing that the virga is starting to transition to snow reaching the ground.
* * *
Update 11:15PM Friday, (Posted via Office from Charleston, WV):
Charleston quickly dove past the freezing mark and should stay that way through the duration of the event. With temps below expected lows here now this early, thinking this may prime the area for an all-roads icing event rather than a bridges-only one. River valleys were slightly warmer a couple of hours ago, but think they too should be solidly below freezing by precip onset. Light radar returns now streaming northeast toward WV and filling in, so snow should begin in the next 3-5 hours.
Will be going mobile here in the next 2-3 hours.
* * *
Update 3:54PM Friday, (Posted via Office from Charleston, WV):
MODEL GRAPHIC: NAM snowfall total estimate
MODEL GRAPHIC: GFS snowfall total estimate
Above links show NAM and GFS snowfall total estimates as of the latest runs.
* * *
Update 12:51PM Friday, (Posted via Office from Charleston, WV):
4KM WRF has a band of heavy snow setting up over Charleston and central WV at around 7AM tomorrow morning. The new NAM run holds off snow until around noon. Looks like I may be able to get a somewhat normal night's sleep before this gets going.
* * *
Update 10:53AM Friday, (Posted via Office from Charleston, WV):
I just got back from a storm observing expedition last night, but not much of a downtime here before the next event gets going. Charleston should see our first accumulating snow event of the season starting sometime overnight tonight. While totals should be light, temperatures should be below freezing for the onset of the precip - which means icy roads starting early in the morning. As always, I will be out covering this - so stay tuned for updates.
* * *
This is a running-updates style post, with new sub-updates appearing under the same heading. New posts are listed first.
This web site is made possible by support from CIS Internet.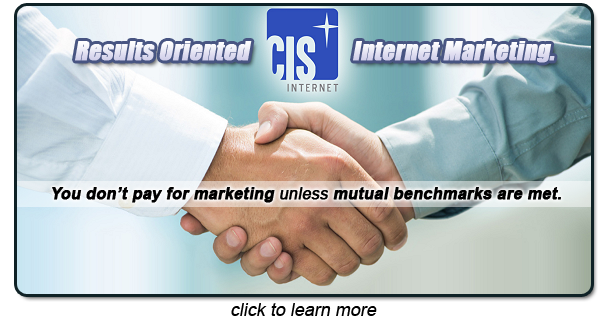 GO: Home | Storm Expeditions | Photography | Extreme Weather Library | Stock Footage | Blog
Featured Weather Library Article:
All content © Dan Robinson. All usage requires a paid license - please contact Dan for inquiries.

Web Site Design and Internet Marketing by CIS Internet