Home | Blog Index | Blog Archives | Christianity & Faith Essays
Sunday, December 7, 2008 - 1:05PM
A long break from winter ahead - finally
Long-range models are always to be taken with a grain of salt - but what I've been seeing indicated for the late-week period and beyond is encouraging. A big pattern change looks like a possibility during the upcoming week, which will start a warming trend for the eastern two-thirds of the country. In fact, I don't see any chances for notable accumulating snow here in West Virginia for at least the next 10 days, as the synoptic (large scale) pattern shows a significant and extended warm-up.
Furthermore, a large western trough is shown late next week, bringing the possibility of severe storms as far east as Kentucky. With gas prices at $1.79 here and likely much lower out west, an expedition would be an affordable and welcome prospect.
Some thoughts on winter
The upcoming warmup is a welcome sight, as I definitely need a break from winter weather. Although I do like snowstorms, I'm not a fan of the little quarter-inch events that wreak havoc on the roads like we've had over and over the past few weeks. They're photographically useless, and they keep me awake all night - either watching radar and surface obs, or standing out in the cold shooting video. Contrary to what you might think, I really don't enjoy the icy road coverage part of winter, it is brutal.
I'd rather see the big 5+ inch storms every month or so, ones where I can take a day off afterward and shoot scenic photos and HD video. I'm only keeping up with the icy road story because no one else here is doing it, I feel like it deserves coverage, and it occasionally has helped pay the bills. I feel now that it would be irresponsible to just give up on the subject just because I don't like it, as it's an opportunity basically handed to me. No one would be more happy than me if there wasn't another wreck on the bridge in downtown Charleston, as covering it is the hardest and least enjoyable subject I've been involved in. I'll be glad when spring arrives and I can get back to convective things again. In the meantime, I'll enjoy every minute of temperatures staying above freezing.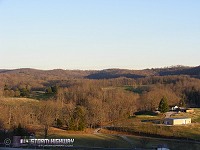 My winters used to be completely storm photography-free prior to the 2003 season. In some ways I miss the five-month downtime I had to focus on other things in life. West Virginia winters (outside of the higher elevations) are typically mild, with snow events every 7-10 days or so and highs (in the lower elevations) averaging in the mid 40s December-February. It's uncommon for us to have a snowpack, and the ones we do get don't last more than a few days. Taking a drive on a sunny winter afternoon was always a great way to relax. No snow, just blue skies, clear roads and leafless-tree covered hills (scenes like these). No worries about trying to forecast for the next inch of snow. I guess part of this is the 'grass is always greener' phenomena, as I'm sure if I ditched all of my weather coverage efforts, I'd probably start missing it after a year or two.
All content © Dan Robinson. All usage requires a paid license - please contact Dan for inquiries.

Web Site Design and Internet Marketing by CIS Internet