Home | Blog Index | Blog Archives | Christianity & Faith Essays
Monday, February 18, 2008 - 7:49PM
Charleston rainbow panoramas, 3 days of snow
I downloaded a couple of panorama stitching programs this evening to try assembling the images from yesterday. Of the ones I tried, AutoStitch worked the best. The main problem was that the software couldn't find sufficient sharp detail in the sky to merge the top part of the rainbow, which I had to do manually in Photoshop after the panorama output was finished. Overall the results didn't turn out all that bad. As you can see, I could probably have stood to do more work to improve the blending of the color/brightness areas in the sky, but after working on this for nearly an hour and a half tonight, I've put as much into it as I want to for a while.
(Click images to enlarge)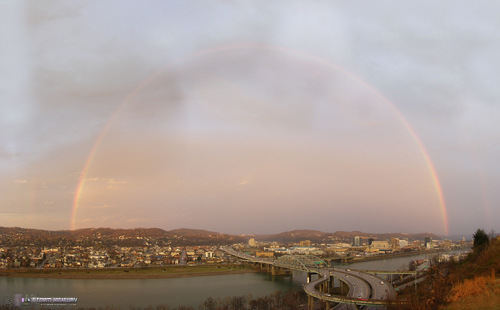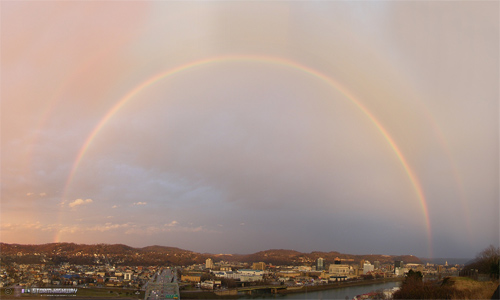 Extended cold & snowy pattern ahead
Looks like many trips to the Oakwood (Fort Hill) bridge are in store this week, the first of which may be tonight. Quite a few minor accumulating snowfall events are forecast through Thursday, although no single one of them look to be more than 1 or 2 inches each. All it takes is a dusting around here to cause havoc on the roads though, so all of them are going to be worth my attention - at least until the salt crews get out and calm things down.
All content © Dan Robinson. All usage requires a paid license - please contact Dan for inquiries.

Web Site Design and Internet Marketing by CIS Internet