Home | Blog Index | Blog Archives | Christianity & Faith Essays
Tuesday, February 23, 2010 - 10:46AM CST
Home chase areas - St. Louis edition
Back in February of 2008 I blogged about 'home chase areas', that is, the typical geographical range that I'm willing/able to photograph storms in on a regular basis. The original post 2 years ago focused on home observing areas from my old Charleston, WV base. Of course now that I'm in the St. Louis area, these 'home chase areas' have made a major shift!
As with the WV-based zones, there are three types of chase areas in STL: the 'Backyard' area (close to home, chaseable within an afternoon/evening); the 'Extended Home' (chaseable within a single day without hotel stays); and the 'Storm Photography Expedition' zones (for peak spring season and hurricanes):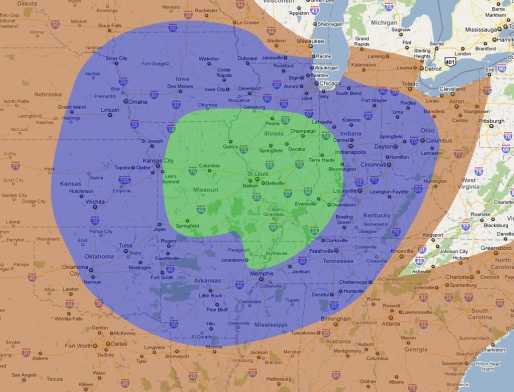 click to enlarge
Backyard (green):
My new 'backyard' chase zone extends from the northernmost eastern Arkansas plains and Missouri bootheel to the south; to near the Kansas border to the west; to the Indiana hills to the east; and central Illinois/northern Missouri to the north/northwest. The indentation in the southwest corner of my 'backyard zone' is due to the Ozark mountains, an area I'd be less likely to target due to more rugged terrain (unless the setup was incredible).
As I mentioned above, the backyard zone is for storm photography days where I can leave around noon or later and still be in position before initiation (storm development time), then get home around or before midnight. As such, backyard storm photography days are easier to plan for and require less cost, less schedule rearranging and little to no sleep disruptions. Of course, my backyard expeditions are not limited to tornadoes - a great lightning show is good reason to go out for an evening-long trip. Due to their relatively low cost, there is usually not much of a limit on the number of backyard expeditions I can do in an average year.
Extended Home (blue):
My updated 'extended home' area now includes a chunk of the eastern Great Plains, meaning that for the first time in my life, I can chase a few Plains setups on a single-day basis. The 'extended home' zone also includes Arkansas and the Tennessee Valley to the south and southeast, the Kentucky Bluegrass and Ohio prairies to the east (Super Outbreak country), northern Illinois and Indiana to the north, and Iowa to the northwest. The extended home zones are for the all-day trips that require leaving in the early to mid morning hours to make it to the target in time.
Back in West Virginia, this range zone traditionally was for bigger off-peak-season events, such as we'd occasionally get in winter, early spring, mid/late summer and fall. That definition will stay mostly the same with the STL base, except now some Plains events will fall into this zone. An extended home chase can usually be finished within 24 hours without a hotel, though a short in-vehicle nap is occasionally needed on the way home. Most of my extended home trips in the past saw a marathon chase that ended with my arrival at home in the early morning hours the next day. Somewhat exhausting, but more than feasible. Due to their higher cost compared to a backyard range expedition, I have to be more judicious on how many extended home trips I decide to pull the trigger on. As such, 6 to 10 has been my average in past years - a figure I think will stay the same this season.
Storm Photography Expedition (orange):
The new 'storm photography expedition' zone is really not much different from the WV version, encompassing most of the USA between the Rockies and the Appalachians plus the Atlantic and Gulf coasts for hurricanes. As the designation suggests, these are areas I usually won't consider unless I'm on one of my multi-day springtime peak season storm photography expeditions between April and June, or on a hurricane landfall intercept. Cost is usually the main limitation for spending any more than 7 to 10 days a year in the 'expedition' zones.
As before, the boundaries I drew on the map are not set in stone, rather they are just rough estimates. In fact, they should probably be more like gradients rather than sharp lines. Depending on how adventurous I feel, I might jump on an out-of-range setup; or ignore a marginal backyard one if I'm not up to it. As usual, financing is the only limiting factor to covering any and all events that happen within my ranges. Barring that, I hope to be there for as many as I can.
All content © Dan Robinson. All usage requires a paid license - please contact Dan for inquiries.

Web Site Design and Internet Marketing by CIS Internet