Home | Blog Index | Blog Archives | Christianity & Faith Essays
Thursday, September 4, 2008 - 5:06PM
Giving up on Hanna
Update 5:06PM Thursday: No changes since this morning, other than the NHC finally giving up on calling for Hanna to reach hurricane status. Due to 1.) Hanna likely not landfalling as a hurricane, 2.) landfall being in the middle of the night, and 3.) the landfall location and intensity being identical to a storm I've already covered, I'm putting to bed my attention to this storm. And with that, I'm going off of 'standby mode' for an expedition and ending the running updates to this blog post. If Hanna pulls a last-minute comeback and I decide to make a quick run to the coast, I'll begin another post with chase updates. I am now carefully watching Hurricane Ike for storm prospects and will start a post on that storm if it looks like an intercept will be doable.
Update 11:30AM Thursday: Hanna continues to have trouble getting it together, and conditions for strengthening are not forecast to exist before the center makes landfall. Models have shifted back to the east, with the track back over Morehead City. This would put the better winds in a very 'rural' area of the barrier islands east of Beaufort and west of Hatteras that have no road access. The only semi-coastal road here is on the inland side of the sound, again a very rural area with just a few small vacation home 'villages' and little else (no light available for a nighttime intercept). I was there last year during Gabrielle - there is just not much to see there even during the day other than trees. And, if the track shifts farther east, there is no road access to get over to Hatteras without a 5-hour circuit back inland and up to Nags Head.
View Larger Map
As of the 11AM update, I'm shifting my intercept status back to 'standby mode' and will stay home unless something changes. If Hanna can beat the odds by tomorrow morning, the NC coast is close enough for me to make a last-minute drive (the typical evacuation/preparation factors should not be issues to worry about).
Update 5:00AM Thursday: Hanna is still struggling to get organized this morning, losing its earlier development progress from Wednesday. Interestingly, Hanna's forecast track and intensity as of 5AM is nearly identical to that of Ernesto back on September 1, 2006. Ernesto strengthened slowly before making landfall at Kure Beach in the middle of the night, barely below Category 1 status. If the current forecasts are correct, this could be a 'deja vu' carbon-copy Ernesto photograph storms.
The caveat is if Hanna continues to remain disorganized or weakens between now and tomorrow, in which case I may lean toward staying home. With an overnight landfall at the exact time and in nearly the exact location that I covered Ernesto in 2006, I won't be able to get much new footage than I already have (unless there are a bunch of new lightweight, unsecured objects in place at Carolina Beach). The timing of landfall means I could even wait until Friday morning to leave, giving a few more model runs and NHC advisories a chance to clarify things. Of course, Hanna strengthening and/or slowing enough to hold off landfall until daylight Saturday would make the decision easier.
Update 10:42PM Wednesday: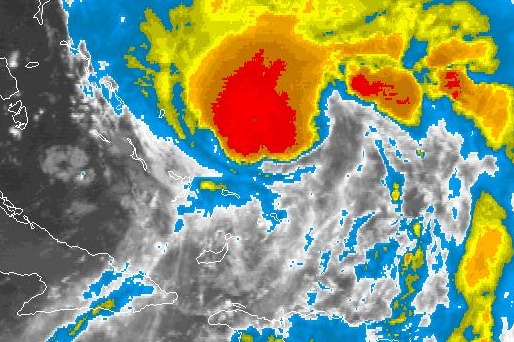 Hanna on IR sat at 10:42PM
Quite an impressive recovery today by Hanna, with a large area of convection establishing itself. The presentation on IR satellite at least looks like Hanna may be getting close to hurricane status again. Trackwise, it now looks like Morehead City is our starting point. Still an easy (and cheap!) drive to intercept. My last meeting at work tomorrow ends around 5:00, so if all goes as planned, I'll be in Raleigh by late evening.
Update 4:27PM Wednesday: Hanna is finally starting to look like a tropical cyclone again, and is beginning its forecasted move to the north. With Hanna back to being a player for an expedition, unless something drastic happens to the forecast track or strength, my tentative plan is to head to Raleigh tomorrow after work. Landfall timing has been pushed back to Saturday morning now, allowing plenty of time to make adjustments. This is most likely not going to be a major storm, possibly another Ernesto (very little damage, no evacuations, etc) - but so close that it's not a big effort to get there.
Update 11:42AM Wednesday: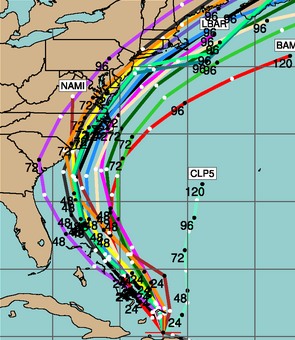 12Z Wednesday model tracks
Hanna has recovered somewhat this morning, with some convection returning. The models are now trending even farther east, suggesting a brief North Carolina landfall 'grazing' before recurving back out to sea. The intercept problem with a storm approaching this way is that a shift much farther to the east will keep it entirely offshore.
Update 3:47AM Wednesday: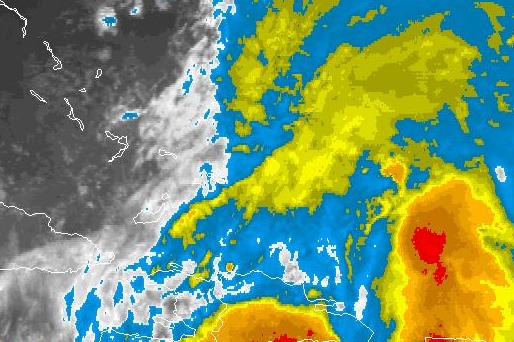 Hanna on IR sat at 4:11AM
Tropical Storm Hanna is supposed to be somewhere in the center of the image above. There is not even subtle evidence of a circulation any more on the loop (animation). The NHC's last advisory already had Hanna as a weak tropical storm at 11PM, but I wonder if there is even much of a depression there now. Hurricane hunter aircraft are currently investigating the storm, and the results will be interesting. Conditions for strengthening are forecast to develop soon, but you need a storm to exist for intensification to happen. I would not be surprised to see Hanna downgraded to a depression or a tropical wave in the next NHC advisory.
The only upside to the expedition situation is that the models have moved Hanna's track even further east, now showing landfall near or over Wilmington, North Carolina. With that being just a short jog down I-40 from Raleigh, from an intercept standpoint, that would be the best case scenario for me if Hanna manages to survive.
Update 11:43PM Tuesday: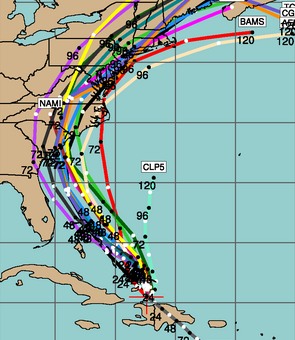 00Z Wednesday model tracks
If you don't like the current forecast tracks, just wait a while and they will change. Quite a jump in model output tonight from earlier today. While all of the models are in good agreement, their run-to-run consistency has been poor - which means another jump could happen in the next 12-24 hours. Current intensity forecasts call for Hanna to be a fast-moving, low-end hurricane as it makes landfall. A chase is still possible, but I'm waiting to make sure that the track doesn't move back to the west and that Hanna doesn't struggle to make it past the 79 MPH hurricane threshold. Where it is now would give a good margin of error to make final-approach repositioning more doable.
Update 11:15AM Tuesday: Not surprisingly, things have changed today with the outlook for Hanna - which not only lost its hurricane status this morning, but models now show the track much farther west. If the models are correct, and the storm's center stays close to (or just over) the Florida coastline before making landfall in South Carolina, land interactions could keep Hanna from strengthening much. A hurricane coming in nearly parallel to the shoreline as shown is very difficult to intercept, as the actual landfall spot could shift 100 miles or more with the slightest change in track. The latest NHC outlook and discussion is not making me optimistic about an expedition at this point. I am about a half day's drive or less from any spot on the Atlantic coast from Savannah northward, so I could go as late as Thursday morning to make a decision to go or not. As always, things can and probably will change, so again it's back to 'wait and see' mode.
Update 11:10PM Monday: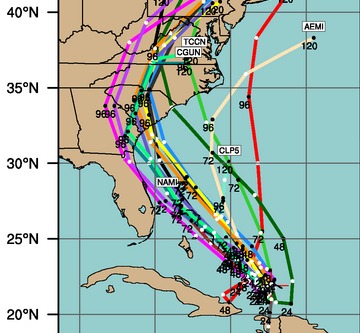 00Z Tuesday model tracks
Good agreement (relatively speaking, for 4 days out) from the models tonight on Hanna's general track direction, showing Charleston, South Carolina as our likely initial staging area if we (Bill Coyle and I) decide to pull the trigger on an expedition. With landfall still 4 days away, this has the potential to vary greatly. Particularly since forecasts call for weaker steering currents during the next day or so, which would result in Hanna slowing down and meandering erratically. Unfortunately, slow and erratically moving hurricanes tend to throw models into confusion, so I would not be surprised to see those model tracks all over the place by tomorrow evening. With the angle of approach that Hanna is forecast to take, a shift in direction or speed could change landfall timing by a day or more, and location by a state or two. Not much to do now but wait and see.
4:12PM Monday: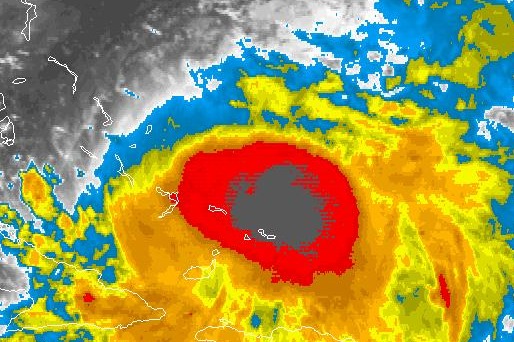 Hanna on IR sat at 4:12PM EDT
No sooner than Gustav made landfall did Hanna reach hurricane status, and therefore demands attention in the form of another running-update blog post. With Hanna likely landfalling in the Carolinas making for a much less costly expedition for me, this will be a storm I will seriously consider covering. I am going into 'standby mode' today and will hopefully make the 'go or no go' decision by Wednesday morning.
Just been on the NHC site, been watching it for years now, never seen this before in the atlantic.
- Posted by Mick from United Kingdom
Yep, definitely one of the most active bursts of simultaneous development I've seen so far. It will be interesting to watch what happens.
- Posted by Dan R. from Charleston, WV
All content © Dan Robinson. All usage requires a paid license - please contact Dan for inquiries.

Web Site Design and Internet Marketing by CIS Internet