Home | Blog Index | Blog Archives | Christianity & Faith Essays
Saturday, January 10, 2009 - 11:23AM
Close lightning in January with snow on the ground
HD EXPEDITION VIDEO: Close lightning, thunder and snow on the ground at 34°F in January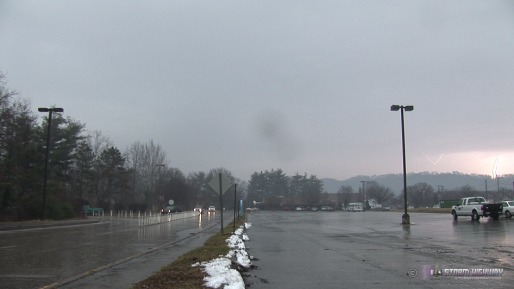 Click to enlarge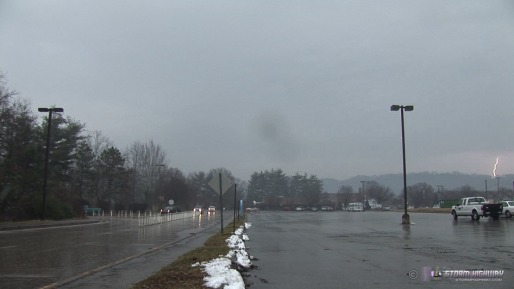 Click to enlarge
My XM Threat Net display (yes, I still use it!) showed the lightning in Kentucky had crossed the state line and could actually make it here, so I headed west to St. Albans. The plan was to try and get a shot with lightning and snow on the ground (from Thursday's 3-inch snowfall) together. There wasn't much snow left in the valley aside from plowed parking lots and some grassy areas. I figured whatever was left of the thunderstorm would have no trouble pulling an upward strike or two off of the WVAH tower, so I chose that option to increase the chances of getting a visible bolt in frame.
I couldn't really find a suitable tower-ground snow shot, and I was running out of time - so I settled at first for the CSX overpass on Route 60 to at least get something hitting the tower. The first discharge didn't hit the tower, but somewhere about a half-mile away - a close, intense explosion of light and noise, with a simultaneous discharge (leader) off of something a few hundred feet from me (audible as a 'click' or 'snap'). The two nearby groud connections were the 'sonic booming' ear-ringing variety - awesome to see and hear in the middle of January!
The tower was then quickly enshrouded in rain, so I moved quickly to a parking lot that still had some snow left on the edges. A pretty boring, uninspiring scene, but I wanted the lightning-snow shot! I ended up getting it, though it's not going to win a Pulitzer. The temperature through all of this was 34°F, the coldest I've ever captured a thunderstorm in.
Nice Dan ... lucky dog, you!
- Posted by Dann Cianca from Denver, Colorado
Those are some good looking photos, Dan. I really like your write up as well, i see you must have put an incredible amount of effort into this website. Keep up the good work man.
- Posted by Terry
My 4th grade son is doing a report on lightning and your web site has wonderful information and ideas to talk about. I never thought lightning would hit at such a cold temperature.
- Posted by Jennifer
cool
- Posted by mememememe
All content © Dan Robinson. All usage requires a paid license - please contact Dan for inquiries.

Web Site Design and Internet Marketing by CIS Internet