Home | Blog Index | Blog Archives | Christianity & Faith Essays
Wednesday, January 21, 2009 - 9:48AM
River ice and North Carolina snowstorm
Just a couple of quick updates to keep things flowing on here. (For those who have been watching this blog for updates on Mana, I'm still updating that post which you can view by scrolling down on this page.)
I have been surprised with our major arctic temperature outbreak that the Kanawha River has not yet frozen over. It usually only takes a weeklong stretch of temps below freezing with a couple of sub-15° morning lows to get the river surface iced over. We've had that and then some, with lows at zero or below twice this past week. This morning, after another lower-teens morning low, some patchy ice is finally starting to develop:
Click to enlarge
Click to enlarge
I'm not sure if we'll see a full ice-over by the time temps start rising in a couple of days. Hopefully it does, as there are some interesting photo and video opportunities that develop with a good layer of ice across the river.
North Carolina snowstorm
I captured the visible satellite image below earlier this morning. The white area over central/eastern NC is not clouds, but snow cover:
Yes, snow cover in Piedmont and coastal North Carolina. Raleigh received 5 to 6 inches of snow, which is a bigger storm than Charleston has seen in nearly 3 years. You can see photos from Raleigh taken by my brother and his wife at the following links:
PHOTO LINKS: Matt's Photos | Beth's Photos
Mark Sudduth also has a few shots of traffic troubles on I-40: StormTrack thread
Fort Hill/Oakwood/Carter Bridge accident Monday morning
For those that are curious, I did not catch the accident at 6:18AM Monday morning at the bridge in Charleston. According to Kanawha County Metro 911, the accident was a single-vehicle crash that shut down 2 of the 3 lanes on the eastbound curve (the usual spot for icy accidents). Our family crisis this week has hampered my ability and desire to cover the bridge as intensely as I normally would. Not only that, but the burst of snow that caused the crash was a sudden, stationary upslope band that developed over downtown before dawn. I would have had to stay up watching radar all night to catch it. I had been up to Fort Hill around 3AM, and decided not to stay due to the WVDOH crews keeping things clear. I haven't been able to find any other information on the accident, but apparently it was not very serious as I saw no media coverage of it. So other than the traffic backup it caused during the early morning commute, there evidently wasn't much to report.
Sunrise and window frost photos
Some complex frost crystal formations on the windows at Mana's this week: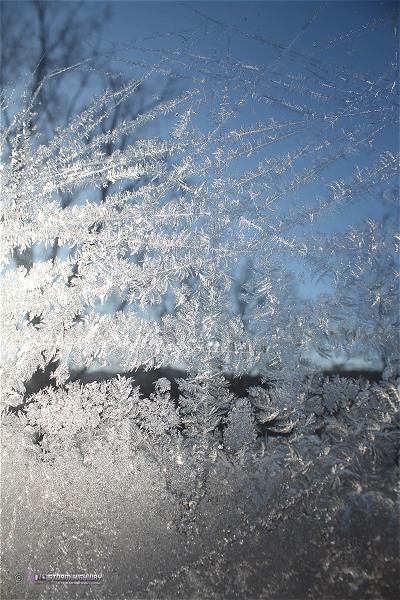 Click to enlarge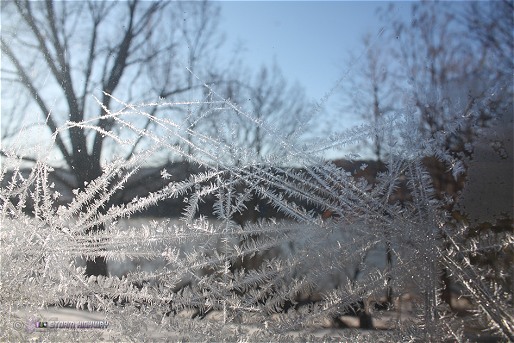 Click to enlarge
And a sunrise over Charleston from last week while waiting on potential freezing rain to arrive: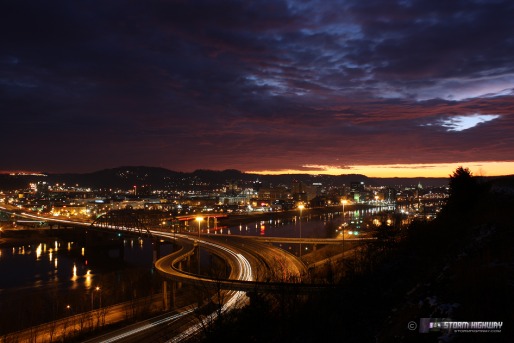 Click to enlarge
That last shot is gorgeous, Dan.
- Posted by Dann Cianca from Denver, Coloraco
What wa your exposure time Dan ? a fine image !
- Posted by Mick from United Kingdom
Thanks guys, this was 100ISO, F8 and about 5-6 seconds.
- Posted by Dan R. from Charleston, WV
All content © Dan Robinson. All usage requires a paid license - please contact Dan for inquiries.

Web Site Design and Internet Marketing by CIS Internet