Home | Blog Index | Blog Archives | Christianity & Faith Essays
Wednesday, June 11, 2008 - 9:13AM
June 10 storms - Putnam/Kanawha Counties
Another round of storms for the Charleston area on Tuesday. While most of these earned severe thunderstorm warnings, I didn't see anything that met that criteria in the 3 cores I sampled. Dime-sized hail at Institute was the largest I saw, when I intentionally let a core pass overhead. Once again, it was rather interesting to watch everyone panic here during small hail - traffic was creeping and cars were pulling over everywhere on Route 25 and I-64 while this was happening. I wonder what West Virginians will do when we actually get *real* hail (golfball-sized and up). For the 8th time this year, a 1" hail report came in from South Charleston a few miles away.
The only stills I shot yesterday were in Teays Valley of an isolated thunderstorm over Hurricane. The storm had an updraft base and precip core in all the right places, but I'd hesitate in calling it a supercell as I saw no rotation either visually or on radar. The stuff under the base here is ragged 'scud' material, not rotating but rather pushing uniformly eastward in cold outflow. Nothing remotely tornadic. Surface winds out of the west and unidirectional upper winds didn't lend themselves well to anything more than this. The viewing location was the new I-64/US 35 interchange, which has become one of my favorites in Putnam County as it is one of the few elevated vantage points without trees or power lines in the way (for now anyway).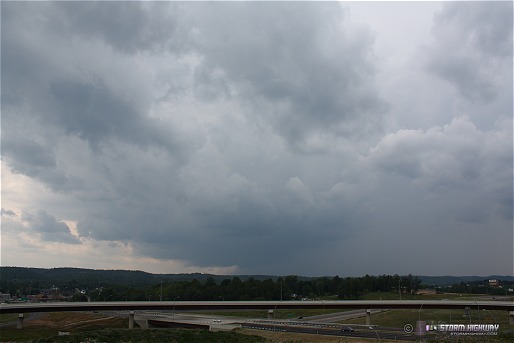 Click to enlarge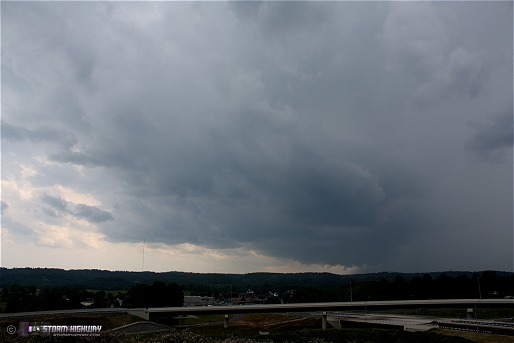 Click to enlarge
A second storm to my north over Winfield produced a nice shelf cloud feature.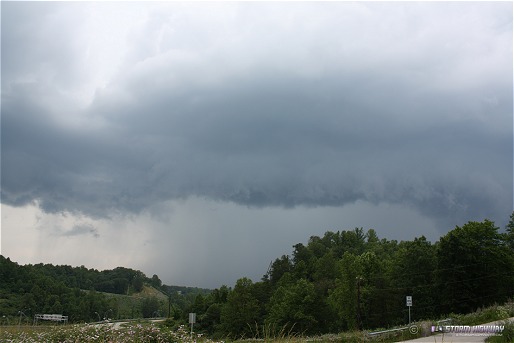 Click to enlarge
All content © Dan Robinson. All usage requires a paid license - please contact Dan for inquiries.

Web Site Design and Internet Marketing by CIS Internet