Home | Blog Index | Blog Archives | Christianity & Faith Essays
Sunday, June 22, 2008 - 4:38PM
First West Virginia hail dents!
HD EXPEDITION VIDEO: Large hail in Sissonville, WV
MORE PHOTOS: Starbucks hail frappuccino!
MORE PHOTOS: Lightning on Sunday night

Sunday I experienced the largest hail I've seen so far in my home state - beating out even the June 2, 1998 event. Once again, I only had to drive ten minutes north of town (to Sissonville along I-77) to see this, continuing the June 2008 trend of great storms close to home. The biggest stones here were 2.5 inches, nearly tennis ball sized. Most were in the golfball to quarter-size range. I actually thought my windshield was going to get cracked today with a few of the hits I took. I ran out with the cooler and picked up as many of the larger ones I could find, and brought them home to put in the freezer for posterity (part of which I used to make a blended coffee)!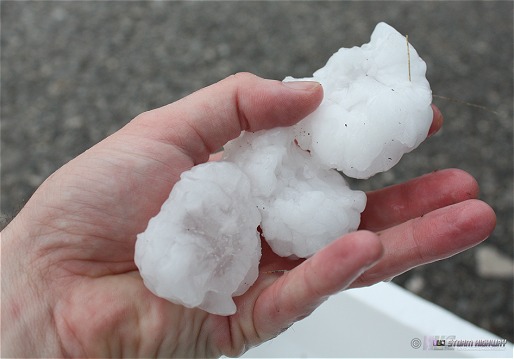 Click to enlarge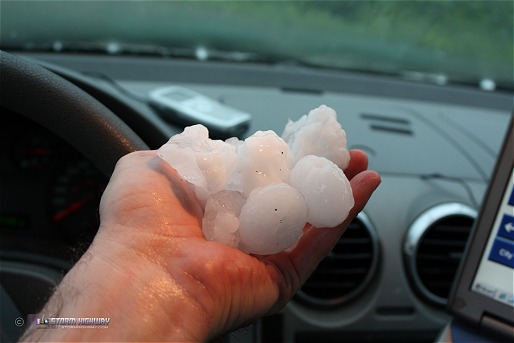 Click to enlarge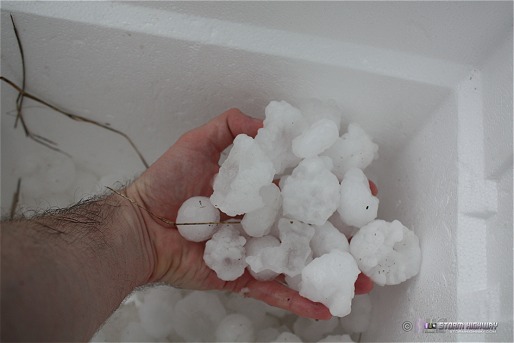 Click to enlarge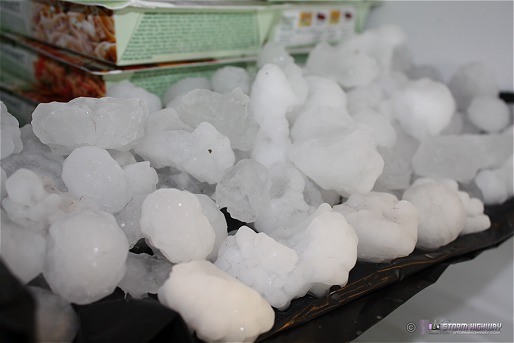 Click to enlarge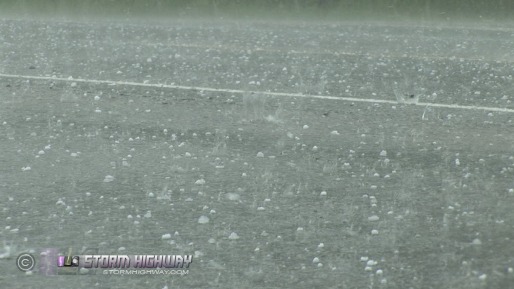 Click for video
WOW !! do these things not put dents in your car body ?
- Posted by Mick from United Kingdom
Anything golfball sized and up will usually start denting a car. I took a few good hits from a couple of the larger ones, so I'm sure I have a few new dents. I have quite a few now from expeditions over the years.
- Posted by Dan R. from Charleston, WV
My Uncle who is in his 90's said he had never seen anything like this storm before. Almost everyone had a cracked winshield from the storm. We took pics like crazy hoping to never see anything like this again but wanting to show everyone. : )
- Posted by Hilary from Sissonville
I am an Insurance adjuster that is going to be headed to Charleston to do an initial assesment of the damage. Can any of you folks tell me how wide spread this storm was? How many homes were affected(aprox.)? Is there anything to do in Charleston that might be fun for the family?
- Posted by John H. from Indianapolis
I'm glad that never happened here in Lexington! That is one big hailstorm!
- Posted by Kyle Moore
All content © Dan Robinson. All usage requires a paid license - please contact Dan for inquiries.

Web Site Design and Internet Marketing by CIS Internet