Home | Blog Index | Blog Archives | Christianity & Faith Essays
Saturday, June 27, 2009 - 1:28PM
Event video roundup from June 17-19
Due to either being on the road or being home either sleep deprived or busy with work, I've neglected posting some video from the past week's expeditions. Finally getting caught up here.
First, here is an 8-frame panorama stitch of a the June 17 supercell near Birch River, WV. It is rare, but not unexpected, to see this type of sight over Appalachian mountain terrain: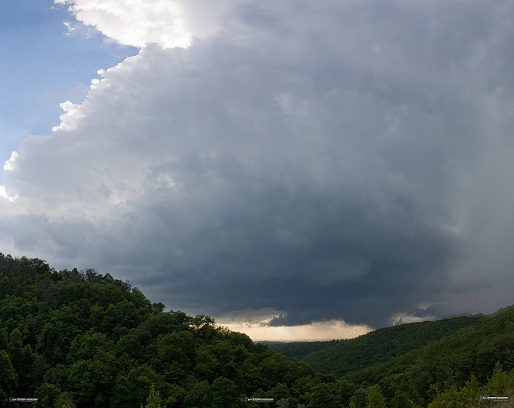 click to enlarge
HD EXPEDITION VIDEO 1: Braxton/Clay/Nicholas Counties, WV supercell/timelapses
This first clip is from the June 17 supercell in rugged Appalachian terrain in central WV, with some close lightning and timelapses showing the motion and weak rotation in the base. Some of the best structure and motion I've seen in my home state. (The timelapse sections have no sound, the realtime segments have audio)
HD EXPEDITION VIDEO 2: Shelf cloud timelapse over Chicago at night
This is a sequence of still images taken in the early morning hours of June 19 in downtown Chicago as a gust front from an MCS to the north arrives. After the shelf cloud passes, cold winds from the north create a nearly stationary fog bank at the lakefront boundary which periodically envelops the skyline. As the post-gust front winds turn northeasterly, rain starts driving into the lens, ending the shoot.
HD EXPEDITION VIDEO 3: Chicago lightning/Sears Tower strikes
Some daytime lightning over Chicago on June 19, including a couple of Sears Tower lightning strikes.
All content © Dan Robinson. All usage requires a paid license - please contact Dan for inquiries.

Web Site Design and Internet Marketing by CIS Internet