Home | Blog Index | Blog Archives | Christianity & Faith Essays
Saturday, June 28, 2008 - 11:35PM
Charleston shelf cloud & lightning
HD EXPEDITION VIDEO: Shelf cloud over downtown Charleston
Finally recovered from a server crash and a 15-hour site outage today, thanks to a faulty Plesk/MySQL upgrade attempt by our hosting provider. Server issues aside, another great storm day in my home state to add to the June 2008 legacy. I missed the first storm in Charleston today due to still being on the road southbound from Pennsylvania, but managed to catch some good lightning from it near Wallback on I-79.
This evening's show in Charleston featured a Plains-caliber gust front and shelf cloud plowing into downtown, with wild scud tags and banding morphing along the base as it interacted with the terrain. Day turned to night as the leading edge of the shelf passed over, turning 2-second exposures on the DSLR into 13-second exposures at F5.6, in a span of about 30 seconds! I expected to see some power flashes as the strong gust front hit, but saw none. I did about 7 different panoramas of this rapidly changing scene, a couple which include lightning! Again, I'm in 'exhausted quick blog posting mode' before heading to bed, so I just tossed these images into Autostitch without any post-processing or blending corrections.

Click to enlarge

Click to enlarge
I also did an HD time-lapse of this thing moving in that turned out pretty well. This image shows one of the most interesting stages in the shelf cloud's evolution, with some sort of tapering roll-cloud feature developing along with rapidly-condensing, ground-scraping scud tags.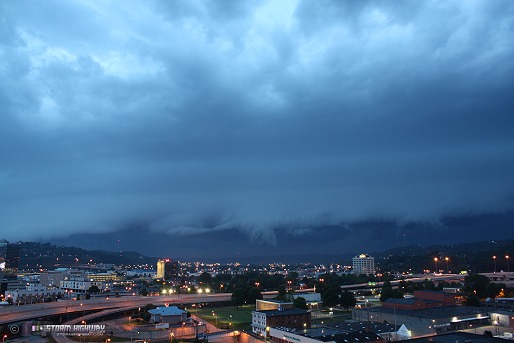 Click to enlarge
Passing over downtown: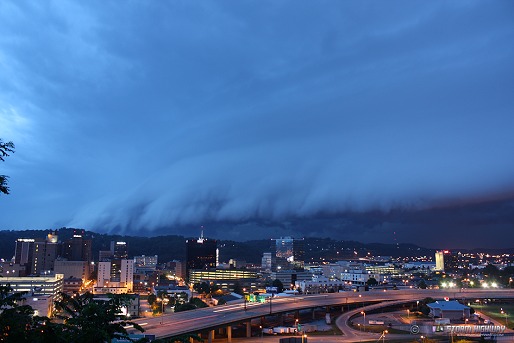 Click to enlarge
Lightning was pretty weak with this line of storms, despite its menacing appearance on arrival and impressive radar presentation. This was the best CG out of the evening, though the outflow wind was buffeting the camera here, which made things a little blurry.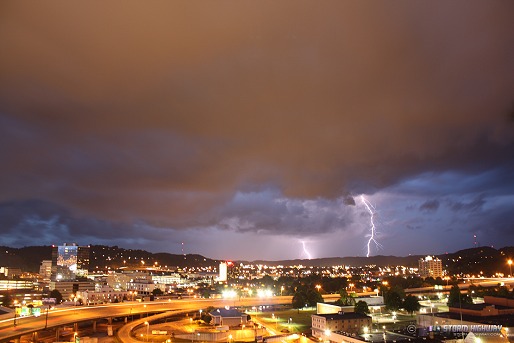 Click to enlarge
And here is my first 'unattended' lightning shot. I left the XSi firing off continuous 20-second exposures out of my living room window while I worked on editing/feeding video back in my office.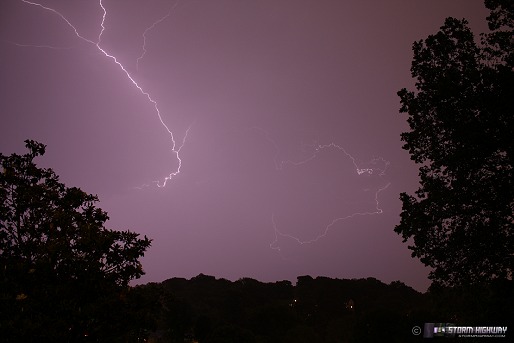 Click to enlarge
All content © Dan Robinson. All usage requires a paid license - please contact Dan for inquiries.

Web Site Design and Internet Marketing by CIS Internet