Home | Blog Index | Blog Archives | Christianity & Faith Essays
Thursday, June 11, 2009 - 2:15AM
Fabian Guerra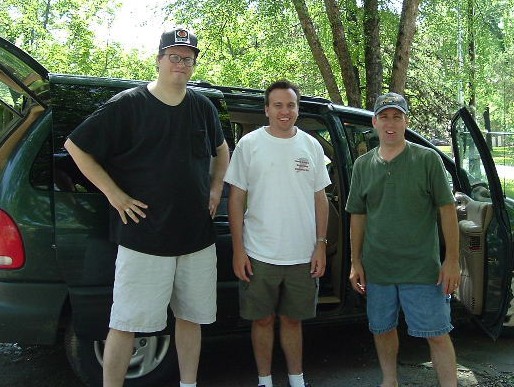 Fabian (left), Damon Shaw and Pete McConnell prior to an expedition in 2004. Photo courtesy of Pete McConnell.
LINK: StormTrack forum: Chaser comments
LINK: Remembering Fabian blog
LINK: Donation information
LINK: Lakeview Funeral Home memorial page
LINK: Newspaper Article
(I'm bringing this post back to the top today to coincide with Fabian's memorial service in Chicago this evening. A special thanks to those who have shared comments so far.)
I lost one of my good observer friends on Saturday, June 6. Fabian Guerra, of Chicago, lost his life in a car accident in Iowa on his way to meet up with friends prior to a weekend of storm observing. According to the Iowa State Patrol, the accident was caused by a deer that ran out in front of him on I-80. The news of course comes as a shock to me, as Fabian was one of my friends and regular chase partners. Fabian was out observing for the right reasons - a deep, sincere love for storms and a desire to learn more. A geniune person I was priveleged to know.
I have a bad habit of not taking enough photos of the people I travel with - something I regret. I went through my archives and found these photos and brief video clips of Fabian from 2004 and 2005. He is recognizeable in these images with his black Skywarn cap or blue Chicago Cubs ball cap.
VIDEO: Video clips of Fabian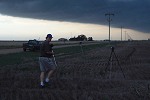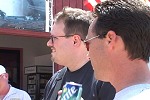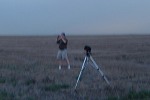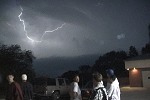 A few of my storm observing stories that Fabian was a part of:
- The first time I met Fabian in person was one of the funnier stories I have in my observing travels. We had agreed to share rooms at the 2004 Storm Chaser Convention in Denver with Pete McConnell and Ron Remeirsma. I had a layover at Chicago Midway airport on the way there, and decided to give Fabian a call to finalize where we were going to meet up in Denver. I was sitting in the waiting area at the gate for my flight when I called him. After a couple of minutes of conversation, I said "Well, I'm here at Midway getting ready to get on the plane, so I'll see you in Denver". He said, "I'm at Midway now too". I said "Really? What gate?" We both look up and Fabian is literally sitting right across from me at the gate 10 feet away, looking right at me, he'd been there all along and neither of us realized it. Everyone around us at the gate saw it got a laugh out of that.
- Fabian, Craig Maire and I witnessed the Greensburg EF5 tornado together, hands-down the most significant tornado event I have ever been a part of. The three of us started and ended the day in Pratt, Craig and Fabian in one vehicle and me in my car. Later in the evening, after our south-central Kansas target looked to be a bust, we decided to try to intercept the Arnett tornadic storm in Oklahoma, which was a long drive away. Somewhere along the line we got separated, and they hung back in Kansas while I continued on to intercept the Oklahoma storm (I caught it in Mooreland after it was done tornadoing). The Greensburg storm had just developed, so I turned back north to catch it. I re-joined Fabian and Craig in the damage path of the Greensburg tornado, with the sights, sounds and smells of fresh tornado damage all around, the Greensburg tornado fading in the precip to the north, and new tornadoes forming to our northeast in the darkness.
- I was with Fabian, along with Pete McConnell and Damon Shaw, when he saw his first tornado in Hadar, Nebraska on May 21, 2004 (the first photo above was taken on this day). That was part of an extended storm observing expedition the four of us had as a group (with both busts and great intercepts), with a lot of great memories.
Horrible news, please pass on my condolences to Fabian's family, never had the chance to meet him, but we're here for a common goal. Rest in Peace Fabian.
- Posted by Kyle Soldani from Topeka, KS
Man i cant beleive it, god bless his children and wife man...
- Posted by radioguy from chicago
I am Fabian's cousin, and am glad to hear how many people cared for and respected him. Thanks to everyone.
- Posted by C. Muszynski from Tinley Park
Fabian was our manager for the band I was in, I have alot of love for that man, alot, god bless to his wife and kids.
- Posted by Dana Okon from Westmont
So very sad. My condolences.
- Posted by Morgan Palmer from Fort Myers, FL
I have been a lifelong friend of Fabian's. He was a very special person. I am still in shock about the news. Man, you don't know how one person's life can affect another person. I have lost a best friend, companion, and brother. Thank you for posting this information.
- Posted by Steve Kananond from Chicago
Steve, you are in my prayers. I know you and Fabian were very close. I pray that God would be with Fabian's wife and children right now. On my way home from observing yesterday I was reflecting on the week long expedition that Fabian was on with me and Damon Shaw, and also on the first time I met Fabian in 2003 when Steve was out observing with him. This morning I was shocked to read what happened when I came onto Stormtrack. I know Fabian's children admired him as a great dad and stormobserver. You'll be missed Fabian.
- Posted by Pete McConnell from Hastings, Ne
Our son Burley is a classmate of Miles. Our deepest condolences go out to Guerra Family
- Posted by The Velazquez Family from Chicago
I worked with Fabian at Guitar Center around 1992 or so. He was quite a character, and he will be missed.
- Posted by Chris Lathrop from Chicagoland
My deepest sympathy to Fabian's family and friends. Terrible loss. Friend Fabian's cousins. Arlington Heights, IL
- Posted by Gloria Stefanov from Arlington Heights
i played music with fabian in a band for a few years. he was a vibrant, passionate man with a big big heart. heart goes out to sara...
- Posted by barry bennett from chicago
I briefly managed the band Fabian was in back in Chicago - seems like a lifetime ago and yesterday all at once. We shared a passion for the band Alice in Chains..... Fabian was a good man and will be missed deeply by friends and my heart goes out to his family.
- Posted by John Farrimond from Los Angeles
I first met Fabian in about 1994. I played music with him and shared some really good times...even a few arguments. He was a great guy with a truly warm heart. my love and deepest sympathies to the Guerra family.
- Posted by Adrian Popescu from Chicago
steve - if you read this, please get in touch... i've lost your email. this is shocking, very sad news. my heart goes out to his wife and children.
- Posted by alison toczylowski from new york (by way of chicago)
I never had the privilege of personally meeting Fabian, but having Storm Chased now for eight years, it is obvious to me that all Storm storm photographers are family. It is with deep regret that I received this news and my thoughts and prayers go out to his friends and family.
- Posted by Glenn Geise from Houston, Texas
R.I.P Mr. Fabian
- Posted by Jimmy Giannopoulos from New York CIty
Fabian was our band manager and good friend way back when. You will be missed sir. God Bless. My condolences to the Guerra Family.
- Posted by Jemo Jemo from Chicago
I've known Fabian since we were kids, maybe 5 or so years old. Although I haven't seen him in years his impact on my life still remains. My heart goes out to the Guerra family.
- Posted by Scott Sterling
Fabian booked me for a show in 2005. I wanted my 10 year old to see where I was going to play so I took him to the club at 12:00 noon the day before the show while just the bar was open. The bar owner let me show my son the stage and explain details of the environment to him that he was unfamiliar with. I learned that afternoon from a friend, that the bar owner was a Pud and he called and bent Fabianís ear because I came to the club and disturbed a lunch time meal from a patron by talking about my music and asking him to come back and watch my show that night. I meant no ill intent to the club owner, but Fabian had to bend over and take one for me as a result of my spontaneous visit. If my friend did not inform me that Fabian had gotten grief from the owner, I would have never known. Fabian did not feel it was important to bust me for that. He knew I was trying to share and create music with my son, he understood my actions as a sign of anticipation, not as miss behavior. He never did mention that he had to stand up for me,,, I never thanked him for doing it. Thank You Fabian, Sorry I showed up 30 hours early for my sound check! SumnerdouglaS
- Posted by SumnerdouglaS from Des Plaines
I too offer my condolences, as I agree with Glenn Geise, whom I covered with in May 2004. All storm photographers are family and my prayers are with his family.
- Posted by Maryrose Kotran from Englewood, Fl
Fabian was my nephew - the oldest, the first, a very special position in any family. My heart is broken beyond repair, but reading all of these sincere and loving tributes gives me some solace. Fabian's compassion and passion will live on with storm photographers, music guys, family and friends for all time. But, the loss remains immeasurable. Deepest thanks to all of you for sharing your thoughts and experiences.
- Posted by Aunt Louise from Chicago
R.I.P. FABIAN... YOU WILL BE MISSED!!! Fabian was the purveyor of some amazing rock shows... He gave me my start in rock music at The Big Horse... I'm glad to have known him... My condolences to his daughter and the rest of his friends and family... Jackson
- Posted by John E Bomher
Thanks to everyone for sharing comments. I wish I was able to make it to the service today. For those that go, please pass along my condolences to the family and close friends.
- Posted by Dan R. from Charleston, WV
I had the pleasure of meeting Fabian and his "then" girl friend Sara back in the early 9o's. We all beacame fast friends. . . We went to each others weddings and had a blast together in Chicago. Sara contacted me with the sad and horrible news a few days ago and I am am still in shock and disbelief. It had been so many years sence we had seen each other but his death breaks my heart. . . These many wonderful posts from fellow storm photographers blew me away! How very LOVED you are Mr. Fabian Guerra!!!
- Posted by Linda De La Rosa from Los Angeles.CA
I remember Fabian as a child...he was a close friend of my brother Jim (James) and I was a classmate of his brother Marcello. My condolences to the family. RIP Fabian!
- Posted by Carolynne Young from Wisconsin
Fabian was a good friend way back when! You will be missed sir may you RIP. God Bless... My condolences to the Guerra Family.
- Posted by Billy Giannopoulos from Chicago
Thoughts and Prayers to the family. God Bless
- Posted by psnyder from columbus ohio
Please visit our memorial site dedicated to Fabian Guerra, and share your stories, pictures and memories... http://rememberingfabian.blogspot.com/
- Posted by Lionel Melgar from Chicago
R.I.P Fabian Guerra.
- Posted by Thomas Ntrikos from Finland
It is always a tragedy when someone loses their life, but it hits especially hard when they leave behind family. My heart and prayers go out to Fabian's family. From the stand point of a fellow storm photographer, while I never had the opportunity to meet him, he will be sorely missed. Rest in Peace, Fabian.
- Posted by Will Edwards (ntxstormobserver) from McKinney, Texas
Fabian was a wonderful person and also one of the most important persons in my life story. He has and always will be in my heart. He was compassionate and let his heart lead his life. He truly is an example of how one person can change your life forever. I hold Sara and his children in my heart and will hold them in a special place in my heart. Sara, may you know that we are all with you. Steve, if you read this....please contact me at [email protected] Karyn Tonkinson Gartner
- Posted by Karyn Karyn Tonkinson Gartner from Crystal Lake, il
I worked with his lovely Mother Bonnie years ago. Five years ago we lost a loved one at the age of 37, we feel their loss.
- Posted by Beth Maglietta (Johnson) from Finksburg, MD
Fabian was an all-around awesome guy and will be sorely missed. For years he booked excellent off-the beaten path local Chicago music acts and really elevated the Chicago music scene. R.I.P bro!
- Posted by Billy Keller from Chicago
Wow... I had no clue! So very very sad.
- Posted by Chris Smentek from Chicago, IL
I was never had the opportunity to meet Fabian but,he really looks like a fine guy..i am certain we would have been kindred spirits..RIP fellow StormChaser.
- Posted by Brandon McDaniel from Kansas City,Mo.
This web site is made possible by support from CIS Internet.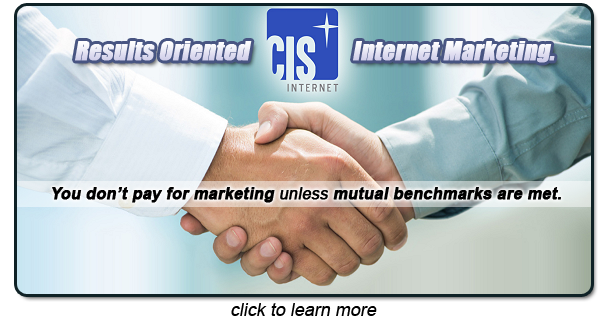 GO: Home | Storm Expeditions | Photography | Extreme Weather Library | Stock Footage | Blog
Featured Weather Library Article:
All content © Dan Robinson. All usage requires a paid license - please contact Dan for inquiries.

Web Site Design and Internet Marketing by CIS Internet