Home | Blog Index | Blog Archives | Christianity & Faith Essays
Thursday, March 11, 2010 - 12:33PM CST
March 10 chase photos and video
HD EXPEDITION VIDEO: 3/10 storms in SW Missouri
While I crossed briefly into Kansas and Oklahoma yesterday, I spent the majority of my time in southwest Missouri. I didn't see much, a disappointment considering the potential this system had up until the morning of. Notwithstanding, it was great to get out into the warm air and be around storms again for the first time since the winter season began.
I planned for an initial morning target of Joplin, expecting to move west or southwest from there. The play of the day was supposed to have been the surface low that was developing and moving up from southwest Oklahoma, but early storms and rain prevented destabilization near the low. Stronger instability was developing to the east in Missouri, but low-level wind fields there were less favorable for tornadoes. Since the low play was looking shot and was another 2 hours or so west of Joplin, I chose the instability - and ended up following storms home the rest of the evening.
After struggling for most of the afternoon, storms finally begain intensifying after around 5PM. This is one storm near Carthage, just southeast of Joplin, MO. Despite being tornado-warned and looking ominous, it was blasting outflow and not visibly rotating. storm photographers who were inside of this experienced a deluge of hail that covered the roads.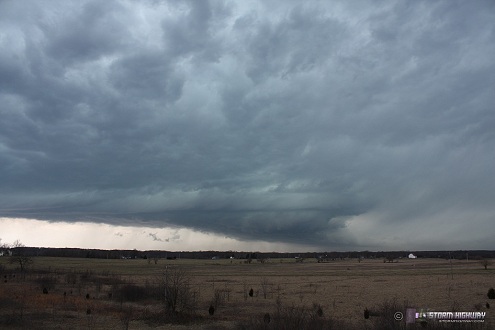 click to enlarge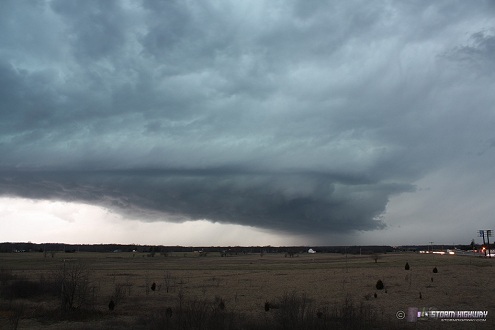 click to enlarge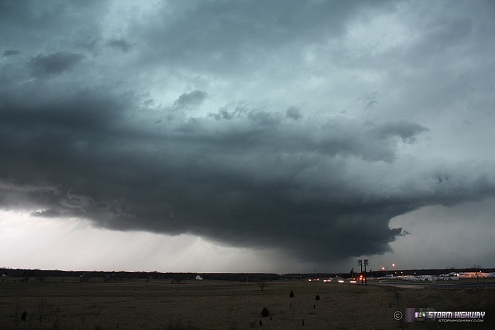 click to enlarge
Panorama:

click to enlarge
Lightning north of Mount Vernon, MO: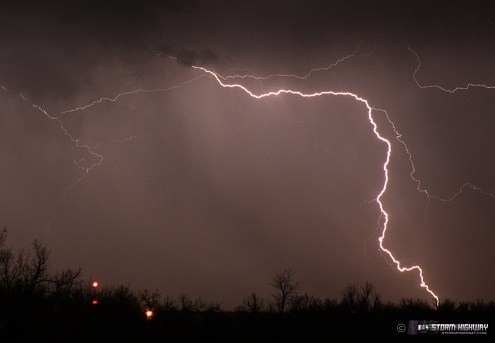 click to enlarge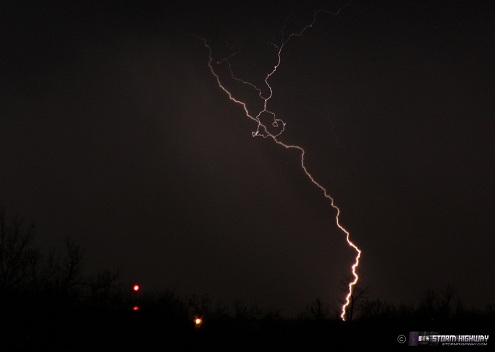 click to enlarge
I stayed with the storms all the way back home on I-44, stopping a few times to attempt lightning photography. For the most part, there was too much rain to set up cameras. When I arrived back in St. Louis, I set up at the television towers near Afton for upward lightning. One flash to one of the towers occured before I got parked and set up, but non occured afterward. I arrived back home just after 2AM.
nice shots did you come as far south as Neosho
- Posted by Danny Gordon from Granby MO
Thanks Danny, I was in Neosho for a few minutes yesterday. I came in from Wyandotte, OK and then went north on 71.
- Posted by Dan R. from New Baden, IL
Great shots Dan!
- Posted by Dann Cianca from Centennial (Greenwood Park), Colorado
Thanks Dann!
- Posted by Dan R. from New Baden, IL
I was working in the 911 center that night in Neosho. Things were a little hectic in there and some unconfirmed reports of funnels but nothing definite.
- Posted by Danny Gordon from Granby MO
All content © Dan Robinson. All usage requires a paid license - please contact Dan for inquiries.

Web Site Design and Internet Marketing by CIS Internet