Home | Blog Index | Blog Archives | Christianity & Faith Essays
Tuesday, March 18, 2008 - 12:31AM
Dual-cam timelapse: February 20 to March 15
I haven't been doing great in keeping the webcam capture folders cleaned out - so rather than delete all 134,860 images on both computers (67,430 for each camera) I decided to preserve them in an extended time-lapse video. This side-by-side sequence from both the sky and ground cameras covers the 25-day period from February 20 to March 15, and includes the February 27 and March 8 snowstorm events in Charleston. Since there is nothing to see in the dark, I cut out all of the nighttime sequences, except for the ones where snow was visibly accumulating.
Click to watch timelapse video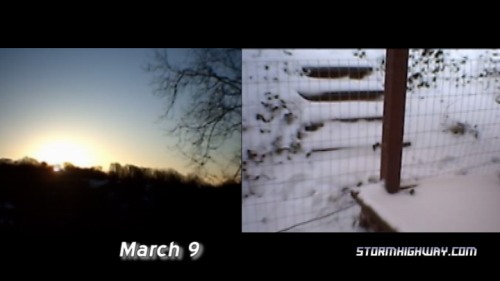 In case you're curious, the temporary fence that pops up on March 7 is for some dog-sitting I did last week. You can also see the resident chipmunks and squirrels scavenging for acorns, as well as some neighbor's cats that patrol the area (no coincidence).
The future of these cameras is up in the air once winter is over. If I stay in Charleston, my office will move into my basement for the summer (which saves money on AC bills). If I go to Raleigh, my office will of course move there. Either way, the Charleston ground camera will have to be discontinued - no big deal, since there won't be much to monitor there anyway (except for maybe a hailstorm or two). The other issue is my internet access situation. I may be moving to a full-time cellular connection for both home and mobile use, which will make operating a full-time stationary camera impossible. In that event, I'll likely just relegate a camera to the car as a live chase cam that will only be active while I'm on the road.
Weather update
Things are going to be pretty active in the next few days. Wednesday holds some severe storm photography potential anywhere from eastern Kentucky to right here in Charleston, and a significant flooding threat exists from the Louisville-Columbus corridor and possibly eastward into our area. I'll hold off on posting a forecast until tomorrow's new model runs are out.
All content © Dan Robinson. All usage requires a paid license - please contact Dan for inquiries.

Web Site Design and Internet Marketing by CIS Internet