Home | Blog Index | Blog Archives | Christianity & Faith Essays
Tuesday, March 18, 2008 - 1:16PM
Storm Photography forecast for Wednesday and beyond
Looking at the 12Z models today, I don't see a whole lot to get excited about for tomorrow. While the winds aloft and near the ground look great for severe storms, moisture will be limited and extensive cloud cover/precip will keep the sun from heating things up at the surface - a typical situation for this time of year. Models are agreeing now in keeping the low center just to our west. This is slightly better for storms in that we'll be a little deeper into the warm side of the system, while retaining some of the lift and vorticity benefits from being near the low. As always, if clouds clear out tomorrow morning and the sun comes out over West Virginia and Kentucky for several hours, my optimism for seeing something expedition-worthy will improve.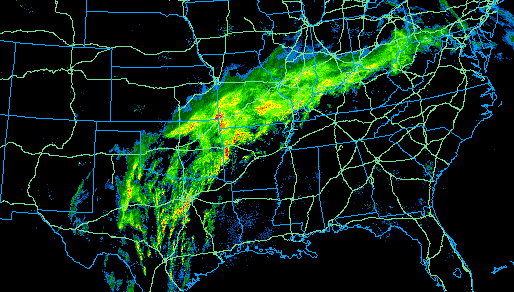 Radar at 1:16PM
This afternoon, an impressive frontal boundary stretches from Texas to Pennsylvania with heavy precip all along it (apparent on the radar image above). This boundary has and will continue to be the focus for storms and heavy rain, where extensive flooding is expected to continue from Missouri into Ohio. The boundary's precip shield is brushing by the Charleston/Huntington area currently, keeping the skies gray and overcast. To our south, the sun is shining in spots. The boundary should move slowly north today, based on current radar trends. As the low approaches from the southwest, clouds and precip should increase in our area. If the low can entrain some drier air aloft into its circulation and clear the clouds out before it passes tomorrow, the chances for stronger storms will increase over West Virginia. To our south and east, clearing skies and better moisture will create a better environment for severe storms.
As for storm photography, the plan is to stay here for now. Some flood footage opportunities may present themselves to the north and west - however, since I've already got a good collection of video of that subject, it will have to be fairly major to get me to spend much gas money on it. The best course of action, based on the current outlook, is to stay put here for now. Any observing plans will be firmed up tomorrow morning after the first visible satellite image is available.
Pesky winter encroaches again this weekend
Models are getting more aggressive in bringing cold air across us this weekend and early next week. Since we've got the benefit of the late March sun angle, the cold temps will be fairly diurnal in nature - that is, dropping below freezing at night and rebounding during the day. The problem lies in that the models show several waves of precip passing by during this period. If we get one of those coinciding with a period of below-freezing temps at night, then here comes the snow again. Sunday night through Tuesday has the potential for a couple of brief snows, according to the GFS. Nothing more than an overnight dusting that will be gone by mid-morning, but enough to cause potential icy road problems for the morning rush hours.
For the extended period, the major trough for the end of the month that I pointed out a few days ago is still there on this morning's operational GFS forecast (see below). The GFS shows strong northwesterly flow with temps at 850mb well below freezing at the end of the month - prime upslope snow conditions. This situation could spell a big severe weather event early followed by more snow late next week. Is winter over? Sorry to be the bearer of bad news, but it doesn't look like it yet.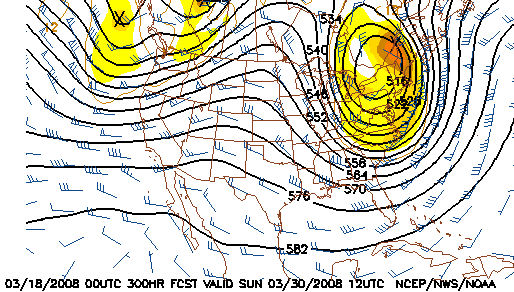 GFS 500mb forecast for March 30
All content © Dan Robinson. All usage requires a paid license - please contact Dan for inquiries.

Web Site Design and Internet Marketing by CIS Internet