Home | Blog Index | Blog Archives | Christianity & Faith Essays
Wednesday, March 19, 2008 - 5:11PM
March 19 severe thunderstorms - updates
This is an ongoing blog post about the storm system affecting the Central Appalachian region today. New updates are listed first.
Update 5:11PM Wednesday: Decent line of convection with blanket severe warnings south of Huntington approaching us now, with some lightning showing up on the display. May be heading slightly west of here in a few minutes - but Charleston also may get a good round from this, so setting up right here may be an option.
Update 3:28PM Wednesday: Tornado watch now up for eastern Kentucky and Tennessee. The terrain and road network down there is as bad as it gets for storm photography and sky visibility, nothing but mountains. It would take me over 3 hours just to get to Hazard, which is in the northern part of that watch box. Tornado warnings are popping up east of Nashville on some of the more potent storms in the line. If this was happening just 50 miles or so more north, I may have jumped on it. Simply too far to go right now. If the clearing can advance into the Pikeville area within the next hour or two, I may head down Corridor G (Route 119) to check things out.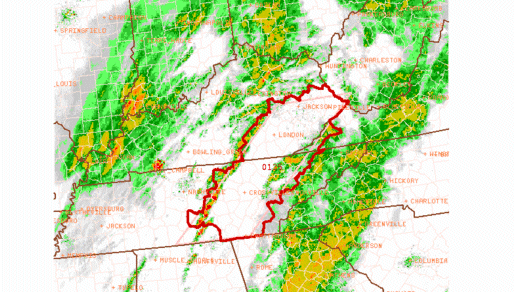 Update 3:05PM Wednesday: Finally a decent dry slot developing to our southwest, allowing the sun to come out ahead of some new development in central Tennessee. The drawback now is that by the time the clearing makes it here, it will be getting dark. This second round of precip may not even make it to the border before completely dissipating.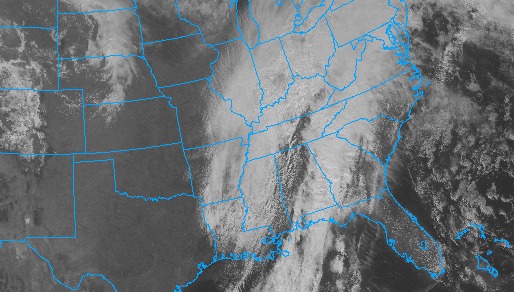 Visible satellite at 3:05PM EDT
Update 9:35AM Wednesday: The SPC held on to their earlier outlook, but with the rain already arriving in Charleston, I think this event may be over. Satellite shows no clearing anywhere upstream. The RUC model shows some heavy rain developing later this afternoon just east of the Ohio River, but with no instability I doubt there will be much lightning, if any. Right now I just see a rainy day for Charleston with maybe a flash or two of lightning if we're lucky. The flood potential looks more credible for later this afternoon, mainly near the Ohio border. There is a cluster of weak storms in the Nashville area, on the other side of the precip shield, moving this direction. That may end up being an area to watch for later this afternoon.
Visible satellite at 9:40AM EDT
Update 7:48AM Wednesday: Not as impressed with the overall situation this morning. Dawn has revealed overcast skies here in Charleston, with the weakening rain shield near Ashland slowly moving this direction. Lightning data shows no strikes north of the KY/TN border. I'm more concerned now about flooding than severe storms, although areas to our immediate west are not having too much trouble with that at the moment (you have to go to Louisville to find the flash flood warnings). The precip shield is showing signs of trying to stall as the low approaches, which could keep Charleston-Beckley dry through the morning. However, cloud cover is going to be tough to break up with the rain so close. The entire system looks to be on a weakening trend, awaiting some recharging from solar heating. So as it's always been, the forecast for storms is dependent on who sees a few hours of sun today. Still waiting on the first good visible satellite image to see what the picture for that factor looks like regionally. I expect the SPC will trim back their slight risk to the southeast to somewhere around the Bluefield-Beckley area when their next update comes out in an hour or so.
Update 4:04AM Wednesday: The line of storms and precip in Kentucky is starting to surge eastward a little faster now. With its leading edge just passing Louisville, it looks to be arriving at the state line within the next 4 hours - just after dawn, which doesn't give any time for the morning sun to warm things up. The new RUC model run, interestingly, keeps this heaviest precip to our north while breaking off some eastward-moving light rain over us - also not good for storms, but it's hard to see that happening looking at radar. Lightning activity is not exceptional with the storms moving into Bowling Green, but if it can slow down and give the sun a chance to warm us up a little, this activity could increase. It looks like the better play for a good storm event may be to our east in the Beckley-Lewisburg area, which could see more sunlight (given any breaks in the clouds) before the storms arrive. I'm not sure if a drive there will be worth the trouble for this event, but I'll make that consideration later.
2:06AM Wednesday: SPC's new Day 1 outlook for today is out, putting us in a slight risk with a 5% tornado and 30% severe wind probabilities. Temps outside are already 64°F and rising. The RUC seems to want to keep us precip-free at least through mid-morning, and infrared satellite seems to suggest some breaks in the clouds. Whether or not we'll wake up to sunlight in the morning remains to be seen, but overall it is looking a little more interesting.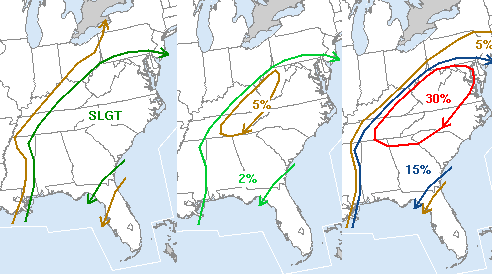 SPC severe storm risk, tornado risk and wind risk
All content © Dan Robinson. All usage requires a paid license - please contact Dan for inquiries.

Web Site Design and Internet Marketing by CIS Internet