Home | Blog Index | Blog Archives | Christianity & Faith Essays
Sunday, March 21, 2010 - 12:18AM CDT
New Madrid seismic zone: a new project
One more natural phenomenon I've always had some interest in, and have some ambition to experience/document in my lifetime, is a moderate/strong earthquake. Seismology, in many ways like tornadogenesis, is a fascinating field in which many aspects are not yet understood - making it impossible to predict and 'chase' earthquakes. If I was really determined to be in/capture an earthquake, the best I could do is move to a region where they are common (in the US, that would be either Alaska or southern California) and stay there for at least 5 years. I'm not that into seismology however, at least not like I am with severe weather - so me relocating somewhere for that purpose is not likely.
Nonetheless, my move to St. Louis/southern Illinois is within a zone of elevated seismic activity that has a slim chance of fulfilling that item on my 'life experience' list. While quakes can and do occur all over the US (significant events have occured in South Carolina and even New England), the New Madrid seismic zone is the most active earthquake region in the central and eastern parts of the country. If there is anywhere outside of Alaska and the Pacific coast in the US where one has a better chance of experiencing a significant earthquake, it is here. The New Madrid fault zone covers a large area from roughly Memphis, TN to just south of St. Louis along the Mississippi River, with secondary faults scattered in the surrounding states. There are a few earthquakes per week in the New Madrid region, most below magnitude 3 and indetectable/barely discernable to a human observer - but a few times a month, a quake higher than magnitude 3 occurs, and once to a few times a year, larger quakes around magnitude 4 or higher strike (events that are easily felt at the surface).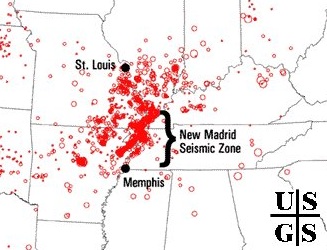 Central US earthquakes, 1974 to present
While the primary New Madrid faults just to the south of here are the most active in the area, the peripheral faults have produced notable earthquakes in recent years. The epicenter of the last moderate earthquake in the area - a magnitude 5.4 on April 18, 2008 - was in Mount Carmel, Illinois, very close to Interstate 64 near the Indiana border. This quake produced moderate shaking across a broad area including in St. Louis, Evansville and Louisville. Ironically, I had been within a few miles of this epicenter on a storm chase on April 10th, missing the event by only 8 days. Another interesting note about the 2008 Mount Carmel earthquake is that it was very close to the epicenters of two previous 5+ magnitude events in 1968 and 1987. The 1968 event was only about 45 miles from the 2008 quake - 5.4 magnitude event on November 9 near McLeansboro, IL. The 1968 earthquake produced moderate shaking in St. Louis that caused the newly-built Gateway Arch to sway. On June 10, 1987, a 5.1 magnitude earthquake was centered in Olney, IL - only 30 miles from the 2008 Mount Carmel event.
Interestingly, the 2008 and 1987 Illinois quakes have been the only events greater than magnitude 5 recorded in the entire New Madrid region since 1974. While these quakes are not associated with the main New Madrid faults in southeastern Missouri, northeastern Arkansas and western Tennessee, they show that faulting in the area is definitely active enough to produce moderate earthquakes.
In late 1811 and early 1812, the New Madrid faults produced four earthquakes with intensities placing them as some of the worst in US history - all four estimated at or just below magnitude 8.0 - and it is expected that this type of event will occur again sometime in the future (some estimates say as much as a 10 percent chance in the next 50 years). Due to the area's lack of preparation and quake-vulnerable structures, an earthquake of this magnitude is expected to create a disaster rivaling or surpassing any in the history of the west coast.
Earthquake documentation project: New Madrid seismic zone
As I mentioned, predicting an earthquake is impossible, which makes documenting one extremely difficult even if you're sitting right on top of an active fault in southern California. They start suddenly, with most of the strongest shaking occuring in the first few seconds (watch this video of the 1995 7.3-magnitude Kobe, Japan quake) - typically not enough time to react and start up a video camera, even if you're wide awake and have one sitting right next to you. The answer then is to have a camera recording full-time. The best earthquake videos - in fact the only ones I'm aware of that show the strongest part of the quakes (arrival of both P and S waves) were captured by either CCTV systems or cameras that were already rolling on unrelated productions.
So, in the next month I'm re-commissioning my home CCTV system to serve as earthquake cameras here in New Baden. The system has four cameras that record full-time to a hard drive, but to improve quality, I'm cutting two of the cameras to double the framerates. The two cameras will be aimed full-time at areas in my apartment that would be more likely to visually demonstrate any shaking that occurs. The system will be plugged into a UPS device so that it can capture the entire event even if power is lost. That's the most practical chance of actually capturing an earthquake that I can envision. It's a lot cheaper than moving to Alaska (and I can still chase storms in the Midwest)!
Even in the New Madrid region, the probability of a visually-evident earthquake in any given year at my location is very low. It could be another 40 years until the next magnitude 5 comparable to the 1968 and 2008 events. However, that slim chance makes it all the more interesting and valuable should one actually occur on camera.
Links
USGS ARTICLE: Earthquake hazard in the New Madrid region

DATA LINK: USGS Earthquake map (live, showing events through 1 month)
DATA LINK: Central US earthquake map (live, showing events through 6 months)

Videos of April 18, 2008 Mount Carmel, IL earthquake - magnitude 5.4

YOUTUBE LINK: Evansville, IN TV station live broadcast
YOUTUBE LINK: Louisville, KY TV station live broadcast
YOUTUBE LINK: Bridgeport, IL CCTV system

Cool project! I'm glad I'm following you on Facebook so I can keep up on your project.
- Posted by Marsha from Northeast Indiana
Thanks Marsha!
- Posted by Dan R. from New Baden, IL
This web site is made possible by support from CIS Internet.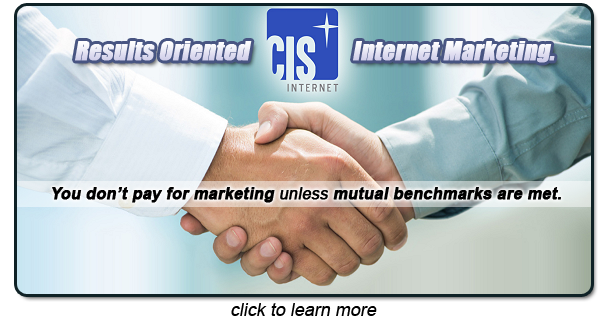 GO: Home | Storm Expeditions | Photography | Extreme Weather Library | Stock Footage | Blog
Featured Weather Library Article:
All content © Dan Robinson. All usage requires a paid license - please contact Dan for inquiries.

Web Site Design and Internet Marketing by CIS Internet