Home | Blog Index | Blog Archives | Christianity & Faith Essays
Tuesday, March 4, 2008 - 4:11PM
Tuesday severe weather event - Carolinas / Kentucky
4:11PM Tuesday: Still haven't pulled the trigger on an expedition today. A North Carolina trip at this point is a lost cause. The main squall line has redeveloped somewhat, with a few tornado and severe thunderstorm warnings on cells imbedded in the rain - far from chaseable. In the meantime, the Kentucky target has continued to be viable, but the storms have been linear with less-than-stellar lightning activity. Furthermore, the area of clearing ahead of the KY storms is moving into West Virginia, and a severe thunderstorm watch is now up for the tri-state area including Huntington and Charleston. I'm actually pretty impressed with the clear slot moving into southwestern WV at this point, which promises a better combination of interesting storms and short-distance, low-cost observing than anything else I've seen today.
Turning the attention back to St. Louis for a moment - check out this video of a tractor-trailer jackknifing on icy I-64 near Caseyville (on the Illinois side), caught by a KMOV camera crew:
KMOV-TV LINK: Tractor-trailer accident video
12:21PM Tuesday: The original Georgia thunderstorms associated with the main precip band have faded dramatically, and are now being replaced by new, more promising development on the west side of the area of clearing. These storms are at least initially staying cellular (rather than lining out) and look like the beginning of today's show that will be moving into NC. This new band of storms is apparently associated with the cold front, which is also responsible for the development I've been watching in Kentucky. Nothing at this point in either target is screaming 'leave now', so I'll keep monitoring for a while longer before deciding what to do.
On an unrelated note, St. Louis is getting slammed by a major snowstorm now - check out their traffic camera network. We may be seeing some of that snow early tomorrow morning.
12:03PM Tuesday: Still really liking the Kentucky target for several reasons, but not quite ready to give up on NC yet. A nice dry slot is developing all the way down to the Gulf coast, which may provide some clearing for decent instability in the North Carolina risk area. Looks like I'll have plenty of time on the NC side to make a choice, but the KY risk is going to require me to leave here very soon if that is the route I take. If I choose KY, I'll forfeit any chance to make NC - hence my hesitation.
11:27AM Tuesday: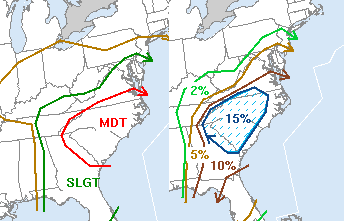 The 1630Z outlook is out - quite a change from this morning, putting me in a further dilemma of flip-flopping targets. Radar shows an area of organized convection in Georgia on course for Winston-Salem/Greensboro in a few hours. The Kentucky convection is also intensifying, and is an area that is not only closer to here but also has some potential to produce expedition-worthy hail and a marginal tornado threat. The SPC even has a mesoscale discussion out for this area now. Hard to discount a 15% hatched 2 and a half hours away, though. The storms in Georgia have shown a strengthening trend over the past few hours and should easily make it into the Triad NC area before dark, where the wind profiles are much better for supercells. So it's either Lexington, KY or Winston-Salem, NC - both about the same distance away. This is a tough choice that I will need to make in the next hour.
10:58AM Tuesday: The 12Z GFS and NAM/WRF still show the Carolinas event being mainly after dark, with storms not arriving in the highest threat area until nearly midnight. Meanwhile some development to the southwest of here is getting my attention, as some clearing has taken place just ahead of the low center in Kentucky. Storms are starting to fire in this area, which is conveniently moving in our direction here. Interesting things can happen when the sun comes out in and close to a surface low, so this may end up being the player for me today - rather than a 6 hour drive for an overnight show east of Raleigh. In fact, if the Kentucky trends continue I may even head west here in a couple of hours. Quite a change in targets in 12 hours - but that's storm observing.
9:50AM Tuesday: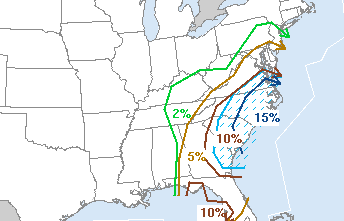 Despite the moderate risk with 15% hatched tornado probabilities issued by the SPC in their latest outlook, looking at the situation this morning I'm not that optimistic. The main factor being that the current squall line (or should I say rain line, since there isn't any lightning/wind in it north of Georgia) is slowly moving into the target area now (radar) and cloud cover is extensive (satellite). According to the models, this line of showers is not the main event (which will materialize later) but it will reinforce the lack of instability in the region. The area of interest now looks like the more organized storms over southern Alabama and Georgia, which should move northeast over the extreme eastern coastal plain of North Carolina later today - where there will have been at least a little sunlight. The best chances look to be east of I-95 late tonight, which is outside my Charleston, WV home base range. If I was in Raleigh now, an expedition would be a no-brainer - but the risk is too low, the drive too far from Charleston (over 6 hours to the western end of the target) and the fuel costs too high.
Unless I see something different in the next few hours, I will be sitting this one out (but watching it closely).
This web site is made possible by support from CIS Internet.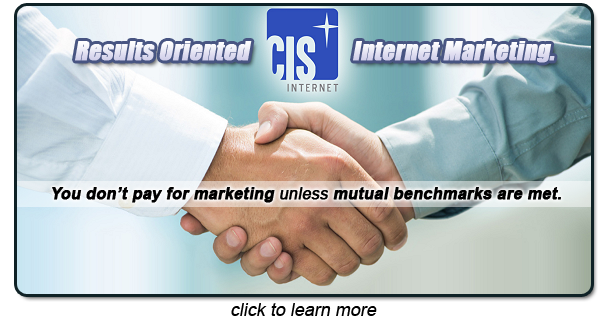 GO: Home | Storm Expeditions | Photography | Extreme Weather Library | Stock Footage | Blog
Featured Weather Library Article:
All content © Dan Robinson. All usage requires a paid license - please contact Dan for inquiries.

Web Site Design and Internet Marketing by CIS Internet