Home | Blog Index | Blog Archives | Christianity & Faith Essays
Tuesday, March 4, 2008 - 8:01PM
Teays Valley chase this evening
Thankfully I never made a decision to leave for either of my original out-of-state targets today. Instead, I waited until around 5:30 this afternoon and headed to Teays Valley to set up for tower lightning at the WVAH site, the only real prospect with the storms that I thought was worth going out for. I set up at the new US35/I-64 interchange (about 20 miles west of Charleston), which until the developers start building stuff around it, will make for a great place to shoot lightning coming in from the west/southwest as well as the tower. The excavations on either side of the new four-lane have frontage roads that climb nearly to the ridges, with no obstructions looking to the south and west. As I arrived at my setup spot, a new cell that had popped up ahead of the main line produced a hit to the tower. Unfortunately that was the only one I saw. There was not much lightning left by the time the main line made it into Putnam County, and since toward the end of the squall line the tower was hidden by the low cloud bases anyway, I only spent about 15 minutes with the cameras set up before heading back.
Just before I left this afternoon, I watched this small shower pop up east of the house, with some pileus caps and unusual-looking bases: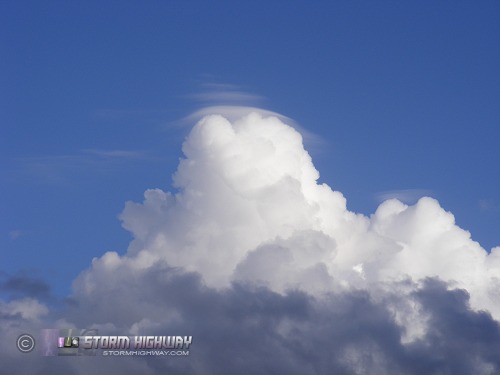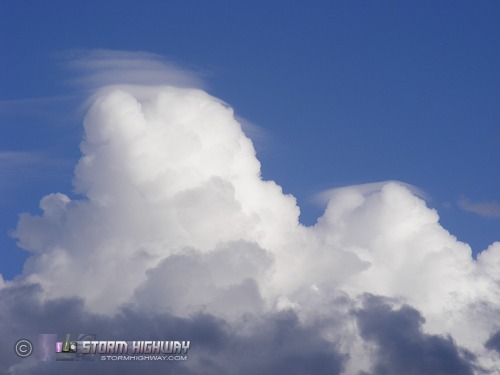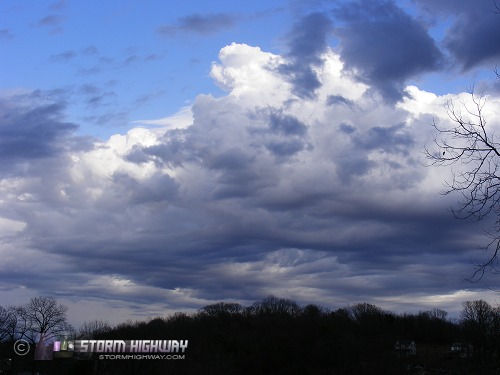 Although today's setup turned out to be a dud, it does feel great to have stayed home and not have a 5 hour post-bust drive back to Charleston in the rain.
Upcoming weather
I may be able to relax regarding snow in Charleston until Saturday morning, at which time both the NAM/WRF and GFS show the possibility for a 4 to 6 inch snowfall event. The snow potential for tonight, tomorrow and Thursday nights doesn't look as good as it did a couple of days ago. So, I may actually get to sleep at night for a change, at least for a few days. Saturday's event of course is something to watch, but I won't really need to do much with worrying about it until Friday.
All content © Dan Robinson. All usage requires a paid license - please contact Dan for inquiries.

Web Site Design and Internet Marketing by CIS Internet