Home | Blog Index | Blog Archives | Christianity & Faith Essays
Thursday, March 6, 2008 - 8:45PM
New I-40 bypass in NC; major storm Saturday
UPDATE - Sunday 3/16: I came across this article by WFMY-TV in Greensboro where they timed the new I-40 versus the old I-40 (Business 40), traveling the speed limit on both routes. I wasn't too far off in my original estimates below - the old route, Business 40, is faster by over 3 minutes.
WFMY-TV ARTICLE: Old I-40 route still faster
Original post - Thursday 3/6:: We made a business trip to Raleigh this week, and I noticed something strange once we approached Greensboro on I-40 - the surroundings didn't look right. It was because I-40 had been realigned to go completely around Greensboro to the south on a brand-new 6-lane highway. A new 6-lane connection (the new I-40) has been built from the existing I-40 west of Greensboro southward to I-85, which then loops around Greensboro (as both I-40 and I-85) to the south to re-join the old I-40 near Mt. Hope Church Road. The old I-40 through Greensboro has been renamed Business I-40, and all signs now direct I-40 through-traffic onto the new route.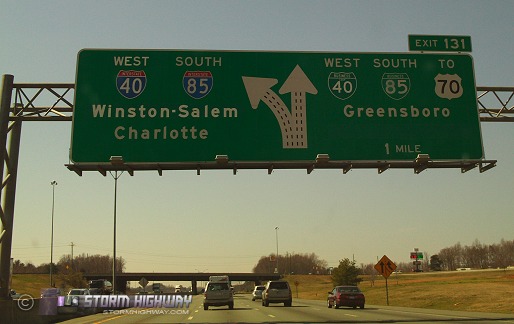 Westbound on I-40 before the eastern interchange, near Mt. Hope Church Road (east of Greensboro)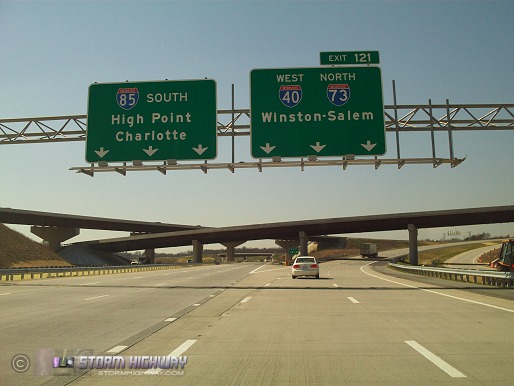 Westbound at the I-85/new I-40 split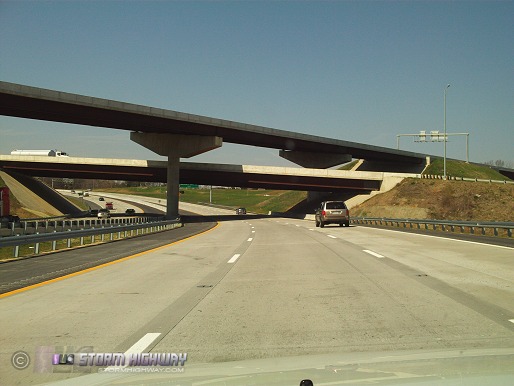 Westbound on the new I-40 at the western interchange with Business I-40 (west of Greensboro)
This is a huge change to the I-40 route - and although it seemed faster when I first drove it yesterday, I figured out that it is not an improvement for travel times. First of all and primarily, as you can see on this Google Maps satellite view of the new alignment (which in this image is still under construction and not even mapped yet), it adds a considerable amount of distance to the trip compared to the old I-40 alignment: (Move the map to the left to see the eastern side of the route)
View Larger Map
The speed limit on the new route is 65mph all the way, while on the old route it dropped to 55mph in a few spots, particularly on the 4-lane segment south of downtown. So will it be a quicker trip despite the longer distance? I can't calculate the mileage of the new route because it isn't mapped on any software yet, but I estimated that it is a little over 18.5 miles between both I-40/Business I-40 interchanges. The old route is 14.3 miles, according to Google Maps. Assuming you have to slow to 55mph on the full length of the old route (which you don't), the old route would take about 15 minutes 32 seconds point-to-point. It is actually 60mph and 65mph in spots, so that number is probably closer to 14.5 minutes or less. The new route (if my distance estimate is decent) will take over 17 minutes at full speed with light traffic.
So on paper, it seems like it would be better to keep using the old route. The drawback with the old I-40 route was the speed restrictions and the heavier traffic you usually encountered on the curvy and narrow four-lane segment near downtown. But this was usually only an issue at rush hour times. And with the signage diverting everyone down the new route, the traffic on the old route should be greatly reduced.
This situation is very similar to when I-40 was realigned around Winston-Salem. A few years ago, I decided to time both routes, going the speed limit. I found that the old highway (which is itself another Business I-40 segment) through Kernersville is actually more than 3 miles and 4 minutes shorter than the newer I-40 route, even though Business 40 has a 60mph speed limit compared to I-40's 65mph. During my next trip down, I will do the same thing and time this new route against the old one. I suspect the old way will be faster and therefore the one I will continue to use, despite the fact that the new route is quite nice - wide, smooth and light traffic. But if it takes longer than the old one, what's the use? I guess NCDOT thinks that most people traveling I-40 are out-of-towners and won't figure this out.
Major storm Saturday
Oh yeah, I almost forgot. A massive snowstorm is going to slam the Ohio Valley (and potentially West Virginia) starting tomorrow evening and continuing through Saturday. You can tell how much I care about snow at this point, as I've been ready for spring for a while now. Being in the 70-degree Raleigh weather for a couple of days was enough that the last thing I wanted to do was sit down and do any forecasting or blog posting about frozen precip. Nonetheless, I've got to get on the ball with this storm, as it's going to be a doozy by all indications. The forecast track of the main low as been all over the place the past few days, giving us a range of possibilities from heavy rain to heavy snow and everything in between. Right now it looks like the Louisville/Cincinnati/Columbus corridor will see the worst of it (with 8 to 12 inch accumulations), but that may shift more in our direction as the event draws closer. I'll start following this with more fervor tomorrow. If this looks like an all-rain event for Charleston, I may head west simply for the thundersnow chances.
This web site is made possible by support from CIS Internet.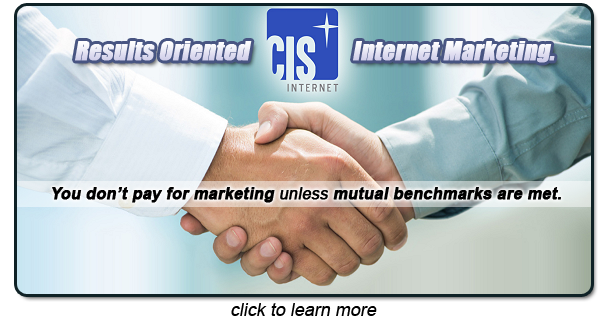 GO: Home | Storm Expeditions | Photography | Extreme Weather Library | Stock Footage | Blog
Featured Weather Library Article:
All content © Dan Robinson. All usage requires a paid license - please contact Dan for inquiries.

Web Site Design and Internet Marketing by CIS Internet