Home | Blog Index | Blog Archives | Christianity & Faith Essays
Saturday, March 8, 2008 - 8:59AM
March 7-8 winter storm - updates
Update - 2:33AM Saturday: I just went outside to do some surface checks around the house, and the stairway railings are just now starting to glaze over. Although our radar is clear, a heavy freezing mist/drizzle is falling which will likely start causing road issues soon. I'll be leaving shortly to start making the rounds to the various hazard areas around town.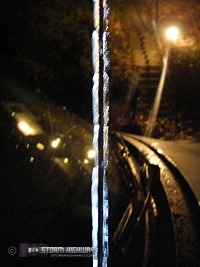 Update - 1:31AM Saturday: Back home in Charleston now carrying a good 1/4" of ice on the car from the trip into Ohio (my antenna is pictured at right). Charleston is on the warm side of 32°F currently, as no ice is sticking yet to anything I could find around town. Teays Valley is a degree cooler at 31°F, with ice on guardrails and jersey barriers, but not yet on bridges (I exited at the new US35 interchange on I-64 and tested the surfaces). I encountered no icy main roads or bridges even in southeast Ohio, where temps were at 28°F. This is mostly due to the diligence of salting crews, as I did find some slippery glazing on the shoulder of a side road I stopped on to do a slickness test. Conditions will likely worsen overnight as more freezing rain continues (which seems to be the dominant ptype east of a Columbus-Lexington line). Here in Charleston, all indications point to us dropping into the high 20s by morning, with a light glaze of ice likely. More upstream precip on radar looks to be here in the next 2 hours or less, at which time I'll be back outside.
Update - 11:33PM Friday: Sitting in Rio Grande, Ohio now for a data stop. Looks like I will be turning around and heading home due to rapidly falling temps back east. Putnam County is already at 32F with Charleston likely reaching that mark within 2 hours. Radar ptype algorithms show most of the lightning in Kentucky is within freezing rain rather than snow - still impressive, but on camera no different than a normal thunderstorm. Roads are starting to ice up here in SE Ohio but crews are salting. Still slow going at 40mph just to be safe...
Update - 9:28PM Friday: Thundersnow is currently in progress near Louisville and south of Lexington per lightning strike data, with this activity increasing in intensity over the past 15 minutes. Heading west now on I-64/Route 35 for the Chillicothe, Ohio area ahead of these cells. Plan is to grab some thundersnow before the conditions worsen, then get back here by 3 or 4 AM....
Update - 9:09PM Friday: Blizzard warnings are up for central and southern Ohio - well inside my 'backyard' chase zone. Very tempting to head that way, but I can't get stuck there and miss the episode in Charleston that is coming in the next 12 hours. A blizzard expedition is a "hunker down in a hotel ahead of time" type thing, not unlike a hurricane expedition. In fact I'd say it would be more dangerous to try and do mobile coverage of a blizzard than a hurricane - a lot of ways for something to happen to make it a very bad/costly experience (or worse). I'm not really up to that type of a trip now, so I'll pass and play the safer end of the storm closer to home. That's hard for me to say since this storm will be of historic proportions for parts of Ohio, with 15 inches possible in places less than a 2 hour drive away from here.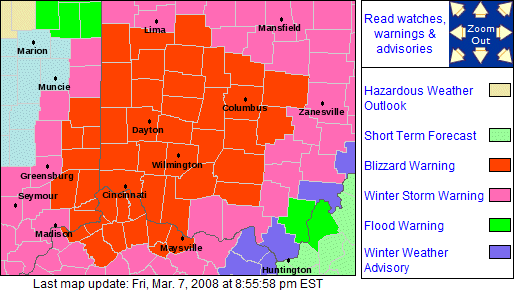 Update - 8:55PM Friday: The batch of showers in Tennessee moving our direction has been producing lightning for the past 30 minutes. This thunderstorm activity is likely benefitting from its close proximity to the low center in northern Georgia, and will be something to watch as it moves over subfreezing surface temps farther north.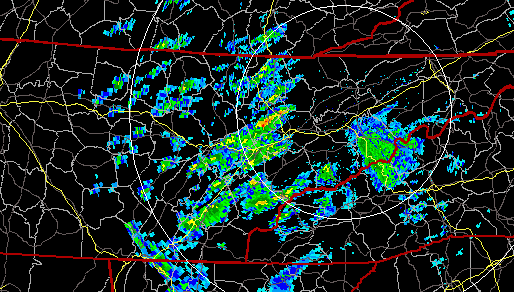 Knoxville, TN radar at 8:50PM
Update - 8:25PM Friday: Huntington is currently 31F and reporting freezing rain, though the radar is not showing much at all over there. Charleston is in what I consider a 'safe zone' for now, with a temp of 38F and a dewpoint at 35F. There is not much of concern on the Charleston radar now, which is precluding any urgency to head west. Snow and icing is already under way in the Lexington area, and Louisville is getting hammered with significant snow bands now. Some moderate precip is moving north into eastern Kentucky from Tennessee, which could start the icing process in the tri-state area in the next couple of hours. I'm liking the prospects of a quick jog over to Huntington later tonight, but I won't be making that decision for a while.
Update - 6:41PM Friday: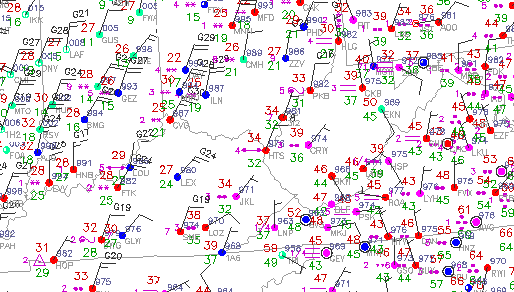 Obs at 6:40PM
The 32F line is getting close to the WV border now, with Huntington and Parkersburg both reporting freezing rain (which can actually begin when temps are slightly above freezing, as is the case now). (The METAR symbol at Huntington on the above map means 'unknown precip', but almost always pops up at the onset of freezing rain.) Although the temps are not below 32F yet, it should not be long now. The first wave of precip has moved out, with the stronger and more widespread precip (closer to the low center) arriving in a few hours. Models indicate the sharp temperature contrast along the Ohio River getting even sharper by the time the second precip wave arrives - with rising temps and rain to the east, freezing rain to the immediate west and falling temps/snow farther west. After the passage of the low, winds will turn northwesterly, sweeping cold air and snow in areawide by early afternoon Saturday.
Since radar shows nothing more arriving until later tonight, I'm staying here for now. Thundersnow is still happening sporadically along the Mississippi Valley, with lightning data showing a recent strike in western Tennessee. I'm not quite as optimistic about that prospect now, though with the deepening low center passing very close to us, I wouldn't be surprised to see more of it later - particularly in the mountains where orographic enhancement will encourage it.
Update - 4:22PM Friday: The new HPC winter precip forecasts are out: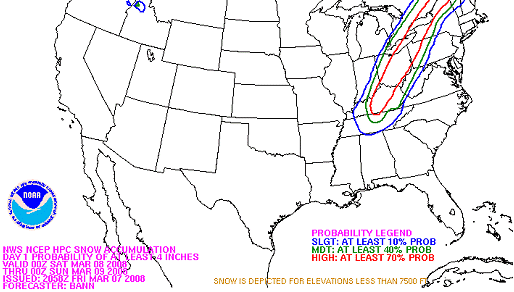 Probability of more than 4 inches of snow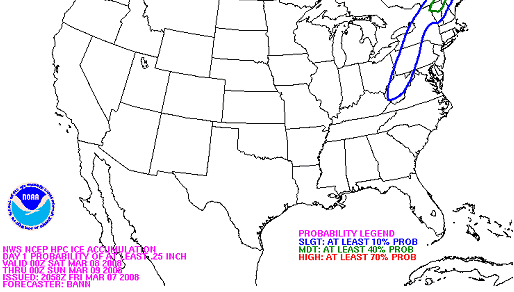 Probability of more than 1/4" of ice
3:30PM Friday: It looks like we finally have a better handle on the track of the surface low, which all models now show taking a path to the east of the Appalachians. Although this will put us a little further in the cold sector of the storm here in Charleston, it doesn't look like we're going to change over to anything frozen until midday Saturday. Freezing rain and sleet, by all indications however, are going to be very close tonight: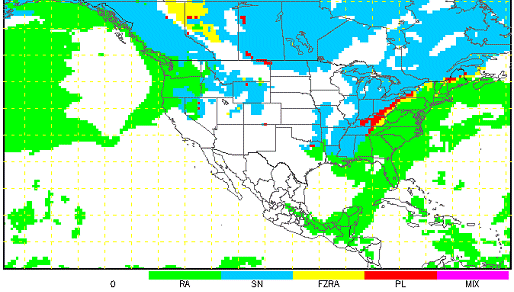 NAM/WRF precip type forecast for overnight tonight
Louisville (see traffic cameras) and Cincinnati (see traffic cameras/conditions) are already in the thick of it, with a sharp rain/snow line slowly moving toward the West Virginia border. Since Charleston's ice/snow threat will not begin until tomorrow afternoon, I will likely head to either Point Pleasant or Huntington later this evening where decent icing conditions may materialize. Both of those destinations are less than an hour's drive away, and freezing rain tends to have more footage potential than plain snow does. Contrary to what one might think, historically I've actually had a harder time picking up video assignments during these major storms because everyone is out covering it - every local camera crew and TV station is going wall-to-wall with it, flooding the feeds with video. So I have to forget about getting the token snowstorm 'b-roll' video (which is boring to shoot anyway) and if I go out, just try and have fun with it and aim for the dramatic and more challenging shots. If there's going to be freezing rain within an hour's drive - and Charleston is safely above 32F - that's good enough reason for me to get out there on a short winter 'chase'.
Now the dilemma become when to leave. With winter weather trips, I'm not a big fan of getting to a target early and sitting in the car idling for hours waiting for the changeover. I'd rather wait until the frozen precip is kocking on the door, and get there 15-20 minutes before it starts. The problem with southeast Ohio and eastern Kentucky is that there is a glaring lack of surface observation sites, making it impossible to see where a slow-moving rain/snow line is. Basically I have a data void between Lexington, Columbus and Huntington where I'm 'blind' to what is happening. Radar precip type algorithms are estimating that the frozen/liquid line is less than about 20 miles west of the border, but I don't see how they can make that determination without actual obs to support it. The ice event is not progged by the models to start until late tonight, so unless a freezing rain ob shows up in Huntington or Ravenswood before then, I'm planning on leaving around 8 or 9PM.
Lightning data shows a good thundersnow event underway in Arkansas. I've been trying hard to get thundersnow for a few years now, so if that continues through tonight in Kentucky and Ohio, I will do my best to get to it as long as it's within 2 hours or so away.
This web site is made possible by support from CIS Internet.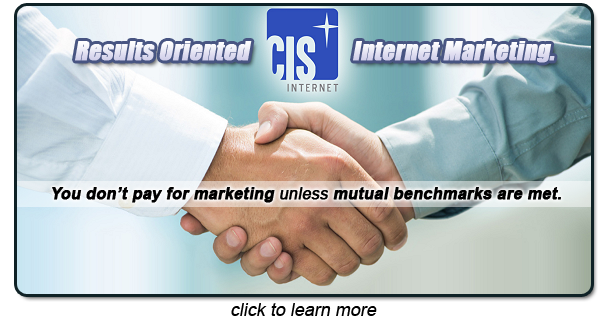 GO: Home | Storm Expeditions | Photography | Extreme Weather Library | Stock Footage | Blog
Featured Weather Library Article:
All content © Dan Robinson. All usage requires a paid license - please contact Dan for inquiries.

Web Site Design and Internet Marketing by CIS Internet