Home | Blog Index | Blog Archives | Christianity & Faith Essays
Saturday, March 7, 2009 - 7:40PM
Event vehicle reconfiguration tasks, thoughts
One of the projects I really wasn't expecting to have to undertake this spring was outfitting a vehicle for storm observing, from the ground-up. My car had years worth of work - plus the benefit of experience, brainstorming and 'tweaking' the setup over that time - to get a result that was practical, low-key and space-saving. After the spring 2007 Raleigh work session, I had a configuration that didn't need adjusting - and one that lasted all the way to the end.
So now I'm starting from scratch again. Not entirely, as I've had this type of vehicle before - but everything has to be re-thought out as far as placement, mounting and organization of each item. As I said before, I want to avoid as much permanent installs as possible (that is, items that require drilling or adhesive). I'd like to go back to my 'simple and free' days of observing - when I'd go out with nothing more than a small cooler holding all my camera gear, a duffel bag with some clothes, a scanner and some CDs for the road (those were the days....). Now I doubt I'd be able to function as well today without GPS, WxWorx and an inverter, so those things have to stay somehow. But what I'm after is the 'feel' of having a clean, open, normal looking car ready for an impromptu 'road trip'. So therein lies the challenge - similar functionality with less actual 'stuff'.
On Thursday, I removed all of the equipment out of the Freestyle, hauled it all home, lugged it up my stairs and stacked it in the basement. I've spent a large part of the past couple of days going through all that stuff trying to decide what needs to go in the truck. So here is the process so far.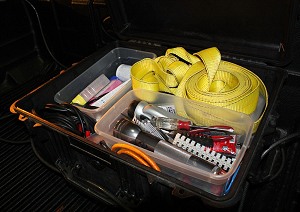 Tools and supplies - A lot of my tools and 'survival' supplies (things like hand tools, jumper cables, tow strap, OTC medications, bungee cords, tire pump, first aid kits, etc) are items that definitely needed to stay a part of my equipment arsenal. With space inside a truck cab at a premium, I really didn't want to keep all of that stuff inside. So, I decided to find a way to secure it in the bed. I did some brief shopping for locking toolboxes/chests, but quickly ruled that out due to their cost and size. The old Pelican 1650, that served as my main locking camera case, is too big to fit inside the truck. So, I decided it would be perfect reassigned as a bed toolbox. I removed its foam padding, packed all of the tools/supplies I could inside of it and assigned it a spot back in the bed (at right). The 1/4" braided steel security cable from the car is now secured to the bed and threaded underneath the bedliner, so that both ends come up on either side of the bed. This allows the cable to be threaded through the Pelican case handles and locked as it was in the Freestyle. Although there aren't any high-dollar items in the toolbox, I still thought it was worth securing, as it would be annoying to have to go out and buy replacements.
Tripods: The steel cable is also threaded through my bigger Bogen tripod, which is also now stored in the truck bed. I don't plan on carrying the smaller Bogen tripod around, as I never use it for observing anymore (it's been in my studio for the past 4 months). My Bogens are aluminum, so they don't rust in the elements. My older Bogen stayed outside in the 2000 Ranger's bed for years with no problems - the only rust coming from two small screws at the top of the leg assemblies. Normally I'd have some apprehension about keeping a Bogen tripod out in the bed like that, but it's so old and banged up now (with most of the leg clamps broken, replaced with wing nuts from Lowe's) that I doubt it's worth more than 50 bucks. Worth more to me for video shooting than any thief is going to get out of it. If I had a newer or more expensive tripod, I'd probably find a locking ski case or something similar that would offer more protection.
Power system: I had built a small secondary 'portable power rig' last year for use on expedition tours in client vehicles. It's simply a metal wire basket with a 400-watt inverter, a power strip and the WxWorx reciever securely attached to it, allowing everything to be carried as a single unit for use in any vehicle. I started rearranging the large 750-watt inverter/power strip 'permanent mount' rig from the Freestyle, with the intention of using it in the truck - but I decided that it's just too big for the small cab. So for now, I think I'm going to stick to using my portable tour rig. I ran a test drive with it yesterday, and it handled things fine. My only concern for it is its ability to simultaneously power a laptop and several battery chargers without blowing a fuse, a test I'll be doing sometime soon. The problem with the big 750 watt inverter is that it needs a much more robust connection to the vehicle power - a cigarette lighter plug isn't enough. I'm trying to avoid having to run new wiring in the cab for that if at all possible.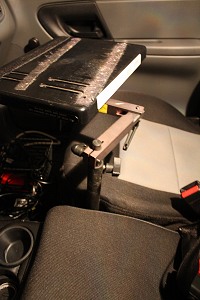 Laptop mount - The Jotto desk is another challenge - I want to install it so that it is removeable, basically so I can just pop it out and toss it behind the seat. Again, I don't want to drill any holes for it this time. The Jotto post actually wedges securely between the driver and passenger seat cushions (pictured at right), but it is a tad too unstable there. I think that position will eventually work, but it needs some lateral bracing. I'm still thinking about how to do that without putting bracket arms across the front seat. The other option is the front seat mounting bolt, but the holes on the Jotto base are too small. I'd have to build a bracket for the seat mount that the desk base could then be attached to, but by the time all that's done I don't think it would look very attractive. I've also considered buying a 'netbook' (one of those new tiny laptops) to serve as a dedicated vehicle computer, but I'll need to wait for a few more stock video orders to come in for that. A netbook might be mountable with something much more simple and lightweight, in which case I'll just eBay the Jotto and be done with it.
Cameras - Since I'm no longer in active news video mode, all of my cameras don't need to stay in the vehicle full-time. Despite that, I'm still planning on getting an alarm system installed this week - it's a good insurance policy in itself for the times the cameras are inside. I did attach a short 1/4" steel cable to one of the seat posts, so that the cameras can be locked inside when I do have them in the truck.
Dashcam - The dashcam mount has been a challenging thought process, as the Ranger's dashboard and windshield area is much smaller than in the Freestyle. The dashcam is much more obtrusive in the truck no matter where it is to be installed. My plan for now is to mount the camera upside-down to the passenger sun visor, using a mount built out of aluminum bars that can be secured to the visor with pull-tight straps. The video can be easily rotated 180 degrees once it's transferred to a computer, so there's no problem there. I should have this item finished this weekend.
Ideally, I would have liked to have been in Raleigh to do all of this work, if only to keep the 3-year annual 'storm season vehicle prep' tradition going. But I think I'm going to need the functionality sooner than that - with storms and snow possible in the coming week.
This web site is made possible by support from CIS Internet.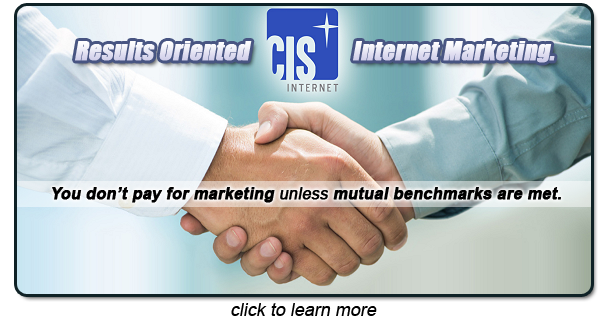 GO: Home | Storm Expeditions | Photography | Extreme Weather Library | Stock Footage | Blog
Featured Weather Library Article:
All content © Dan Robinson. All usage requires a paid license - please contact Dan for inquiries.

Web Site Design and Internet Marketing by CIS Internet