Home | Blog Index | Blog Archives | Christianity & Faith Essays
Tuesday, May 20, 2008 - 1:53PM CDT
Day 2: Springfield, MO to Amarillo, TX
Travel log for Day 2:
Update - 11:48PM CDT: Just a quick note to comment on the mobile internet situation. The Alltel aircard almost always has four bars of signal strength, but the performance of the internet data has really been disappointing. The connection was unusable from Joplin westward, with the exception of the bigger metro areas along I-40 in Oklahoma. West of OKC, the card showed I had data, but no connections worked (web/ftp/email) . Streaming is not going to happen, as I'm even having a hard time keeping a 12kb static jpeg uploading regularly.
So, it looks like the expeditioncam will be a lost cause for most of this trip. If data hardly works on the interstates out here, I don't expect it to work out in the middle of nowhere. storm photographers seem to be having good experiences with a cellular amplifier antenna, but the thing runs $350-$500! No way I'm dropping that much money into this system, since I'm only using it on the road. So it's back to the old tried-and-true Baron ThreatNet for this trip.
Speaking of cameras, it looks like both of the Charleston cameras went down at 9:25AM this morning - which points to a power outage. Since I'm not there to reset them, I'm taking them down from the feed list temporarily. I'll still be trying to eke out an updated image from the expeditioncam when I can, so I'll leave its feed up for now.
Update - 10:34PM CDT: Arrived and settled into the hotel here in west Amarillo! Grabbed a quick dusk shot downtown: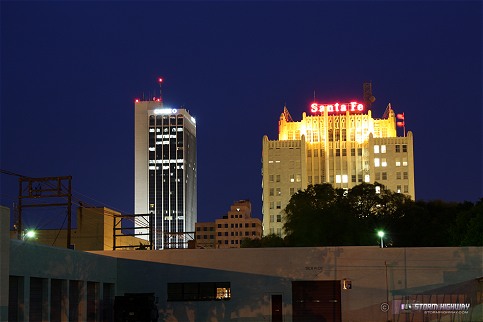 Click to enlarge
Earlier, anvil blowoff from storms 200 miles to the west put a stop to the sunset I hoped to get at Groom. The overall scene was still pretty good.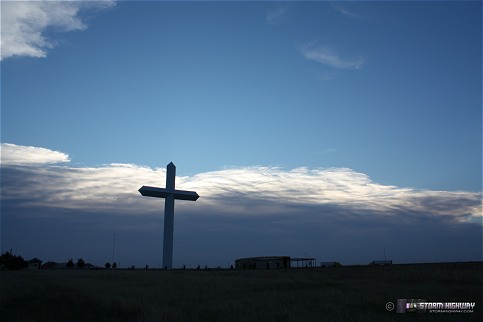 Click to enlarge
Welcome to Texas, the land of generous speed limits. Would you go 70 on this road?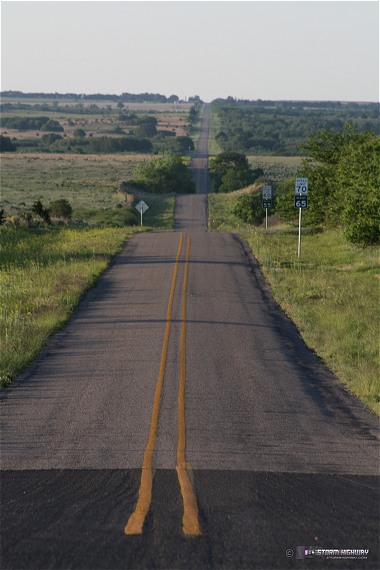 Click to enlarge
Update - 4:56PM CDT: On course to make Amarillo around 9PM, unless I stop for very long to shoot the sunset (hopefully around Groom, TX), or even a storm if one can get going this evening (a very marginal risk exists). My target arrival time was 10PM, but I won't be hurting to get there a little later than that if needed. My self-imposed schedule was simply to ensure plenty of sleep, which it looks like I won't have any trouble with. Especially since tomorrow's target may end up being a few miles east of AMA! I just finished shooting for about an hour in OKC with a nice sky and full sun. Attempting to emulate some of my brother Matt's urban photography style here, though I've got a ways to go to approach his level. This set is a little long for this post, so it has its own page: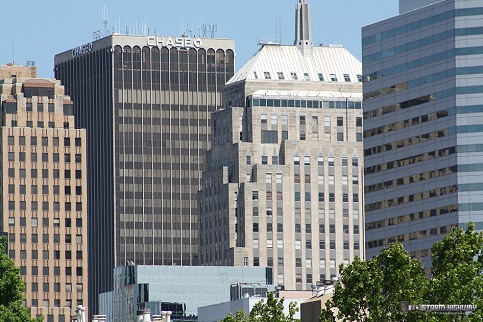 Click for photo set
Click for photo set
Update - 1:53PM CDT: Rolling through Tulsa now, trying to decide whether I want to take the scenic route to OKC or pay the $3.50 for the quicker trip down the Turner Turnpike.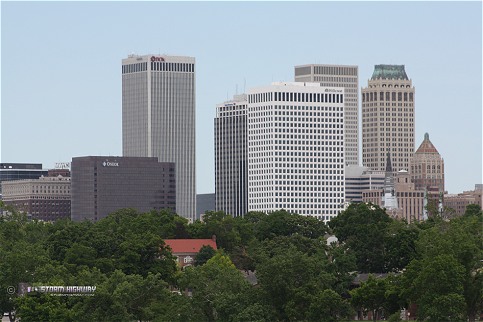 Click to enlarge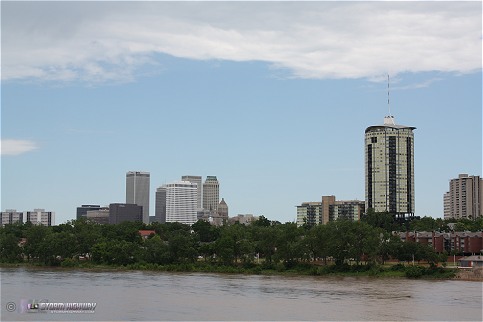 Click to enlarge
Update - 8:50AM CDT: Still running about three to four hours ahead of schedule, which will allow for several more photography stops along the way today (exactly where, I'm undecided - but Tulsa and OKC are good possibilities).
The bad news about the pattern I'm driving through is that I'm crossing the high pressure ridge now, which will shut out virtually all chances of storms today. The good thing about it is that it will keep skies mostly clear and blue, perfect for a road trip. Lord willing, I'll get one of those classic western Oklahoma sunsets later today.
All content © Dan Robinson. All usage requires a paid license - please contact Dan for inquiries.

Web Site Design and Internet Marketing by CIS Internet