Home | Blog Index | Blog Archives | Christianity & Faith Essays
Saturday, May 31, 2008 - 10:07AM
Friday/Saturday forecast updates
Update - 5:06PM Saturday: This is the typical sight from today - weak updrafts. This one just passed over the house, dropping about 2 minutes of heavy rain - but no lightning.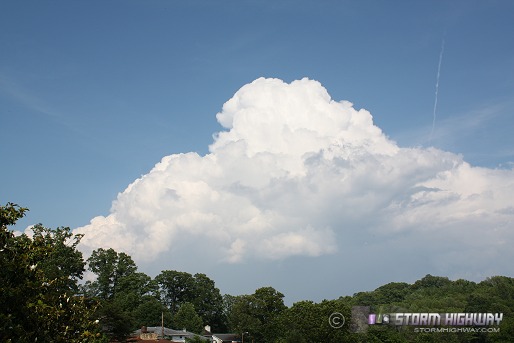 Update - 4:30PM Saturday: Even with the good parameters in place, storms couldn't get anywhere today. I did put in about 40 miles to Sissonville and back to look at weakening convection earlier this afternoon. Ready to call it a day, although the cold front could still fire something later tonight. I'm not holding out much for it though.
Update - 10:07AM Saturday: Cloud cover is going to limit storm intensity this morning and afternoon, but redevelopment of the MCS is already under way. This is looking like a stay-in-Charleston event, particularly due to the fact that next week may bring some major tornado outbreaks to the Midwest/Ohio Valley, within my 'home' chase areas.
Update - 12:19AM Saturday: Convection an all fronts is showing a weakening trend during the past 20 minutes, so I'm not staying awake for this much longer. Looks like another 'set the alarm for every 2 hours' night to periodically check on the situation.
Update - 11:27PM Friday: Encouraging to see the easternmost convective cell in the Midwestern complex already about to cross into Ohio now close to Dayton. If the storms can maintain themselves, they could be interceptable around Parkersburg before dawn - a doable lightning expedition scenario. Even better is that I also see the models were correct about convection over the mountains to our south in Tennessee. If those can survive all night, they would be ideal lightning photo subjects - isolated storms with little wind-blown rain to contend with. And they're heading right toward Charleston - less miles to drive! Obviously I'm rooting for the mountain storms tonight, but I'll take whatever can get here before sunrise.
Moisture is great here with dewpoints in the 60s areawide, with a nice upper jet coming in overhead. 850mb winds have a slight upslope component which will help the mountain storms tonight. The RUC model actually favors the mountain activity getting here first!
Update - 12:14PM Friday: The 12Z models aren't helping me much. Still looks like a mess for tonight and tomorrow with no real focus over WV through the entire event. At this point the best I can see is a rainy, windy tower lightning shoot in Teays Valley on Saturday - having to set up to the northwest of the tower somewhere to avoid the wind-blown raindrop assault from the westerly/northwesterly flow. Looking like one of those systems where I won't really know what to expect until it gets here.
Update - 10:18PM Thursday: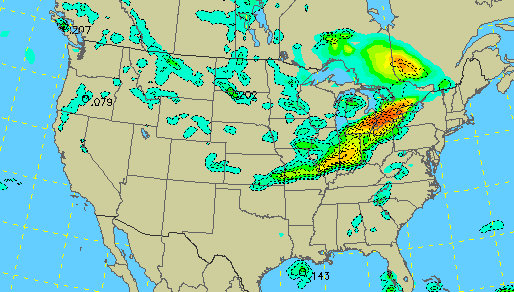 WRF/NAM precip forecast for Friday night
Interesting output on the latest WRF/NAM, showing not only a slightly faster progression of the MCS across Ohio, but small storms firing over central West Virginia after midnight into Saturday morning.
4:40PM Thursday: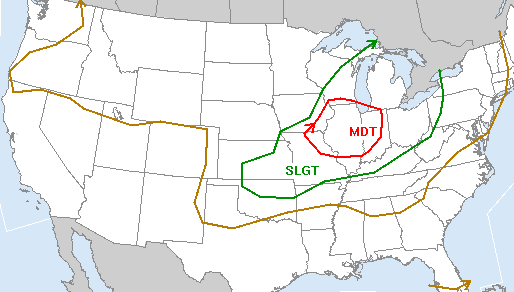 SPC outlook for Friday
The models have shifted Friday's overall setup farther west, which at their current configuration would put any lightning photography possibilities just before dawn in central Ohio through western PA on Saturday morning. The timing of this system as depicted now is problematic for me. The later arrival of the MCS (Mesoscale Convective System, a complex of storms) means that driving all the way to Chillicothe/Dayton, Ohio would only get me about 3 hours or less of darkness to get lightning shots before sunrise. That's too far to go for too little of a window of opportunity. I knew I'd likely have to drive north a ways to get nighttime lightning with this, but now I'd have to go to Indy or Cleveland to get any decent shot at it - way too far for this type of setup. The storms would then move into West Virginia in the morning, likely weakening due to loss of heating overnight, then re-intensify over the mountains by afternoon. North Carolina and Virginia would then get the next shot at nighttime lightning overnight into Sunday. The setup looks more like a classic August, late-summer, upper Midwest MCS that I've had many an overnight lightning expedition into Ohio in the past.
The pros that I see with the setup (and the main difference from the typical August configuration) is the high instability and good upper-level support over us here (upper support typically stays way to the north in late summer). This will help any squall line to have few problems crossing West Virginia as an intact lightning-producing MCS - no matter what the time of arrival ends up being. And by morning, the mature complex should have an extensive electrified trailing stratiform precip region, an ideal (upward-moving) tower lightning setup. The late arrival also gives me another day of work catch-up, free of having to worry about leaving in time.
With no designated travel budget and $4 a gallon gas, I'm going to be limited to a single tank of fuel for this expedition - which only gets me an hour or two out of town (considering idling and repositioning time). Consequently I'm just going to play whatever happens in that radius. If things speed up and I can get some nighttime storms within range east of say, Jackson, Ohio or south of Parkersburg, then I may be on the road shortly after midnight. If it's a morning arrival, then a tower lightning video shoot in St. Albans is probably the only other option. I don't see any nighttime storms in the cards for Charleston unless the system either really speeds up or really slows down.
All content © Dan Robinson. All usage requires a paid license - please contact Dan for inquiries.

Web Site Design and Internet Marketing by CIS Internet